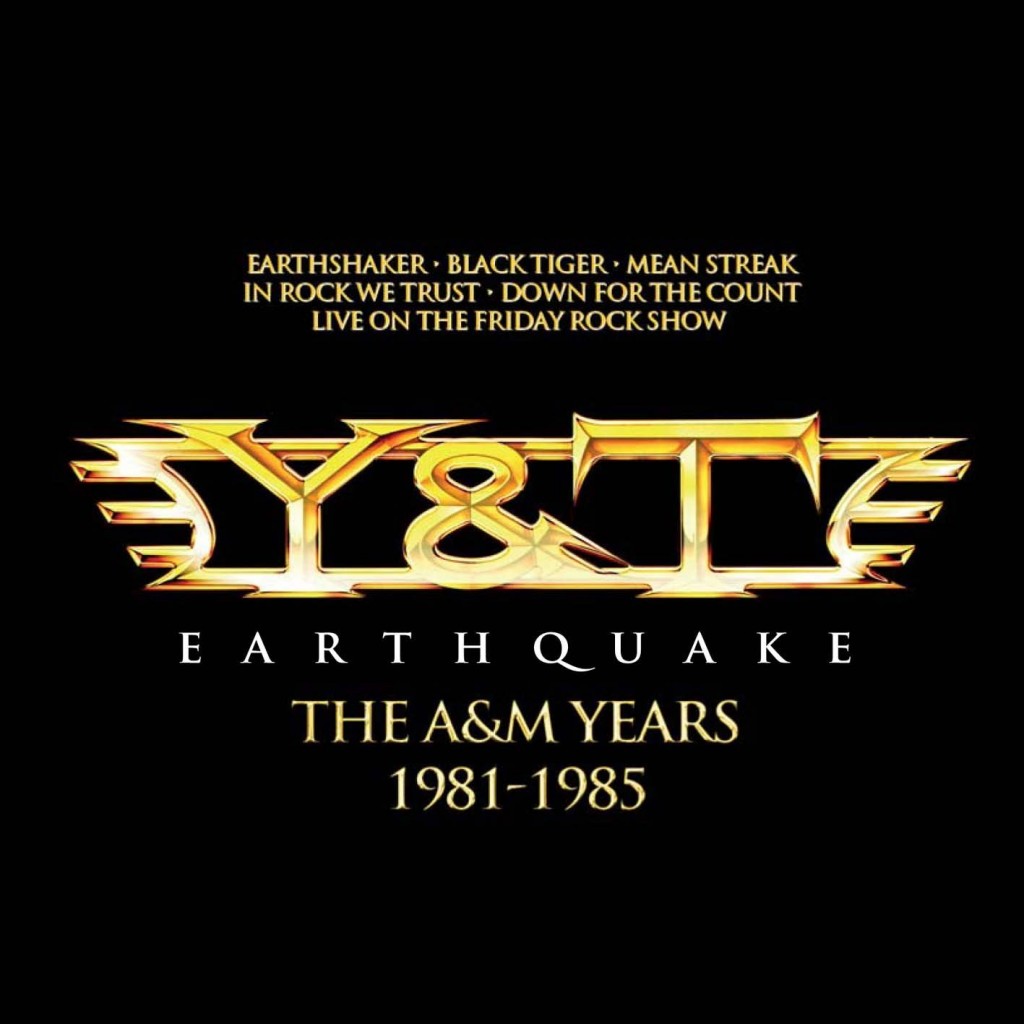 Y&T is one of the most sorely underrated bands of all time, and one of the greatest as well. Dave Meniketti is that rare individual that pulls off the role of lead vocalist and lead guitarist with the greatest of ease, remaining one of rock's last true great frontmen. Few fans would argue that the band's classic years with A&M Records in the 1980s were their golden age, spawning countless rock anthems and hit videos and singles alike. Sadly, very few of these tracks ever got the proper attention.
Y&T's classic lineup teamed Dave Meniketti up with bassist Phil Kennemore, drummer Leonard Haze, and guitarist Joey Alves. Sadly, Haze and Alves are no longer with the group, and Kennemore passed away from cancer in 2011.
This set combines five classic studio albums and two live releases. Contents of the set are as follows:
-Earthshaker (1981)
This was Y&T's first album on a major label, and the first one under the Y&T name (they had originally been called "Yesterday and Today" and released two prior albums under that moniker, making this their third album overall). Their major label debut is an absolute monster, unleashing classics like Dirty Girl, Hungry for Rock, I Believe in You, and Rescue Me. All of these songs are classic anthems, and it stands to this day as my all-time favorite Y&T album.
-Black Tiger (1982)
Following up Earthshaker was no easy task, but the band succeeded by bringing their fans a further selection of hard rock masterpieces. Max Norman, famed for his work on the Ozzy Osbourne solo records, produced this classic. Cuts like the title track, Winds of Change, Barroom Boogie, Open Fire, and the anthematic Forever stand as choice cuts that are the favorite of many a Y&T fan.
-Mean Streak (1983)
The third in what is called the "Holy Trilogy" of Y&T albums, and is another in a solid line of releases from these Bay Area rockers. Chris Tsangarides, perhaps best known for his work with Thin Lizzy and Gary Moore, served as producer of the album at hand. The title track was one of the band's most popular songs, but there are plenty of underrated masterpieces to be found here, including Lonely Side of Town and Midnight in Tokyo, both of which rank amongst their best tunes.
-In Rock We Trust (1984)
It is here that the band began to be criticized for moving in a more commercial direction, but true fans of the group know that this Tom Allom-produced record has more than its share of classic hard rock hits, including Lipstick and Leather, Don't Stop Runnin, and Rock and Roll's Gonna Save the World. Even if it is not their best record it still more than holds its own with these classic tracks.
-Open Fire (Live, 1985)
Every great rock band needs at least one great live album, and Y&T is no different. Open Fire fills that gap for our favorite Bay Area rocker boys. Interestingly, the album's setlist focuses on the first three major label releases, and not the then-recently released In Rock We Trust. That said, you will find killer live renditions of some of the band's best songs on this release.
-Down for the Count (1985)
The band at their most commercial, for better or for worse. Summertime Girls, a pure slice of cheesy, 80s poppy rock, became a massive hit single and music video, and as such many people have gotten the wrong idea about the group. Not to say the song is bad by any means, though. All American Boy was another minor hit, and the group even offers a cover of the Loggins and Messina classic, Your Mama Don't Dance (this was three years before Poison covered it). Still, even overly commercial Y&T stands the test of time better than a lot of the bands of the day. Interesting piece of trivia – one of the guests on this album was Dio keyboardist Claude Schnell.
-Live on the Friday Rock Show (recorded 1982 and 1984)
Even if you already own the albums in this set on other releases but are looking for a reason to get this set, this might be that reason. These live tracks were previously released on a standalone album, but it has long been out of print and hard to get. This is excellent, raw vintage live Y&T in their element, and these are live cuts that every fan needs to hear. The 1984 songs were recorded at the band's appearance at the Donington Monsters of Rock Festival that year.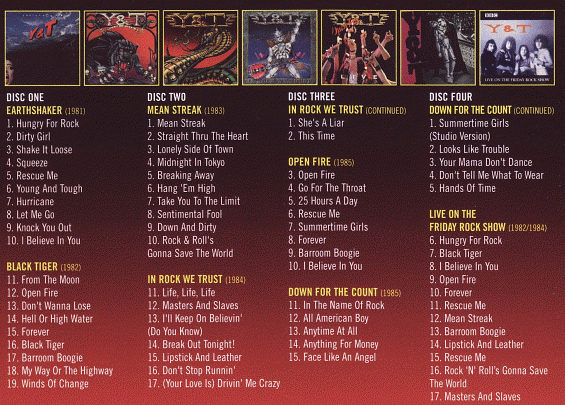 If there is one minor issue with this set, it is that the bonus tracks from the individual remastered albums were not included here; several albums were remastered with each of them having a lone bonus cut that is presumably unavailable elsewhere. These would have been a nice addition to this set but it is a very minor complaint.
If you are looking to start a Dave Meniketti/Y&T collection or are looking for the perfect intro to the group, this set is going to get the job done and then some. The band's finest era is captured beautifully across these four discs and multiple albums, live and studio alike. No fan of the band or classic hard rock in general will be disappointed with what they find here – plus you get the classic releases in one place and will not have to hunt for individual albums. Strongly recommended!