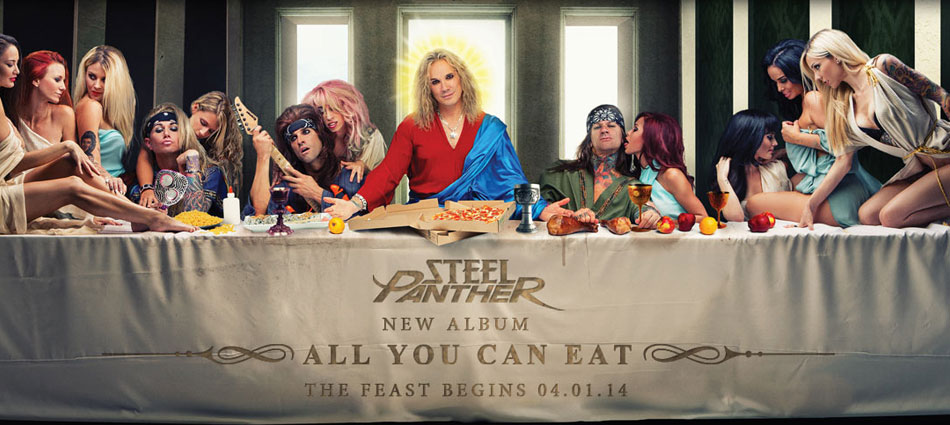 Steel Panther is the unlikely band that has become a worldwide phenomenon. It is not likely anyone ever expected what began as part 80s metal tribute band and part parody would evolve into something in which the popularity would eclipse many of the very bands they were paying homage to and spoofing! The packed house at the House of Blues on June 13, 2014 should go to show just how strong a following these deviants have made for themselves in recent years; a worldwide fandom that does not seem to be going away anytime soon.
The first thing worth mentioning in regards to this evening of rock and roll was the crowd that the band drew in. When a band has a line for admission going around the wall of the venue outside the main doors, it is a pretty good sign that they have a huge fan base! Steel Panther's popularity seems to be on the rise every day, in multiple countries. This was the band's first show in Vegas since last November, when they opened up for Judas Priest at the Pearl. Prior to this, the group had done weekly shows at the House of Blues, and the now defunct Ovation Room at Green Valley Ranch. Needless to say, this is a return that many fans were looking forward to.
A show like this demands a solid opening act, and we certainly got that in the form of Smashing Alice. This is a group that has been rocking Vegas for the past several years now, primarily playing covers of late 90s-early 2000s hard rock/alternative rock bands, albeit with a few surprises thrown in for good measure. There could just as easily have been another of the myriad of 80s metal tributes in Vegas opening this show, but that would have been redundant and uninteresting. Smashing Alice's setlist included covers of bands like Rage Against the Machine, System of a Down, Linkin Park, Papa Roach, and several others. I will be the first to admit that none of these are my preferred bands or rock genres, but Smashing Alice brings a high level of energy to the stage and certainly does justice to the material. We even got a few unexpected classic rock covers near the end of the set, which were surprisingly good. This is a group that is here to stay in the Vegas Valley, and I doubt anyone will have a problem with that.
And then, of course, came the headliner. Following a comical intro from host Rob Riggle, the quartet took the stage. Right from the get go, they began delivering everything that audiences know them for – a classic 80s heavy metal sound, comical lyrics, disgusting and politically incorrect jokes and rants, and more. It is no surprise that these guys have so strong a following; literally no one else does what they do, at least not this well.
The Steel Panther catalogue is probably too new to consider any of the songs "classics," but there were people in the audience cheering and laughing alike from start to finish, not to mention singing along. If you are not familiar with the band, song titles like "Asian Hooker," "Weenie Ride," and "Fat Girl" should give you some idea of what to expect here. Combine profane and disgusting tales and lyrics, topless women dancing on a live stage, and political incorrectness taken to the next level, and you pretty much have Steel Panther summed up. From start to finish at this show, the band did what they do like no other – turning debauchery into an art form! The band truly captures the sound of the 80s Sunset Strip rock scene, yet they are able to put their own hilarious spin on it.
If I have one complaint with an otherwise hilarious and hard rocking show, it is the usual one that I have of Steel Panther shows – the pacing. I like the dirty jokes and disgusting humor as much as any other fan of the band, but these "between song" rants go on too long. Aren't the songs themselves amusing enough already? That said, that is the only real complaint here; you could tell the audience was having a good time regardless!
After multiple albums and world tours, it is clear that Steel Panther has established their dominance in what they are doing in the music world. Unpredictable and ridiculous, the band has far larger a fanbase than the average person would expect, covering all demographics. Steel Panther music is not for the easily offended or disgusted, but if you want to laugh, nothing beats seeing these guys on the live stage.
All photos © Dillon Radley / ZRock'R Magazine