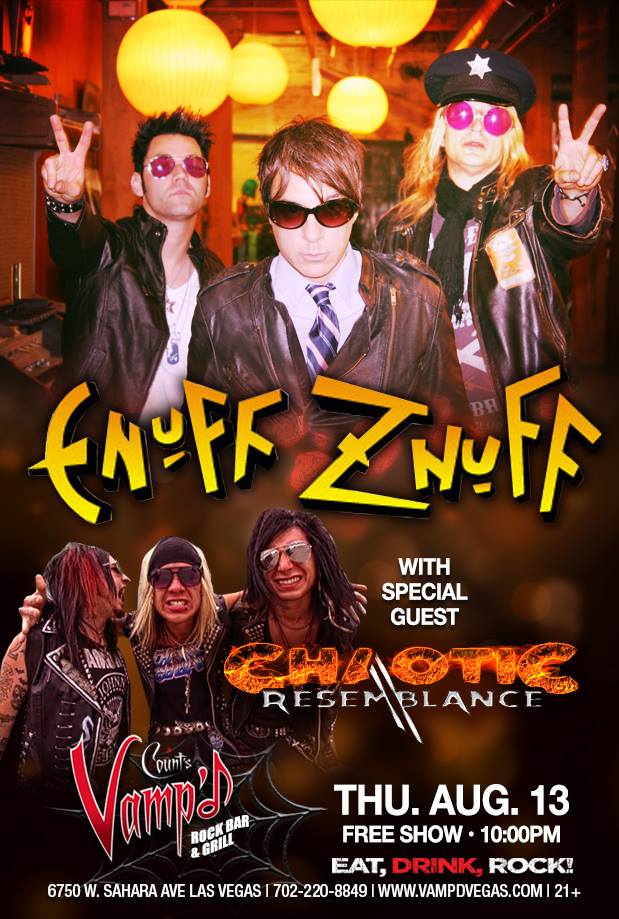 Enuff Z'Nuff was a band that emerged from the 80s rock scene, showing massive potential on their 1989 debut album. While the group is traditionally classified as a "hair" and "glam" band, they really had more of a "power pop" sound that had more in common with groups like Cheap Trick than the glam and sleaze of the era. Even after the advent of grunge and alternative rock, the group continued to record; their sound and band lineups alike have changed considerably over the years, making them one of the most progressive and dynamic bands to emerge from their respective music scenes.
It has been an interesting time to be an Enuff Z'Nuff fan, with the release of the Covered in Gold album last year, which featured the group trying their hand at some unexpected cover songs, and even the release of Chip Z'Nuff's first solo album. Furthermore, Rock Candy Records reissued the band's first two albums earlier this year. Only Chip Z'Nuff remains in the band from the classic late 80s/early 90s lineup; he is joined in the band by Johnny Monaco (who began working with the band circa 1996). Every time the band comes to Vegas, this fan is always curious to check out their shows. The fact that they were playing a small, intimate venue like Vamp'd only improved the experience!
Though only one opening act (Chaotic Resemblance) was billed on ads for the show, there was a brief acoustic solo opening set from another performer (unfortunately, I did not catch his name as it was not on any material promoting the show). In the past I have complained about the long waits between "doors open" times and when a show actually begins; sometimes this can be pretty lengthy and tedious. Adding an acoustic solo performance greatly relieves this problem; it does not require a good deal of setup and/or interfering with the equipment of other bands, and it entertains the audience. Despite this set just being one man with a single acoustic guitar, it was definitely an entertaining and diverse performance. This was a solid means to get things underway.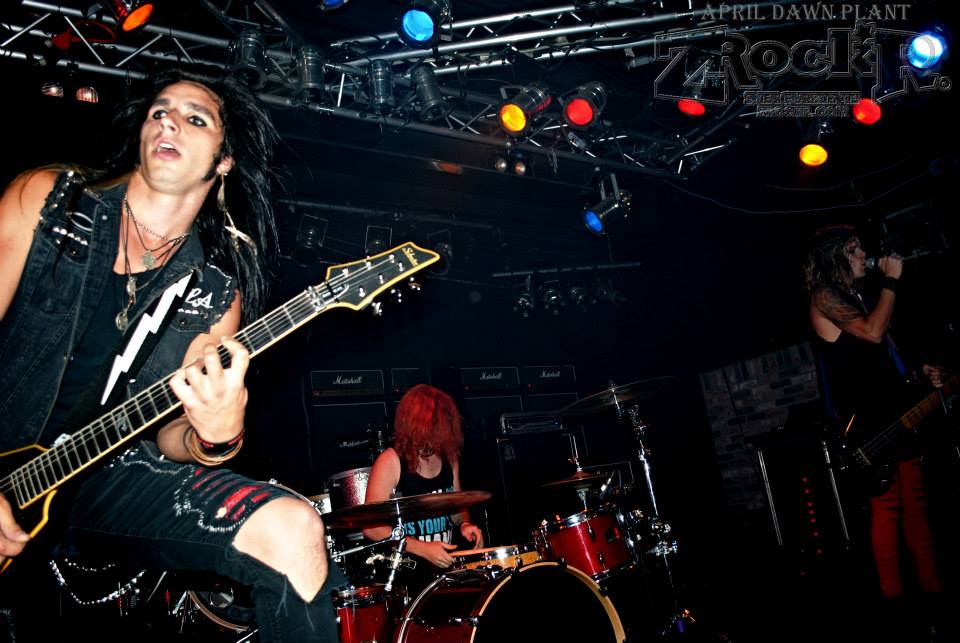 Chaotic Resemblance has come out west to play Vamp'd on a few occasions, and it was great to be able to see them at the venue again. These guys are rising in popularity and continue to garner good-sized crowds at each and every performance out here. Stryper's Oz Fox was in attendance at the show; he had produced their album and was clearly there to cheer on the band he has helped and mentored towards potential future successes.
Chaotic Resemblance is a tough band to describe; they definitely have a "tough guy" image more akin to bands like Skid Row and Guns N Roses, though their sound is more modern rock flavored, albeit with Christian themes (not unlike the band of the man who produced their record). Their shows feature some interesting original material, as well as a few covers to appease their crowds. One of the more interesting moments here was a song likening Jesus Christ to a superhero that is there to rescue people in need. I admit that I do not yet own their album, though after hearing their live set three times this year so far, picking it up is definitely on my "to do" list. The music world desperately needs a band that can bridge the gap between the classic hard rock scene and modern sounds, and Chaotic Resemblance is a group capable of making that happen.
Of course, Enuff Z'Nuff was the main draw of the night, and it is good to see this classic band still going strong. The band lineup has changed substantially over the years, with Chip Z'Nuff being the one constant that has remained after over all this time. Donnie Vie is no longer in the group, but longtime vocalist/guitarist Johnny Monaco has been doing a solid job fronting the band. For the drummer spot for this show, Vegas' own Troy Patrick Farrell handled the drumming duties.
People are familiar with the Enuff Z'Nuff hits from the band's 1989 debut record, but many do not realize just how vast and large a discography the band has. One of the things that most impresses me about the group is how well they can put together a career-spanning setlist, taking hits and deep cuts alike from 15+ albums, playing them perfectly and doing them justice on a live stage. Monaco's vocals are very close to the classic Donnie Vie singing style we heard on the old albums, and further establishes just how well the current version of the band can do justice to old favorites and more recent cuts alike.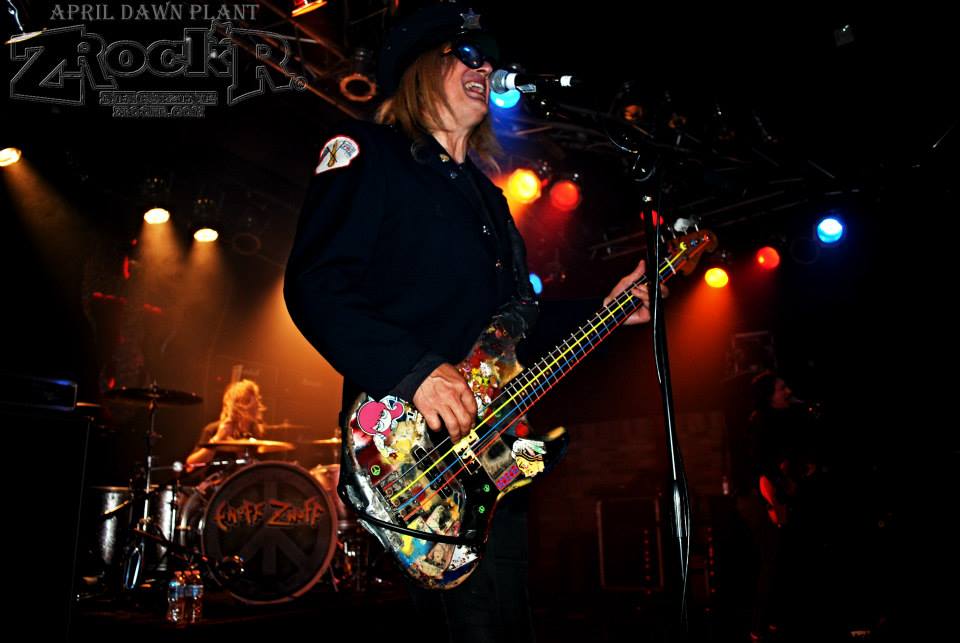 What fans got here was a solid mixture of tracks, performed live by musicians who have lost nothing over the years. One can argue for the inclusion of deep cuts from various albums over the years that were omitted from this setlist, but the performance itself was a fantastic one, with no real flaws to mention. Every track sounded great; a surprise cover of Paul McCartney's "Jet" was a nice addition to the experience as well. Between song banter was fairly minimal, though a few wisecracks definitely got a reaction from the audience. It is good to see the band's distinctive power pop sound still holds up well, much better than a number of other acts of the era.
Enuff Z'Nuff is a fantastic band that never truly got the credit or the recognition that they deserved. But I am pleased to report that not only is the band still touring; they are going strong as well, and continuing to create excellent music. This was another solid show from the band, and no fan in attendance was disappointed. This is a band worth discovering, or rediscovering! Do not pass up the chance to catch Enuff Z'Nuff on a live stage.
All Photos ©April Dawn Plant /ZRock'R Magazine