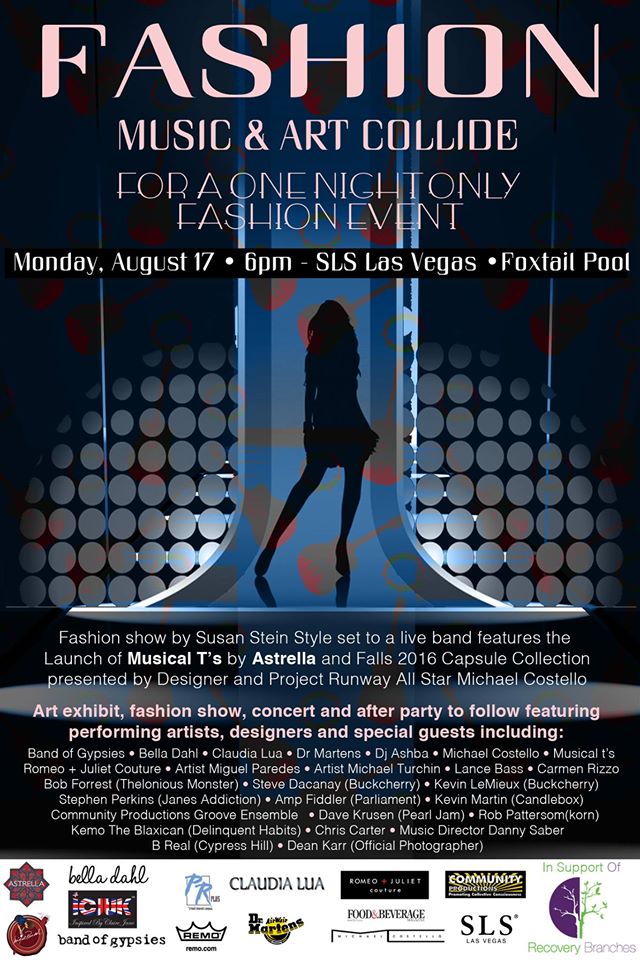 Las Vegas bills itself as 'The Entertainment Capital of the World'. Famous for its mega-casino hotels who have had entertainers from all genres cross their floors and stages throughout the years.  Vegas is one of the top three leading destinations in the United States for conventions, business, and meetings and is now becoming well known for fashion and the fashion industry.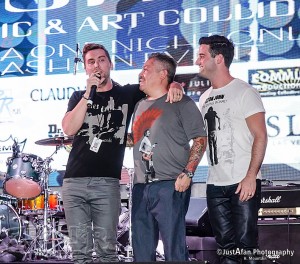 Monday night in Las Vegas is like any other night…or is it?  Monday, August 17, The Foxtail Pool at SLS Las Vegas Hotel & Casino was an 'All Eyes On Us' with an evening of music, art and fashion as Astrella Presents Las Vegas Rocks Fashion 2015. An exhibit featuring the accomplished artists, Miguel Paredes and Michael Turchin began at 6:00 p.m. in the midst of a poolside cocktail party.  The event, hosted by Astrella and Parades featured musician Lance Bass as the emcee of the festivities.   Astrella Celeste, daughter of pop-rock 60's – 70's Scottish singer, songwriter, and guitarist Donovan.  Paredes best known for his meritorious graffiti type art was a paradisiacal collaboration with Turchin, pop-art painter who is also married to Bass.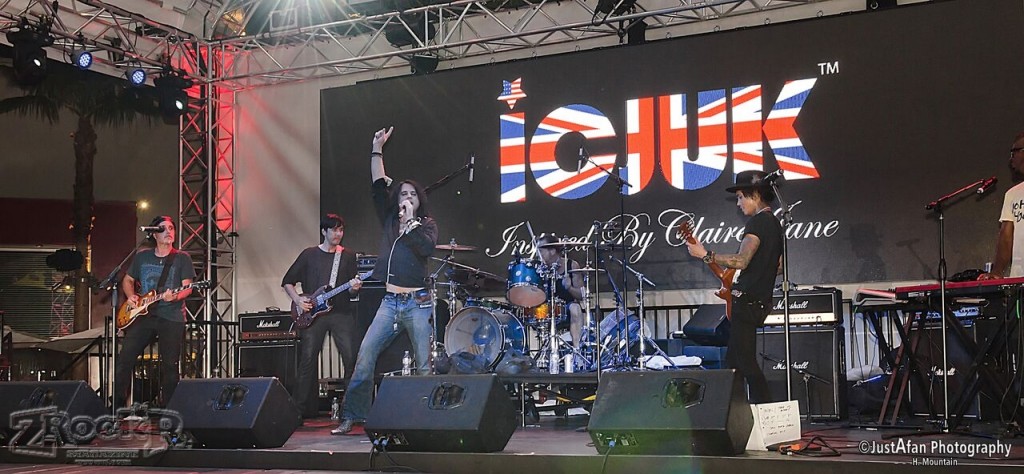 Time for the WOW factor as rock and roll lords and ladies were regaled by a showcase event by Astrella's new line of Musical T's, as well as contemporary collections by designers including red carpet designer Michael Costello of Project Runway with his Fall 2016 Capsule Collection.  Highlights of the night included Band of Gypsies, Romeo & Juliet Couture, Bella Dahl Clothing,  ICJUK, Claudia Lua and Dr. Martens as these designers presented fashion as innovative and wild as rock and roll itself.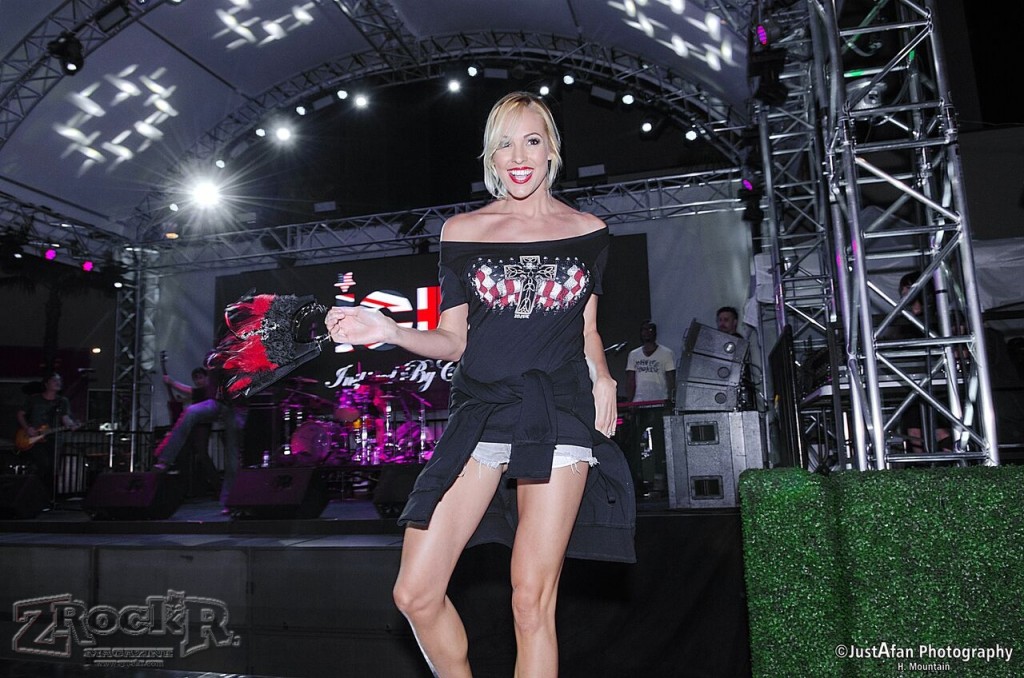 While the temperatures were well over the 110 degree mark, the sun set and a light breeze blew across the pool deck as spectators arrived. The night was set to live music with a star-packed band created just for this event which included Carmen Rizzo, Bob Forrest (Thelonious Monster), Stevie Dacanay (Buckcherry), Kevin LeMieux (Buckcherry), Stephen Perkins (Jane's Addiction)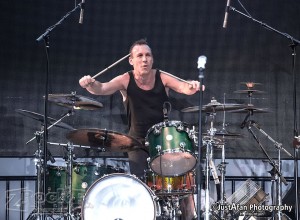 Amp Fiddler (Parliament), Kevin Martin (Candlebox), Dave Krusen (Pearl Jam), Rob Patterson (Korn), Kemo The Blaxican (Delinquent Habits), B Real (Cypress Hill), Chris Carter, Danny Saber (Music Director), Community Production Groove Ensemble, and Scot Coogan (Ace Frehley Band).  It was all rock and roll and fashion to go as the runway came to life as models strolled effortlessly to present the designs of the evening.
Styles ranged from casual and carefree as Band of Gypsies, Romeo & Juliet Couture, Bella Dahl Clothing took the stage with each designer also highlighting a tee from Astrella's collection additionally as models also accessorized with boots and shoes from Dr. Martens.  Rock and roll tees and couture was illimitable as ICJUK continued the night with designs traversing tees with flowing tops and feathered handbag creations.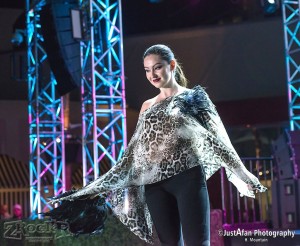 Bridesmaid, pageant, or quincenera, Claudia Lua inveigled the spectators with her 'dresses for that special day' collection. Astrella's presentation of musical tees featuring classic album covers brought memories of rock and roll of yesteryear mixed with pop-art attraction of today.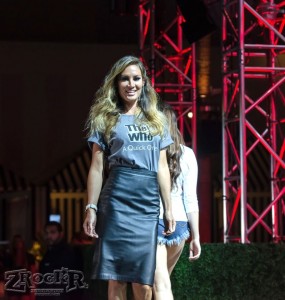 An interesting fact about Astrella's tees; they come equipped with a scannable barcode that allow a download of the album featured on the printed tee.   Completing the evening of music, art and fashion, Michael Costello bewitched with dresses of plunging necklines, hip-hugging silhouettes, slits from here to there and his signature sheer with exquisite draping as the band executed a penetrating rendition of 'Kashmir'.  Surprising the audience with an opposite sex model, Costello kept in true form as the lines with dark black and silver personified his pure design inventiveness in creations for men.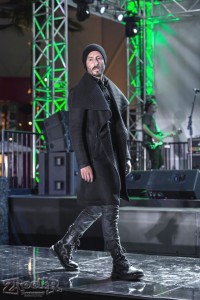 Giving a final thank you and bow, Costello hand in hand with Astrella bid everyone a heartfelt thank you and good night.  Another Vegas night complete;  this time with art, music and fashion. Cheers and applause arise from the crowd as the night ends.  HELLO Vegas….we need more of this!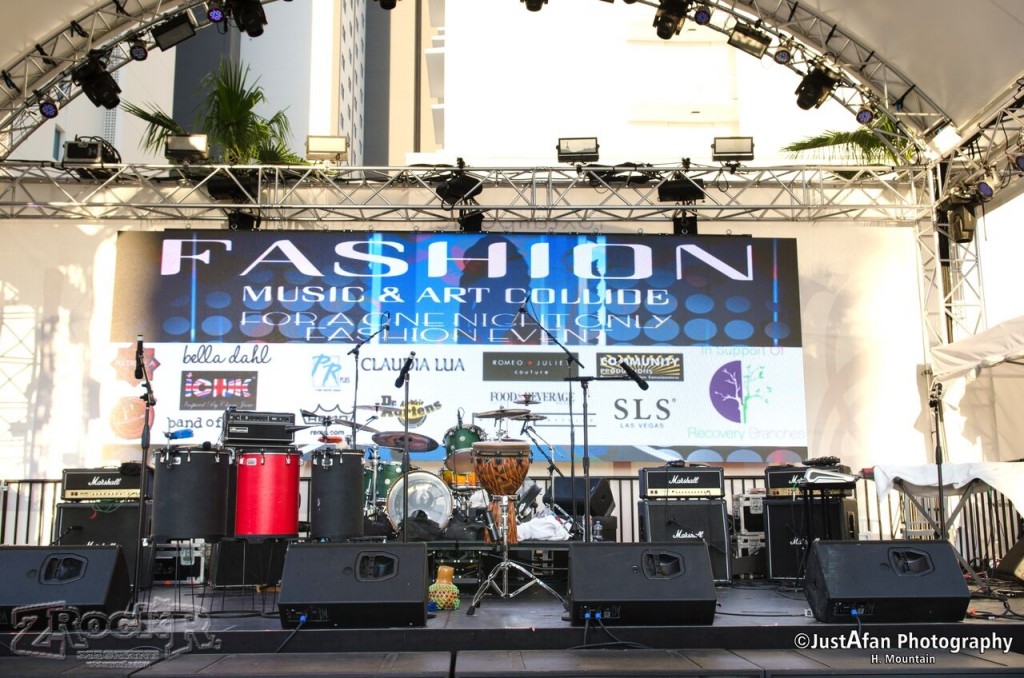 MORE SHOTS FROM THE NIGHT!