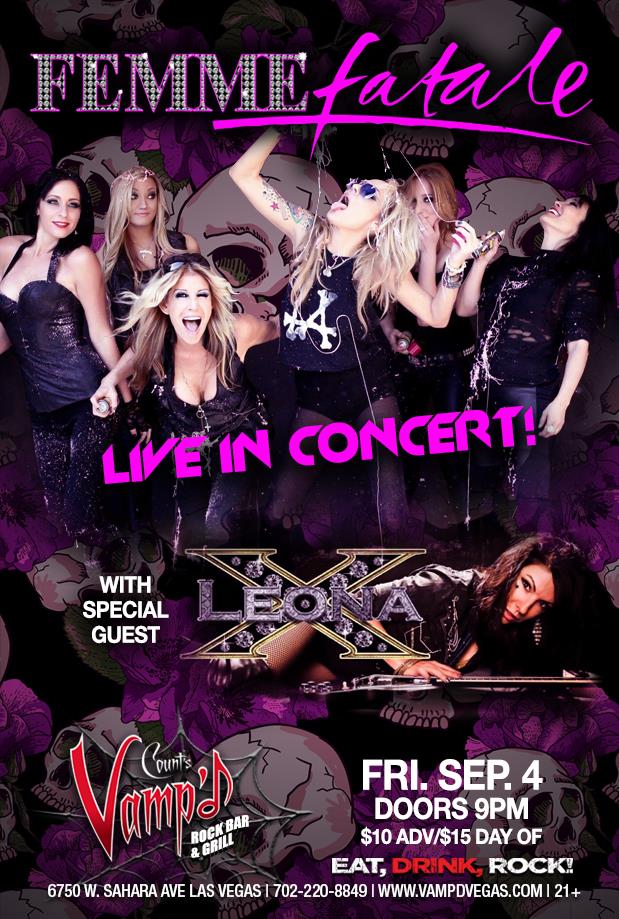 Femme Fatale was one of the many great bands that had so much potential in the latter half of the 1980s, but record company politics and behind the scenes goings on prevented them from spreading their wings and achieving mainstream success. The group released one album in 1988 which featured some minor hits, and recorded a second, which was unfortunately shelved and never saw the light of day. That has not prevented vocalist Lorraine Lewis from pursuing her own musical interests, though.
Femme Fatale was reformed by Lewis recently with a new, all-female lineup (the original lineup, which also included Lewis' brother on bass, was all male other than her). With talent that includes guitarist Courtney Cox (the Iron Maidens) and drummer Athena (sister to Motley Crue's Tommy Lee and ex-wife of the Scorpions' James Kottak), this new version of Femme Fatale is arguably the best yet.
Leona X opened up the evening. While Leona has been garnering a huge following in Sin City, this is admittedly the first time I had heard her band play. Having said that, I was long overdue to see her in action on the live stage, doing her thing. She definitely brought an unrivaled stage presence, and a solid backing band that had plenty of people right up front, rocking out at the stage. Leona's performance won over many a rocker in the house, this one included, with a set that covered everything from 80s style hard rock, to even a Godsmack cover! This was my first time seeing Leona X in concert, but it is not likely to be the last either.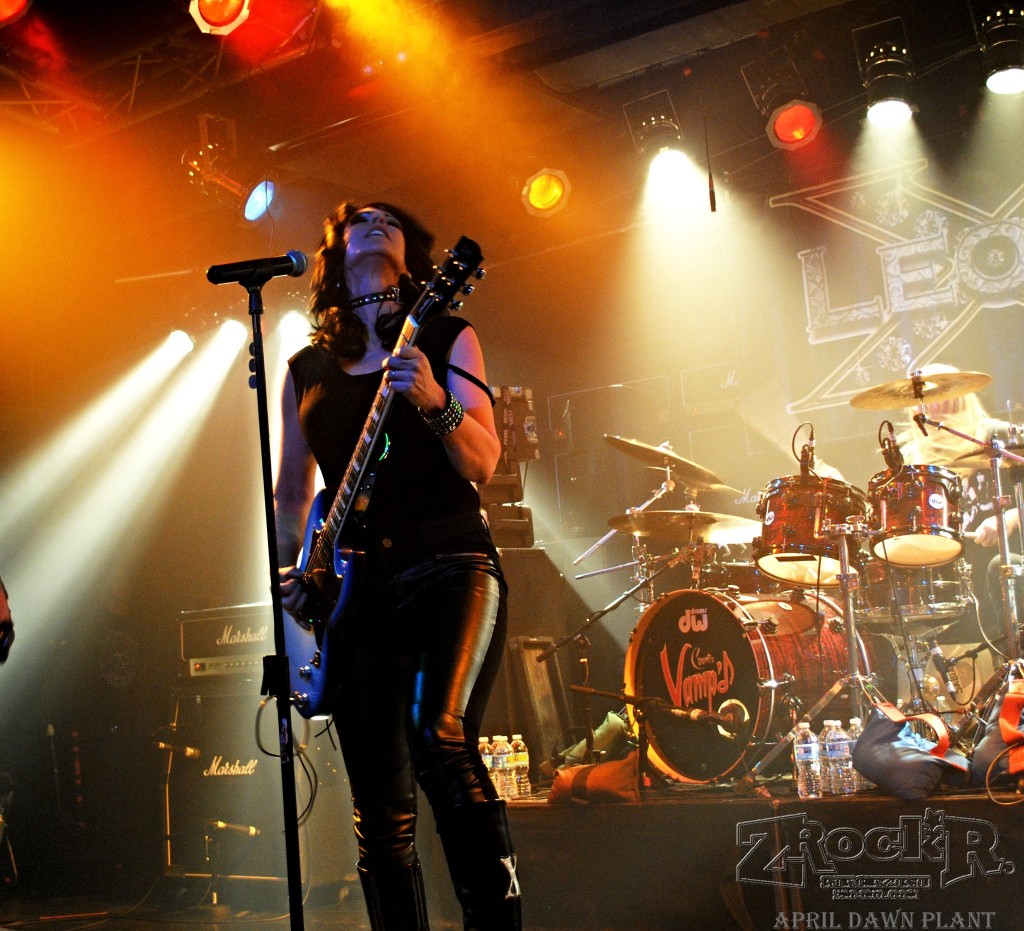 Femme Fatale is the reason fans flocked to Vamp'd that night, and those attendees will be quick to tell you that the band did not disappoint! The group drew in a respectable crowd, especially given the other shows that were going on in Vegas on this night. Clearly Femme Fatale has plenty of fans, and they were all eager to support Lorraine Lewis and the girls on stage. Their name might not be the most immediately recognizable of all 80s rock bands, but that did not stop Vegas rock and roll fans from coming out to experience their music, whether rediscovering the band or discovering them for the first time.
If there are two things I love, those things would be hard rock and sexy women. Femme Fatale brings both to the stage with a vengeance! Lewis in particular remains a charismatic vocalist who can command a crowd with ease; her vocals are still fantastic, and on top of that, she still moves around the stage with the energy of singers half her age. When this incarnation of Femme Fatale is on stage, the band members have smiles on their faces and clearly enjoy entertaining the audience. There is definitely chemistry amongst the members; you can tell this is more than just a band of people playing together.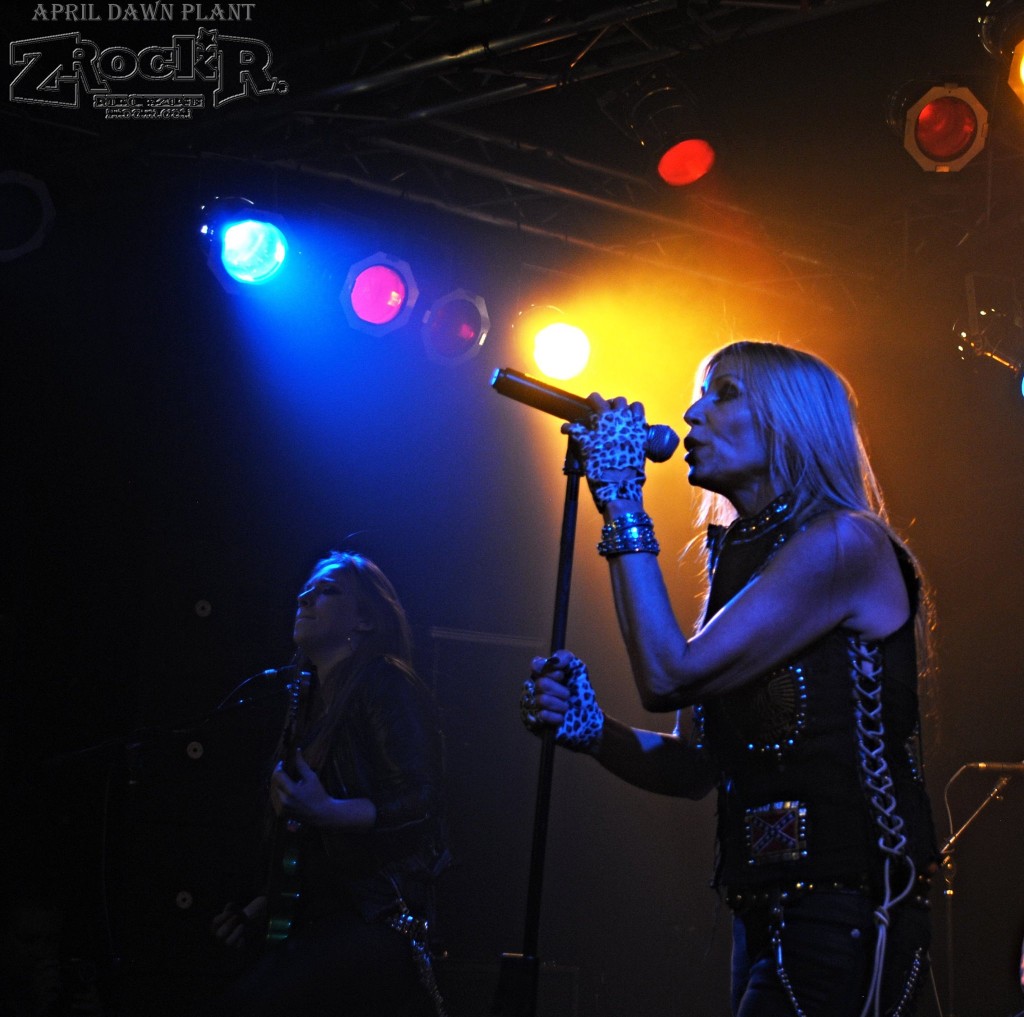 The band (in its original incarnation) only ever released one album, which contained the minor hits "Falling In and Out of Love" and "Waiting for the Big One." The group's setlist included tracks from their eponymous 1988 record, as well as their unreleased second album, which Lewis claimed would be released next month after a quarter century in the vault. Getting to hear these songs live for the first time was a great experience, and one that certainly leaves me optimistic for the album's release!
The performance was not overly long, but the group did manage to pack a good variety of songs into their setlist, rockers and ballads alike. No one in the audience was disappointed with what they heard, and this showed throughout the entire rock and roll experience presented on stage that night. The band definitely had a way of keeping the crowd's attention, be it their sound, their good looks, or the unexpected use of a party popper!
Femme Fatale showed this Vegas audience that they can rock, and their current lineup is one of the finest they have ever had. This fan is looking forward to the release of their long-shelved second album, and is hoping to see the girls record new material eventually. Leona X was a superb support act as well, with both of the artists thoroughly rocking the crowd. If they hit up your town, Femme Fatale's live show comes strongly recommended!
PHOTO CREDIT:  Photos by April Dawn Plant for ZRock'R Magazine  © 2015 ZRock'R Entertainment, LLC- All Rights Reserved