NOTE: This review contains minor spoilers for previous Hunger Games films; it is impossible to discuss this film without at least partially discussing events of the previous ones.
It has been a long and interesting ride these past few years with the Hunger Games film series, which quickly exploded to the level of worldwide phenomenon. Based on a trilogy of young adult novels by Suzanne Collins, this is a series of films that has won over audiences of all ages, all around the world, and continues to attract new fans.
The Hunger Games – Mockingjay Part 2 is the fourth and final film in the series (there were three novels, but the latter one was split into two films, with the previous installment being released last fall). Critical reception of the first two movies was overwhelmingly positive, but the decision to split the Mockingjay novel into two movies has been met with questionable response; the previous film received an overwhelming number of less positive reviews as a result. That said, fans believed that Mockingjay Part 2 would be the worthwhile payoff at the end of it all.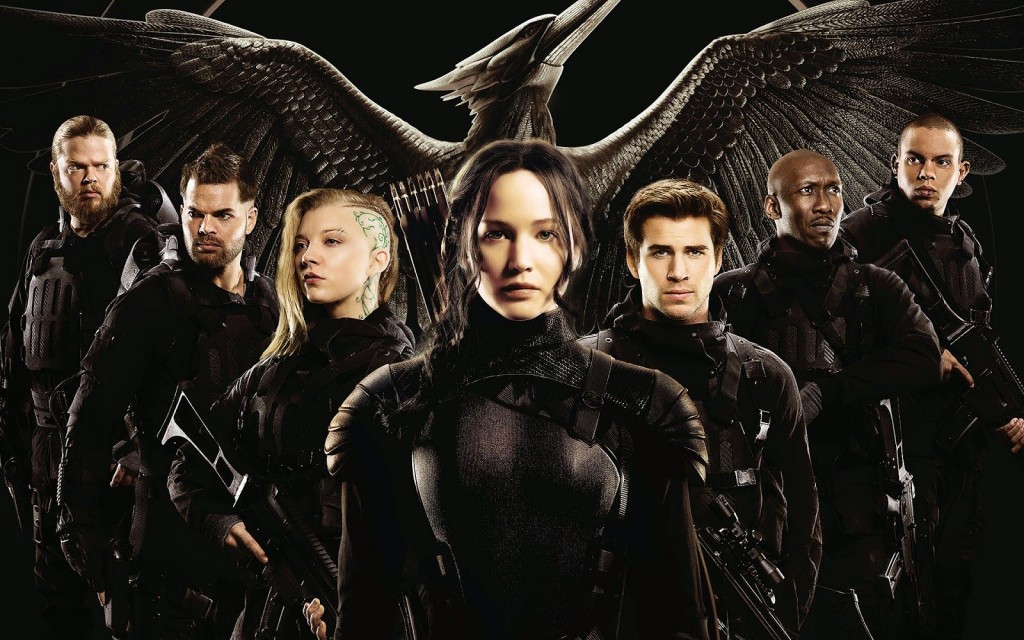 When we last Katniss Everdeen (Jennifer Lawrence) and the rest of our heroes, they had just returned from a mission to strike at the villainous President Snow (Donald Sutherland) and the heart of the Capitol, rescuing their captive allies – only to have Katniss be assaulted by a brainwashed Peeta (Josh Hutcherson). But the time to strike back and follow through may never come again, so the rebels from District 13 must make their move. Katniss and Peeta join up with a rebel unit along with Gale (Liam Hemsworth) and former Hunger Games victor Finnick (Sam Clafin) to march on the Capitol. Unfortunately, the deserted streets of the Capitol have been transformed into a trap-laden battleground, with unexpected surprises and disasters around every corner. As Katniss continues to pursue her ultimate goal of assassinating President Snow, with support on the side from Beetee (Jeffrey Wright), Effie (Elizabeth Banks), and Haymitch Abernathy (Woody Harrelson), she finds herself conflicted by what is going on and what is to come, including the actions and motives of rebellion President Coin (Julianne Moore) and former Capitol gamemaker Plutarch (Philip Seymour Hoffman).
The first movie in the Hunger Games series did a good job introducing us to this one of a kind fictional universe. The second further fleshed things out and featured some gripping drama, and a setup for something bigger on the horizon. Those films were also brilliant in putting the audience in the arena with Katniss, giving viewers a true feeling of despair and danger. The third film, on the other hand, was largely boring with nothing substantial happening. The decision to split the Mockingjay novel into two films has been unwise, as Mockingjay Part 2 only partly delivers the product that audiences have been hoping for. There is no telling whether or not the movie would have been better if it was one long film adapting the complete Mockingjay novel. As it is, we get a final product that suffers from weak pacing and much of the mundane feel that plagued Mockingjay Part 1.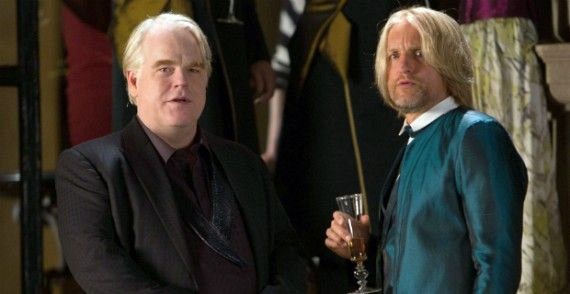 As far as the good things on deck here go, the film once again features great performances from its ensemble cast. Even if other aspects of the movie are less than stellar, there is no denying Jennifer Lawrence's performance as Katniss Everdeen; for four films she has made this character her own, and this moviegoer is eager to see what she goes out and does next in the film world. Much of the remainder of the cast is relegated to supporting status; this is Katniss' movie first and foremost, but we get great performances from everyone despite this. It is bittersweet to see Philip Seymour Hoffman in what will be his final film appearance (he died in early 2014 of a drug overdose) but he leaves a lasting impression in a small but memorable role.
I had high hopes for the fourth and final installment in this franchise, but things never really take off. The pacing means numerous scenes drag on far longer than they need to; even the long awaited action sequences manage to wear out their welcome. Hell, the film even drags on for a substantial length after the "climax" has concluded, trying to further develop the future of Panem, but we are left with an unsatisfying conclusion that drags on and ultimately leaves us with more questions than answers.
One of the biggest complaints I have of the Hunger Games film franchise's latter installments is that fan favorite characters get tossed aside, an atrocious trend that began in Mockingjay Part 1 (I have not read the source novels, but it is likely that this is true of them as well). By far the best character in the series is Haymitch Abernathy, the drunken former victor played brilliantly by Woody Harrelson. In the first two movies, this guy stole the show; the perfect balance between wise mentor figure and drunken comic relief. But in the latter two movies (and even more so in Mockingjay Part 2) he gets cast aside. Effie and Beetee get what more or less feel like glorified cameos and nothing more. Mockingjay Part 1 brought in a lot of new characters, but sadly, none of them were as interesting as their predecessors in the series. It is truer than ever here.
Yet, despite my ramblings and the obvious faults of the film that viewers will see, the film is not bad; it is certainly a step up from the mundane Mockingjay Part 1 that was the series' most dismal and uninteresting part. Even when the movie slows to a snail's pace, director Francis Lawrence does still do a good job painting a picture and building a world. The movie never quite recaptures the "in the arena" intensity the first two movies did so brilliant a job of, and it is still far too long to be a "part two" movie on its own. But despite the flaws (and there are plenty of them), fans at large will most likely be pleased with Mockingjay Part 2. This fan can at least give it a modest recommendation.
DISCLAIMER: All images in this review are the property of their respective copyright holders, including Lionsgate, Scholastic, and Suzanne Collins. For promotional use only. All rights reserved.