In 1984, This is Spinal Tap hit theaters. Though the rock and roll mockumentary only experienced modest success during its theatrical run, the film has since become legendary amongst fans, ranging from headbangers to the musicians themselves (many of whom claim were the inspiration for the film!), and even just those who like a good satire. Clocking it at a mere 85 minutes, the classic film features amazing comic talent on both ends of the camera, and classic performances (both acting and musical) from all involved.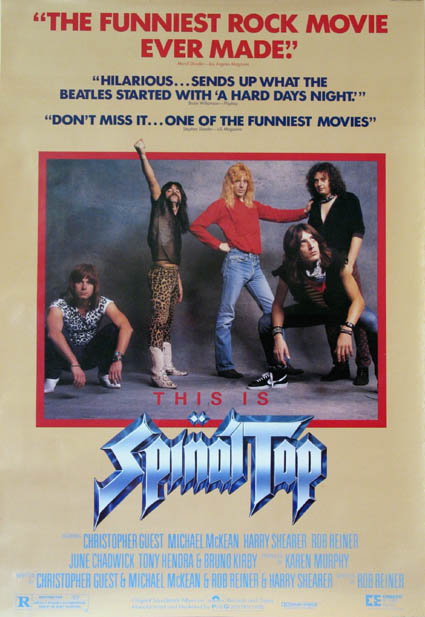 There is not much of a plot to This is Spinal Tap, but there does not need to be. Documentary filmmaker Marty DiBergi (Rob Reiner, who also directed the film) follows the band around on their first tour of the United States in years. The band is comprised of lead guitarist/vocalists David St. Hubbins (Michael McKean) and Nigel Tufnel (Christopher Guest), lead bassist Derek Smalls (Harry Shearer, and yes, the movie does call him "lead bass"), drummer Mick Shrimpton (RJ Parnell of Atomic Rooster) and keyboardist Viv Savage (David Kaff). DiBergi films the band on and off the stage. As performers on stage, the band struggles with regular equipment malfunctions and gaffes, ranging from getting lost backstage, to Stonehenge monuments that are so undersized, they are in danger of being trampled by little people. Off stage, the band lives in complete denial of the fact that their fanbase is dwindling, and struggles and strives to come up with ways to keep the band relevant and interesting (how much is it going to cost to dress the band up as animals?) In fighting and management disputes in the group threaten to derail the band's American tour, as if cancellations of shows and poor promotion were not already obstacles enough!
While This is Spinal Tap did not take off right away, over time the film developed a cult following on home video. It is worth noting that the film was given a "Four Star" rating from legendary critic Roger Ebert (his highest rating) and was added to his "Best of the Year" list for 1984. Over time, the film has gained a greater base of fans from all walks of life.

The biggest and best asset of This is Spinal Tap is its core crew. Director Reiner and the three "main" guys in the band, portrayed by Guest, McKean, and Shearer, wrote the film together and even performed all of the music themselves. The greatest surprise here is that the music contained within; despite the silly titles and lyrics laden with double entendre and innuendo, is as good as anything put out by "real" bands at the time. Do not let titles like "Sex Farm" and "Big Bottom" fool you; these guys are surprisingly adept and talented musicians! The majority of the songs follow straightforward 80s hard rock/metal conventions, with a few other elements thrown in, but the "band" even has some "throwback" style songs that they (in the film) performed on television in the 60s (which look and sound surprisingly convincing). Even if there were no movie, the soundtrack alone would be essential listening, both to those seeking rock and those who want their share of comedy.
This does not stop the "band" from being comically talented on the film. Being able to have everything go comically wrong on stage with these guys keeping a straight face mid-performance is half the fun. And what other movie has a band and their manager screaming at each other in a serious argument regarding a Stonehenge monument that was nearly trampled by a dwarf? One can only imagine how many takes it took to get something like this down without fits of giggling. The scenes do not have to involve the stage to be hilarious, either. Some of the best moments come in the conversations between the band and the documentary filmmaker, not the least of which are talks about the fates of the band's past drummers (he died in a bizarre gardening accident… he choked on vomit (that was not his own!)… he exploded on stage…) or not-so-kind reviews of the band's past albums (on what day did the lord create Spinal Tap… and could he have rested on that day as well?)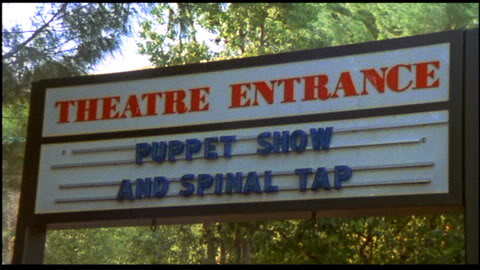 One thing truly surprising is the amount of talent featured in the film apart from the band members and the filmmaker. Billy Crystal and Dana Carvey as mime waiters at a record company party. Fran Drescher as a record company employee protesting the band's profane album cover. Howard Hesseman of WKRP in Cincinnati fame as a fellow artist's manager, and Paul Shortino as the rock star he represents! Bruno Kirby (Young Clemenza from The Godfather Part II) as the band's New Yorker limo driver. Paul Shaffer (AKA David Letterman's sidekick) even appears as a record promoter whose skills are lacking.
The film feels largely "episodic" in that it goes from one scene to the next with nothing outlasting its welcome. With the 85 minute length, this pacing works surprisingly well; we grow to love these characters in the short time we spend with them. Every scene of the movie is bound to do something that gets a chuckle out of the viewer.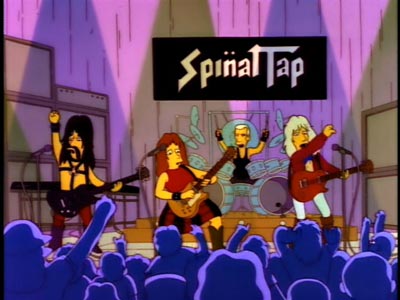 The band recorded two more CDs in addition to the soundtrack to this film; later CDs from the band featured a number of guest appearances as well. A loose sequel film of sorts, featuring the band performing in the early 90s, with vignettes featuring the characters from the movie between songs, is also available (though possibly out of print). The group reprised their roles in a Simpsons episode in the early 90s as well (Harry Shearer is one of their regular voice actors). Even though the band is supposedly fictional, they have even done a few live performances.
Most versions of the film released on home video have a number of bonus features, including over an hour's worth of deleted scenes. I strongly recommend watching these; many subplots that were only hinted at get further fleshed out, and there are plenty of laughs to be had. One deleted scene even has an appearance from a pre-Beggars and Thieves Louie Merlino! Do not overlook the supplements if you get the movie on home video.
This is Spinal Tap is a cult classic, and gives its audience the best in rock and roll and comedy alike. If you have not seen this one yet, what are you waiting for? Likewise, if you are a long time fan, it may be time to dust this one off and turn it up to 11 all over again.
DISCLAIMER: All images in this review are the property of their respective copyright holders. For promotional use only. All rights reserved.