The music of Aerosmith is timeless and remains revered by rock and pop fans around the world. From their raw, classic rock roots in the 1970s, to their transformation to global superstars in the late 1980s through the 1990s and beyond, there is no one in the civilized world today that has not heard of Aerosmith, and rightfully so.
It is no surprise that a good many bands want to pay homage to Aerosmith, with the Aeromyth tribute band being one that has become increasingly popular in recent years. Paying tribute to one of rock's most iconic bands, the show features an all-star cast of musicians: Chris Van Dahl (LA Guns) as Steven Tyler, Frankie Wilsey (Arcade, Sea Hags) as Joe Perry, Neal Shelton as Brad Whitford, Tony Cavazo (Hurricane, London) as Tom Hamilton, and Bob Duda as Joey Kramer. These musicians have all left a substantial impact in their own respective acts, and to see them come together to pay homage to one of America's all-time great rock groups is a surprise of the best kind!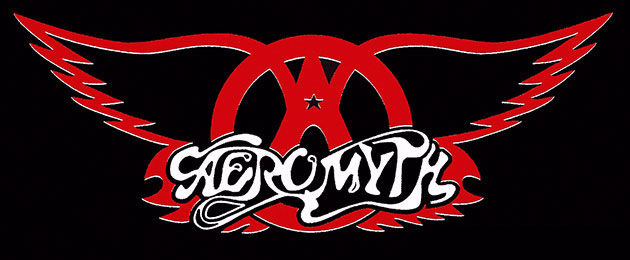 In many ways tribute bands are difficult to pull off. You have to achieve the look of the musicians in question, the sound, and choose a setlist from 40+ years of music. Successfully doing any of these things is not easy; doing all of them is next to impossible. Yet this quintet manages to satisfy audiences and then some, with a varied setlist and spirited performances that will not disappoint fans.
The respective band members all do a good job representing the appearance of the men they represent, but none of them are as good at this as vocalist Chris Van Dahl. This man has portrayed Steven Tyler as part of the Legends in Concert show, and also did Aerosmith songs a few years back in a band alongside former Aerosmith guitarist Jimmy Crespo. Van Dahl looks and sounds exactly like Tyler; the likeness is dead-on perfect. If you want to do Aerosmith music right, THIS is the man you want fronting your band. Not to mention his on-stage humor and antics, which the audience clearly got a kick out of.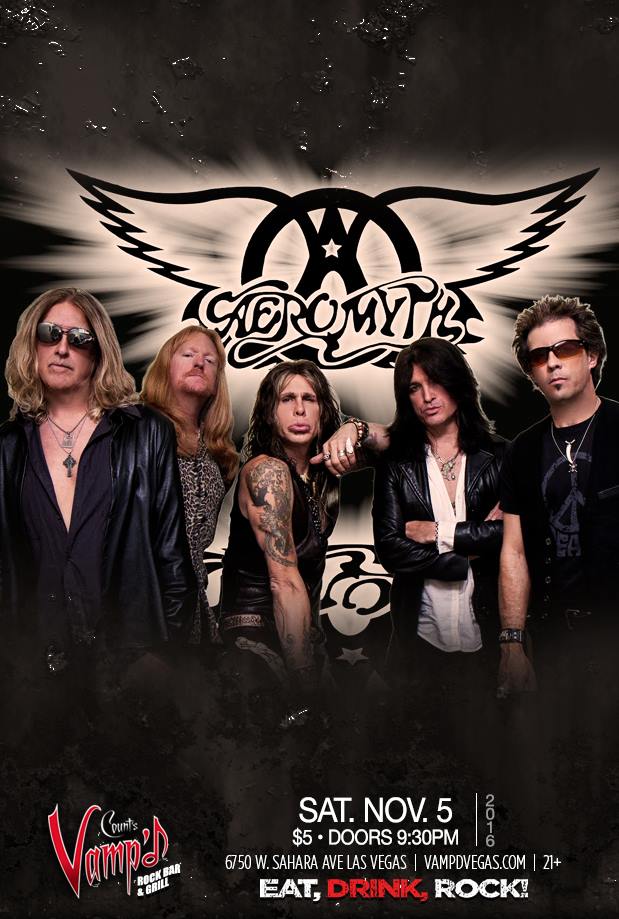 The rest of the men on stage are certainly no slouches. Former Sea Hags and Arcade guitarist Frankie Wilsey definitely satisfies in the Joe Perry role; he even filled the lead vocal mantle for a Hendrix cover! Not to be overlooked is fellow guitarist Neil Shelton, who plays Tom Hamilton. And while I did not see much of Bob Duda (seeing as how he was behind the drum kit and all the other musicians), it did not stop him from pounding away and satisfying the audience. Also worth mentioning is bassist Tony Cavazo (brother of former Quiet Riot guitarist Carlos Cavazo), filling the part of Tom Hamilton. This is a top-notch group of musicians, and what they had to offer audiences at this gig was nothing short of excellent.
The band also deserves credit for not simply copying the studio recordings. They bring a live energy to the experience, and it definitely feels like one is at an Aerosmith concert, and not just sitting at home listening to the records. This is how to perform the music of this legendary band!
The setlist is probably going to be the biggest point of contention for most concertgoers, but that is only because Aerosmith has such a huge back catalogue and some widely varied eras. Honestly, I came in here only expecting the band to do tracks from the band's 1970s heyday, but was rather surprised to see a few songs from beyond those days, even ranging into the late 80s and 90s period. I personally admit to not being as big a fan of the band's post-Done with Mirrors material, when the songs became more overproduced and pop friendly, but I also respect and admire these musicians for trying to run the gamut when it comes to years and years of Aerosmith music; the crowd was clearly enthralled by what they heard.
I was satisfied with the setlist overall, though I would liked to have seen more of the 70s deep album cuts; "Seasons of Wither," "Rats in the Cellar," and "Uncle Salty" all could have been choice inclusions (and I know damn well these guys have what it takes to pull them all off!) That said, "Adam's Apple" was a great inclusion in that regard!
Not every single hit was performed; "Back in the Saddle" and "Last Child" were surprising omissions, but in the long run this fan was more than impressed by what he heard at Vamp'd on this evening. In fact, you could tell the audience was having a great time from the opening notes right down to the encore.
Aeromyth does justice to multiple eras of one of America's most endearing and beloved rock bands. Are you an Aerosmith fan at all? Be you a casual one or a die-hard, this is definitely the way to go if you want to see these classic tunes brought to life. Do not pass up a chance to go see Aeromyth!