Padmaavat is directed by Sanjay Leela Bhansali. The film stars Deepika Padukone, Shahid Kapoor, and Ranveer Singh. It is based on the epic poem, Padmavat, by Malik Muhammad Jayasi, released in 1540. The film is in the Hindi language, and subtitled in English for American exhibitions. The film is being shown in 3D in some theaters, in addition to the standard 2D showings.
In the Middle East in the 13th century, the ruthless and ambitious Alauddin seeks to conquer, rising to power by any means necessary, including assassinating the people he serves, and recklessly and ruthlessly waging war. Elsewhere in the world, Maharawal Ratan Singh, a powerful but benevolent and honorable ruler, falls in love with with Padmavati, a Sinhala princess, who accidentally wounds him during his travels to her land. When Alauddin hears the stories of Padmavati's beauty and that she is the thing that will bring him happiness, he sets his sights on making her his own, with his ambitions resulting in war between the two kingdoms.
Padmaavat was actually scheduled for release in December of 2017 in India, but delayed amidst controversies, including its historical accuracy (I won't go into these here, but there are plenty of websites and articles elsewhere that cover the stories). For the purposes of this review, I am only looking at the film as a form of entertainment, with no regard to accuracy and the like. In fact, the movie even features a disclaimer prior to its opening credits that it may not be completely and totally accurate; this is to be expected with a film based on a work that is nearly 500 years old, also taking into consideration that the original story may have taken liberties of its own.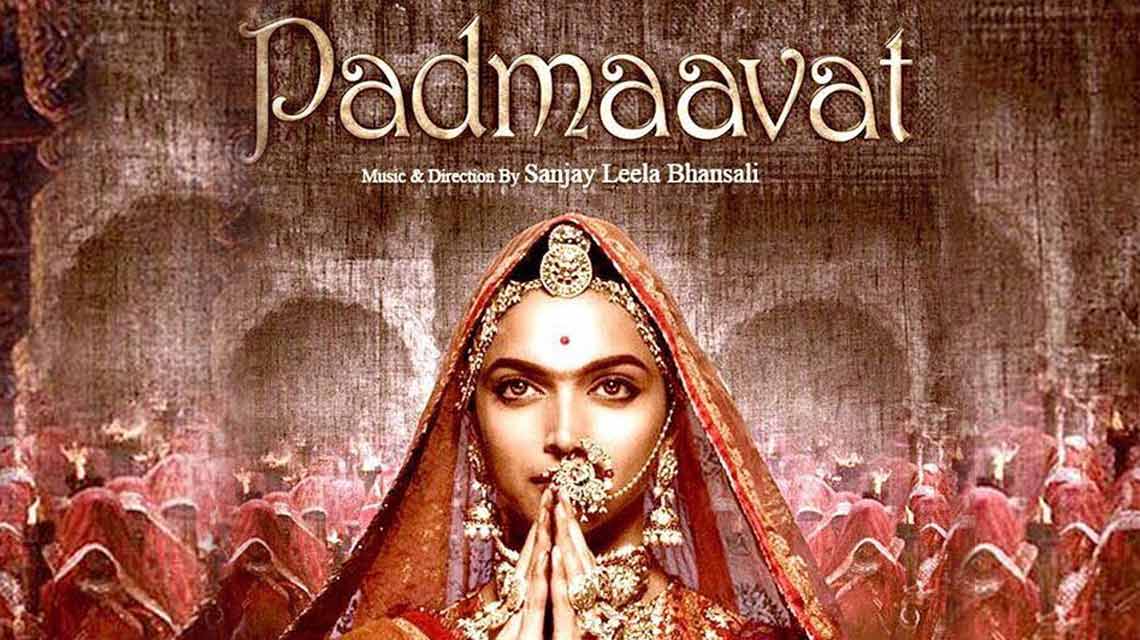 Padmaavat has superb acting from its leads and supporting casts, a gripping storyline that will enthrall a wide variety of audiences, and an atmosphere that obviously took advantage of its sprawling budget; one of the biggest ever devoted to an Indian film, which will be noticeable, right from the get go.
Okay, let's get the bad news out of the way first. The CGI work on some of the animals seen early on in the film looks terrible. The creatures are obviously not real, and stick out like a sore thumb. If you are going to use CGI work in a non-animated film grounded in realistic dramatic storytelling, it has to blend in and be believable, and there are simply too many scenes where this does not work. Animatronics or live action animals would have served the purpose better.
The other weakness of the movie is that, without rhyme or reason, there are a handful of scenes where it randomly turns into a musical. This detracts from the otherwise realistic and gritty atmosphere of the bygone era depicted in the film. The songs themselves do not sound like they are period accurate, and likewise sound like they could have been recorded in a modern studio yesterday with the latest techniques. Giving most of these scenes the axe would have helped the movie's pacing and overall tone.
Fortunately, those are the only two major complaints I have with what is, otherwise, a stellar, spectacular film. The movie had one of the biggest budgets of any Indian film ever made, and it shows in nearly every scene, with its lavish period costumes, sprawling palace walls and fine rooms, and a diverse assortment of indoor and outdoor settings. Padmaavat is an absolutely gorgeous film, and I am pleased to report that the qualities of the movie do not stop there.
The true standout actor in this film is Ranveer Singh, who is the ruthless Alauddin, with his sights set on conquering nations, aiming to have more of the world than any conqueror of the past. He does whatever it takes to get ahead, committing ruthless and merciless killings, and "playing dirty" in more ways than one. Yet somehow, he achieves the impossible and actually manages to make the character likable and appealing, with a few more comic moments that, thankfully, do not feel out of place. He feels like a strange mash-up of Captain Jack Sparrow and Hans Gruber, and his performance is easily my favorite thing about the entire film. Anyone who comes to see the movie, whether they are fans or not, will remember this guy. He and Shahid Kapoor's Singh make for interesting foils to one another, and the scenes they share are some of the best the film has to offer.
The other major standout performance comes from Deepika Padukone as Padmavati, the queen that wins over the heart of Singh during his travels and becomes his wife, and later, the object of Alauddin's desires. She is a beautiful woman, but one who is never the damsel in distress, bringing something to every single scene in which she appears. She is every bit as cunning and brave as her male counterparts, and is not afraid to stand up and fight when it comes to doing the right thing, even if it means risking her life.
At 163 minutes, the film is a little on the long side, and could have benefited from the cutting of the musical scenes and some of the lesser subplots; a side story regarding a rival who wants to overthrow Alauddin shows great potential, but is rather quickly discarded and becomes a wasted afterthought. Still, the movie held my interest far better than most films that have a run time this long, and that is not easy to accomplish.
Padmaavat is a spectacular Indian epic that should be experienced by all cinephiles, with its spectacular production value, talented cast, and a plot and characters that are sure to hold your interest. There are a few quibbles in some aspects of the movie, but they are minor. You should not be disappointed with this new take on a classic epic story.
Rating: Three out of four stars.
Padmaavat is not rated by the MPAA, but my recommended rating is PG-13 for realistic scenes of war violence, and light sensuality and thematic elements.
DISCLAIMER: All images seen in this article are the property of their respective copyright holders, including Bhansali Productions and Viacom 18 Motion Pictures. For promotional purposes only. All rights reserved.