The House With a Clock in Its Walls is directed by Eli Roth. The film stars Jack Black, Cate Blanchett, Owen Vaccaro, Kyle MacLachlan, Renee Elise Goldsberry, and Sunny Suljic. The film is based on the 1973 novel by John Bellairs.
Young Lewis Barnavelt is orphaned when his parents pass away in a car crash. Following their death, he is sent to live with his eccentric uncle Jonathan. While unable to fit in upon going to school, Lewis becomes fascinated with magic upon discovering Jonathan and his longtime companion Florence are both magicians, and are searching for a strange ticking clock hidden in the wall of the home by its villainous former owner, which they believe is meant to serve a sinister purpose. Jonathan teaches Lewis some magic, but when the naive young Lewis attempts to use magic to impress a friend from school, he ends up unleashing a threat on the town which could have disastrous consequences. Can the three magic users work together to prevent a potential cataclysm?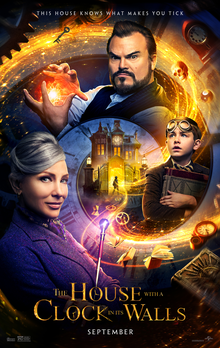 Let me be the first to say I didn't exactly come into this film with the greatest optimism, as adaptations of children's/young adult novels, past and present, have been hitting screens at breakneck speed and have oversaturated the market. A Wrinkle in Time, The Maze Runner: The Death Cure, and The Darkest Minds easily rank amongst 2018's worst films. An adaptation of a children's novel from the 70s, over 40 years after the release of the original book, directed by Eli Roth, who normally only directs super-violent R-rated films (including this year's Death Wish remake) naturally wasn't something I was too eager to watch. Yet with its great central cast, fun story, relatable characters, and haunting moments and imagery, the film is a pleasant and unexpected surprise.
Cate Blanchett and Jack Black have excellent chemistry, with the two sharing a genuine friendship yet regularly swapping insults, which results in plenty of comical moments. Newcomer Owen Vaccaro is great as the confused and recently orphaned young boy who has trouble fitting in, but must learn to believe in himself to help all he holds dear. While the villains get fairly limited screen time compared to the heroes, they're genuinely creepy and manage to conjure up a feeling of suspense films like this often lack. Kids will be fascinated by the eccentric characters, atmospheres, and spooky elements, and adults will enjoy it for the witty script and memorable moments which come along with it. It's great to have a family movie which will actually entertain the whole family. A few of the scarier moments may be a bit too spooky for younger children, but there's likely nothing here you haven't seen at the movies before content-wise.
The decision to set a modern-day family film in the distant past works in the movie's favor and helps in giving it an atmosphere sorely lacking from many other modern-day movies. It's a story that likely wouldn't have worked had it been set in the modern world, so hats off to the filmmakers for not trying to "update" it too much.
The only real complaints I have are a few moments that overemphasize toilet humor and jump scares, and a sorely lacking emphasis on Lewis' school life aside from a few scenes here and there; I gladly would have swapped certain expositional scenes for more scenes developing his encounters in the school. Fortunately, aside from these problems, I don't have many other complains about the film.
The House With a Clock in Its Walls is that rare adaptation of the children's film which actually makes for a quality movie the whole family will enjoy; it's just odd it's being released in theaters a full month prior to Halloween. Definitely recommended.
Rating: Three stars out of four.
DISCLAIMER: All images in this review are the property of their respective holders, including The Estate of John Bellairs, Amblin Entertainment, Reliance Entertainment, Mythology Entertainment, Amblin Partners, and Universal Pictures. For promotional use only. All rights reserved.