As a member of Accept and Victory in their heydays, Herman Frank has rocked the world for decades. In the past several years, he launched a solo career, recording music under his own name and continuing to entertain his global fanbase. Fight the Fear, which streets in February, is the fourth solo album from the German rocker.
Frank's solo band is comprised of Rick Altzi, Heiko Schroder, Andre Hilgers, and Michael Muller. Teaming up with plenty of other talent in the industry, it's clear Mr. Frank isn't about to lay down his guitar anytime soon. So, how does the album fare? Is it a worthy addition to an already impressive discography spanning multiple bands?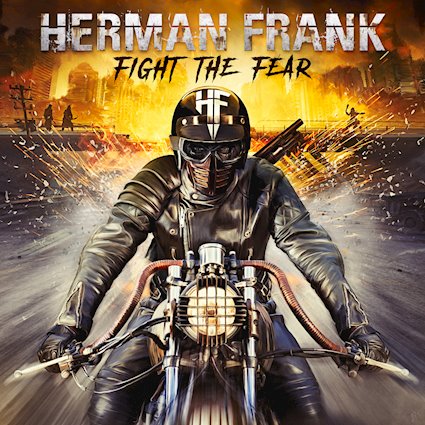 In today's world it's a challenge to release new music and remain relevant. Do classic artists continue to use the same sound three plus decades on, or do they attempt to modernize and enter the mainstream? Herman Frank, with the release of Fight the Fear, he's managed to strike a happy medium between the two ends of the spectrum. It's a classic sound unmistakably his own, yet it has a modernized edge to it as well. It's a high-energy release, hard and heavy, and manages to maintain a necessary level of rawness.
Not surprisingly, the true highlight of the album is Frank's guitar work, which suits every song on the record perfectly. It's a tight-knit band with no shortage of chemistry, and this fan definitely hopes to see the group on tour and giving audiences more music! Most of the songs on the album are straightforward, hard, heavy, and aggressive, yet manage to maintain plenty of musical diversity despite it. You won't be bored if you're a fan of classic hard rock and heavy metal.
I'm glad to see Herman Frank still active, and he's got a kick-ass band in his corner for his solo career. His stints with Accept may be done with, but it doesn't change the fact he's still alive and well, shredding like he always has. Fight the Fear is the first album I've reviewed this year, but I already have a pretty good idea I may be revisiting this one for my eventual "Best of the Year" list! Highly recommended!