Avengers Endgame (hereafter referred to as "Endgame") is directed by Anthony and Joe Russo. The film features an ensemble cast of actors and actresses reprising their roles from earlier Marvel Studios productions.
Following the events of Infinity War, the world is in a state of disarray, reeling from loss. Everyone copes with the events in their own ways, moving on with their respective lives. But the heroes, despite their initial misgivings, discover there may be a way to wipe away the destruction caused by Thanos and the Infinity Stones. The team sets out to do what's necessary, but their efforts have unexpected consequences which may put what little they have left at stake.
A year we've had to wait to get the conclusion of the story which began last year with Infinity War. Hell, it's basically the culmination of everything that began with the first Iron Man movie way back in 2008. The so-called "Infinity Saga" spanning 22 movies ends here, and do the end results satisfy?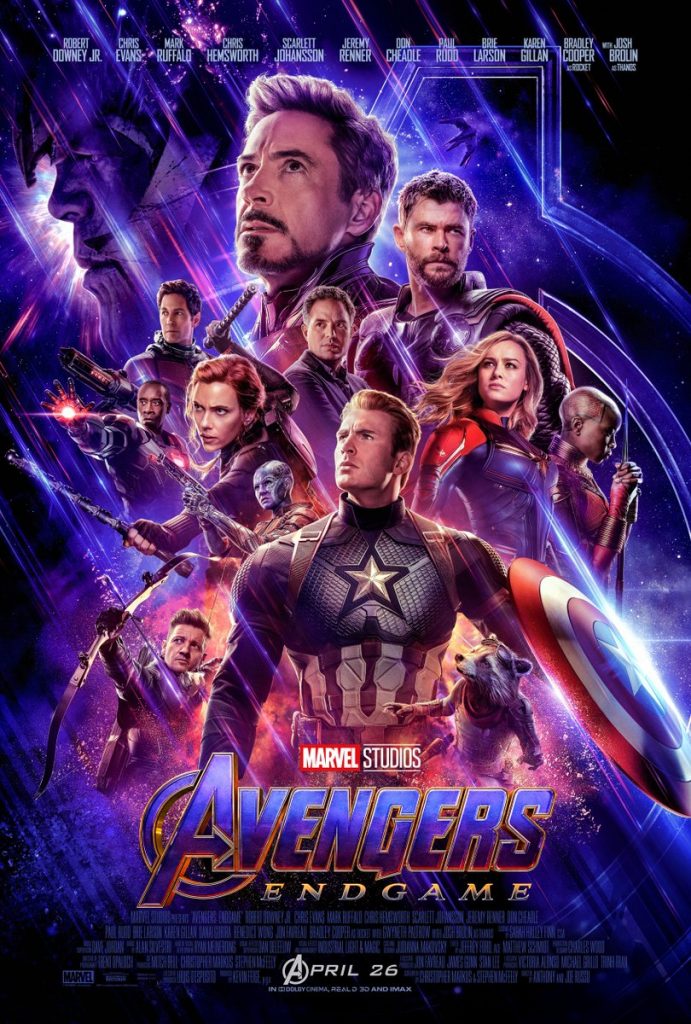 Despite a few hiccups along the way, there's no denying Endgame is a hell of an end for this chapter of the saga that is the Marvel Cinematic Universe. Once again, the juggling act of a massive cast is handled seamlessly by directors Anthony and Joe Russo, and movie doesn't skimp on the action, the drama, or the classic MCU humor audiences have come to love. There's definitely something of a sense of finality and closure here, even if we know Marvel Studios plans additional films (hell, there's a new Spider-Man movie due in July).
Marvel Studios must continue to be praised for their top-notch casting efforts. In addition to the usual heroes, you'll get your share of unexpected surprises, with this movie being as much a love letter to the previous movies as it is a fitting conclusion. The performances from the cast are everything you'll expect and more, with these actors handling the material superbly, be it an all-stakes battle, a tear-jerking dramatic moment, or the cracking of jokes we basically now expect each movie to deliver. Does Endgame deliver in terms of its cast?
Indeed it does. But if you've seen any movie in this titan of a media franchise, you already know that. After seeing Endgame, you'll be reminded of how great a cast this is, and hopefully we'll be seeing many of them in additional films come the franchise's fourth phase.
Endgame delivers, and if you think you've seen it all in a Marvel movie, the studio once again makes you eat your words. Sure, you've seen these characters before, but there are plenty of twists and turns, and battles which always manage to up the stakes and everything which unfolds on screen. When a three-hour movie never lets up or bores the audience, you know the good people at Marvel have done their job. That we're so invested in the characters and what's going on we never once look at our watches should say something profound.
What truly impressed this fan with Endgame was the dramatic weight it carries. No, it's not the first film in the MCU to feature dramatic elements, but it's perhaps felt here on a larger scale than in any other film. We know these heroes have lost so much near and dear to them. We know there's still plenty at stake they could lose. Just over a decade ago, if you were to tell me as a child that I, as a grown man, would be moved and in tears by the dramatic finale of a superhero film, there's no way I would have believed you. I won't spoil anything, but bring plenty of tissues along.
I didn't quite, however, like the film as well as its predecessor, Infinity War. Too much of the movie feels like it's depending and relying upon explicit events and moments of earlier films (stretching back quite a bit farther than just last year's movie). Naturally, the backstory from them forms the foundation of everything here, and even with the Russos so well juggling everything at hand, this does feel a bit much at times, often like "fanservice" moments to get the audience giddy (no denying they succeeded that that though). There's also about one subplot too many, including one involving a second-tier character which feels a bit excessive, and a fan-favorite character being "written off" in a rather lazy-yet-emotional way. Furthermore, several characters audiences were looking forward to seeing get shortchanged, which is a disappointment. That said, this is by no means a bad movie, and I'd likely put it in the MCU's upper tier.
Is Endgame the end? Obviously not, although it will be interested to see where things go from here. You'll be satisfied seeing these characters continuing to move forward on their respective journeys, knowing everything has paid off and then some. The movie delivers in every conceivable way despite minor shortcomings. Fans won't be disappointed.
Rating: Three-and-a-half stars out of four.
DISCLAIMER: All images in this review are the property of their respective owners, including Marvel Studios and Walt Disney Studios Motion Pictures. All rights reserved. For promotional use only.