Long Shot is directed by Jonathan Levine. The film stars Seth Rogen, Charlize Theron, O'Shea Jackson Jr., Andy Serkis, Bob Odenkirk, and Alexander Skarsgard.
Fred Flarsky is a crass but effective journalist, who finds himself out of a job when he quits in protest of a much-loathed media mogul buying his publication of employment. Through a series of strange coincidences, he meets Charlotte Field, the Secretary of State, who was his babysitter as a child! Field sees potential in his writing to help her campaign and eventual desire to run for President of the United States, as the two find themselves falling for one another. But will Flarsky's unflinching attitude and idealism derail the relationship and Field's political goals?
Comedies are a dime a dozen these days. So are political movies. I can't say Long Shot is something I was expecting much from.
Sometimes, it's good to be proven wrong!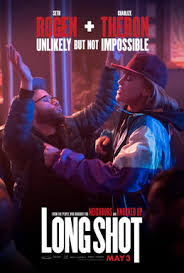 Long Shot is absolutely hilarious from start to finish. Seth Rogen is his usual hilarious self, and the chemistry he has with Charlize Theron, coupled with a strong supporting cast, takes something which sounded like a disaster on paper, and turns it into one of the best comedies of 2019. It's certainly NOT for the easily offended, but if you want a take-no-prisoners comedy which delivers belly laughs and still manages to have a heart and an appealing story, the movie delivers and then some.
Seth Rogen stands strong as one of the best comedic talents out there still going strong today, and Long Shot reinforces exactly why that is. In the film, it's impossible not to laugh, whether Rogen is delivering something crude and crass in a political speech or everyday dialogue, or he's trying to forge both business and personal relationships with the Secretary of State. What truly impressed me about this film is the chemistry he has with Charlize Theron, who portrays his love interest, who's long since moved from babysitting into politics. Her compromising and begrudgingly professional Secretary of Stage combined with Rogen's idealistic journalist make for plenty of memorable moments. In something I don't usually say in regard to comedies, these two deserve Best Actor/Best Actress nominations for their work here.
The supporting cast supplements the experience nicely, with O'Shea Jackson Jr. (son of rapper Ice Cube) as Flarsky's long-time friend, Andy Serkis (in a non-motion capture role) as a power-hungry media mogul, Bob Odenkirk as the President, and Alexander Skarsgard as the Canadian Prime Minister. While this is largely Rogen and Theron's show, everyone here is perfectly cast. You won't go more than a minute without laughing.
The film is outright hilarious, but I should warn viewers this one earns its R rating. The opening sequence, featuring Rogen's journalist character trying to infiltrate a white supremacist rally, does a good job setting the tone for the rest of the film (not to mention a hilarious gag revisited a few times throughout the film). Throughout the movie there are jokes which know no limit, and plenty of sequences which will send the easily offended running from the theater. But if you've got a sense of humor, and you want to laugh relentlessly for two hours, there's no finer movie. I'll say no more, as I don't want to spoil any of the gags or memorable one-liners.
The movie is a little too long, but still deserves credit for never running out of steam despite the length. My issues with the film are few and far between, one of which being an overly stereotypical Canadian character portrayed by Alexander Skarsgard, who doesn't really manage to be all that funny given the company he's in (though this isn't his fault). Another issue stems from an abundance of pop culture/celebrity references; while I found the film absolutely hilarious, we'll have to wait a few years to see how it holds up and if these references remain funny/relevant.
Any issues I have with Long Shot are minor. Hands down, this is easily the best comedy I've seen in theaters since The Disaster Artist (which coincidentally also featured Rogen). If you're not easily offended, and you want a raunchy R-rated comedy which still has a heart, appealing cast, and a largely original premise, there's no better movie. See it!
Rating: Three-and-a-half out of four stars.
DISCLAIMER: All images in this review are the property of their respective copyright holders, including Lionsgate, Good Universe, Point Grey, and Denver and Delilah. All rights reserved. For promotional use only.