Unraveling the Wilburys played The Club at The Cannery Hotel/Casino on Saturday, May 4, 2019.
The Traveling Wilburys, one of classic rock's most beloved supergroups, only put out two albums, but recorded many great tracks in that all-too-brief instant. The band consisted of Jeff Lynne (ELO), George Harrison (Beatles), Tom Petty, Bob Dylan, and Roy Orbison, and the band's devil-may-care attitude, just having fun making music together. Despite a lack of live performances, the group's two records are still seen as a highlight in the classic rock world.
Not surprisingly, due to the beloved Wilburys music enduring, there have been attempts at tributes to the group. Unraveling the Wilburys (not to be confused with a similarly-named UK-based tribute called The Unravelling Wilburys) is one such band. As a definite fan of the Wilburys music, I didn't want to pass up a chance to see a group performing their music live. How did their show fare?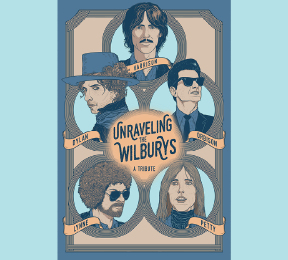 This a good show with some solid talent, though there were a few issues worth addressing. But more on those in a little while.
The band consists of musicians playing the roles of Tom Petty, Roy Orbison, Bob Dylan, and George Harrison, as well as backing musicians on bass, keyboards, and drums. Unfortunately, the band's website has very little information, so I'm not able to name the actual performers (they were introduced briefly during the performance itself, though interestingly are not named on the official site).
The performers themselves are quite talented, and truly get into their roles the best that they can. By far the true standout performer of the evening for this rock and roll fan was the man portraying Roy Orbison, who beautifully captured Orbison's singing and playing, be it on one of his classic 50s/60s hits, a Wilburys song, or the twilight of his career and life. The man playing Bob Dylan was clearly in much better shape than the actual Dylan has ever been, and gave some of the most spirited performances of the night, including harmonica playing and solo on an acoustic guitar. Even the man playing Tom Petty had a voice dead-on similar to the man he was playing, and their George Harrison looked and sounded the part. The talent of these man can't be denied.
Also worth mentioning is the "backing band" which consisted of a keyboardist, bassist, and drummer, all of whom held down their ends throughout the duration of the show. While never the central focus of the evening (the four guys playing Wilburys stood front and center, with these guys at the back of the stage), these guys deserve definite credit for their contributions.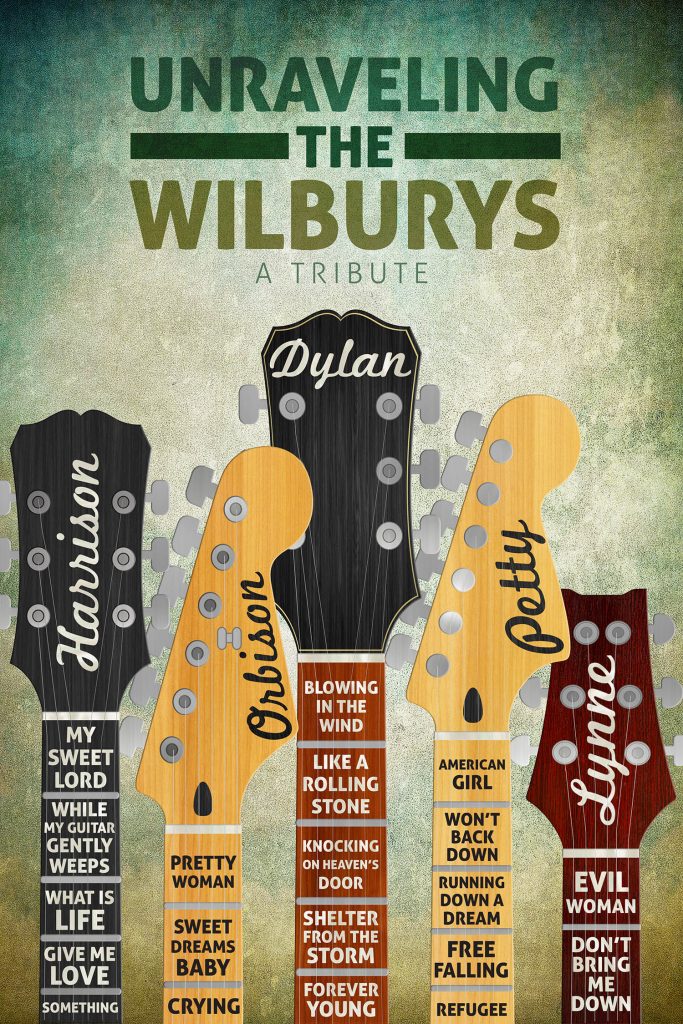 As the actual Wilburys didn't do tours, formulating a setlist for a show meant to serve as a tribute to them is a challenge. What Unraveling the Wilburys opted to do here was a show comprised of a mixture of the respective artists solo careers/other bands, and only a handful of actual Wilburys songs. Other songs performed included "Runnin' Down a Dream," "I Won't Back Down," Like a Rolling Stone," "Don't Think Twice It's all Right," "You Got It," "Blue Bayou," "Something," "My Sweet Lord," and "While My Guitar Gently Weeps," as well as a cover of Del Shannon's "Runaway" which swapped out the synthesizer for a kazoo, and the actual Wilburys songs "Handle With Care" and "End of the Line." One of my biggest issues with the evening was the lack of Wilburys tunes; it was relegated to the handful of hits and the "Runaway" cover, which is a bit misleading considering the main focus of the evening was supposed to be Wilburys as opposed to their respective solo careers/other bands. That said, I was pleasantly surprised to see a handful of obscure/deep cuts in the mix; the Bob Dylan song "Don't Think Twice It's All Right" was a definite surprise in the best of ways. Put simply, I loved every song that got played, but a tribute to The Traveling Wilburys needs more Traveling Wilburys music. As there are two whole albums worth of material to choose from, this is a bit of a disappointment. There were a handful of flubbed lyrical moments, perhaps most noticeable in "I Won't Back Down," but the crowd didn't seem to notice or care too much.
The other big issue was not with the performers, but rather, what was lacking in this department. The group featured people performing Tom Petty, Roy Orbison, Bob Dylan, and George Harrison. Do you notice something missing?
No Jeff Lynne.
The band addressed this and even poked fun at the fact that "it's hard to find someone who does Jeff Lynne." Honestly, I agree with this remark. Lynne, the frontman of Electric Light Orchestra (ELO), is tough to replicate. But you can't do a Traveling Wilburys tribute without Lynne. I would've looked the other way here had the group at least performed one or two songs from The Move and/or ELO, but the band couldn't even do any of these. Even if one of the other performers sang them, it would have been better than no Lynne stuff period, seeing as how we got solo/other band songs from the other four guys. The biggest issue here is that Lynne and his songs are mentioned in all adverts for the band (see the pictures from their website shared here), which is misleading.
Okay, I've honestly said a few critical things here, but if these guys played more songs from the actual Wilburys albums and hired a Jeff Lynne performer, they could be great. Nearly all of the pieces are in place, and with a few more rehearsals, a retooled setlist, and someone to play Jeff Lynne (or even just performances of his songs if they don't hire a separate performer), Unraveling the Wilburys could be something truly great. If you're a fan of the band or any of the respective artists, though, there's more than enough to recommend their performance here, just be aware of what you're getting, as well as what you're not.