Dora and the Lost City of Gold (hereafter simply referred to as "Dora") is directed by James Bobin. The film stars Isabela Moner, Eugenio Derbez, Michael Pena, Eva Longoria, Danny Trejo, Benicio del Toro, Temuera Morrison, Nicholas Coombe, and Madeleine Madden. It's a sequel/continuation to the popular Dora the Explorer series/franchise.
Dora, after years of living with her family in the jungle and being largely isolated from society, is sent by her family to Southern California to attend high school with her cousin Diego. Before long, she's back in South America, searching for her parents who mysteriously disappeared while seeking out an ancient lost city. Will Dora and her new friends be able to find her parents, despite the dangers of the jungle and greedy treasure hunters?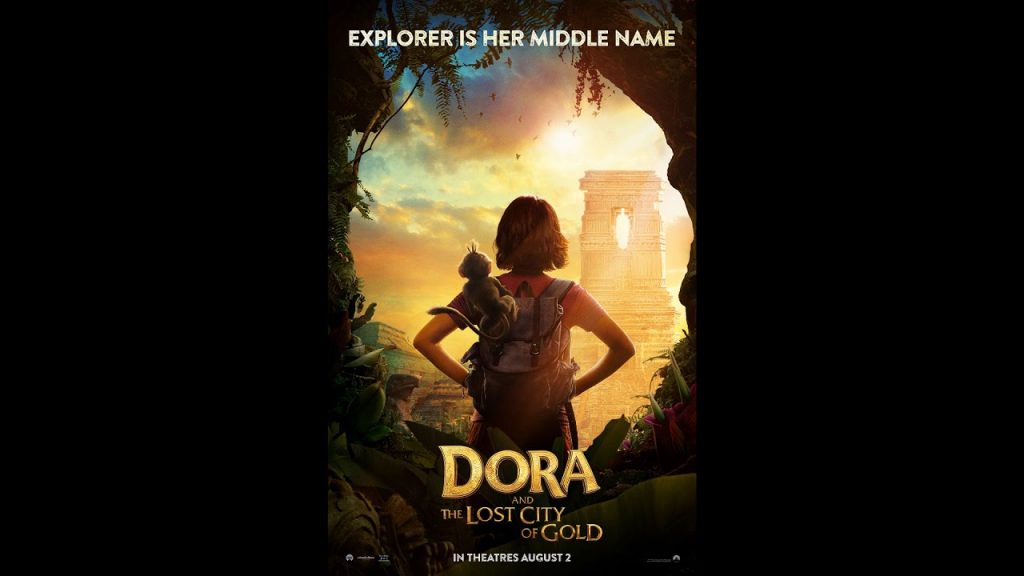 Being an adult male nearly 35 years of age, I'm certainly not the target audience for the Dora the Explorer franchise, although I had some familiarity with the series from having to show episodes to young children during my time as a substitute teacher a few years ago. Nickelodeon-based movies tend to be a hit-and-miss affair; Wonder Park from earlier this year will almost certainly land on my "Worst of the Year" list, in fact. That said, I went in, willing to give Dora a chance…
…and ended up quite satisfied despite my initial doubts. It's nothing original, but the likable and at times outright hilarious cast coupled with some memorable scenes makes for something which doesn't outlast its welcome. It's funny, it's dramatic, it's got some solid action scenes, and it's even got some self-aware meta-style humor older viewers should appreciate.
The film casts Isabela Moner (Sicario: Day of the Soldado, Instant Family) as Dora, now a teenager, and the casting couldn't be more ideal. It's hilarious to see she's still the same as she was in her younger years, singing songs, talking to a supposed audience as she films nature doc footage, and attempting to be overly friendly to everyone she meets upon her arrival in the city. She goes through many conflicts, both social and physical, yet Moner proves herself ideal to be the one who carries the film.
The wide and diverse supporting cast fares just as well, including Eva Longoria and Michael Pena as Dora's parents, Eugenio Derbez as an old acquaintance of her parents who accompanies them on their adventure, and even voiceover roles from the likes of Benicio del Toro and Danny Trejo. Derbez is a particular standout, overacting throughout the film much to the delight and humor of the audience.
One of my favorite elements of the movie was its "fish out of water" story in its first act, in which Dora begins attending high school, much to the chagrin of her cousin. Her overly bubbly nature and curiosity to explore tends to get her in trouble, and to humiliate her cousin. Essentially Moner's Dora behaves exactly like you'd expect in this situation, and the results are hilarious at times. From upstaging a fellow student supposedly selling cupcakes to raise money to safe the rainforests to strongly misinterpreting a "Dress as Your Favorite Star" theme at a school dance, these scenes are the movie's best. Granted, it's not an entirely original theme, but these were my favorite scenes, and it's a shame the movie doesn't have more of them.
When the movie finally gets out into the wild, there are plenty of adventures to be had. Yes, in many ways, it's a thinly-veiled Indiana Jones or Tomb Raider rip-off once we get to these scenes (hell, one character even references "jungle puzzles" from video games), but the cast clearly has fun with it all. I also appreciate that the filmmakers went for a PG rating, so they could put the cast in more peril than you'd ever see on a Nick Jr. show. The results make it something appealing for all ages, which is not an easy task for something largely written of as an "early childhood" franchise. There are a few mildly intense moments, but it remains fairly lighthearted and endearing despite it all.
Dora isn't a perfect film, but it's good enough to see. I would liked to have had more of the high school scenes, but it's humorous throughout its duration thanks to a fantastic cast, including Moner's overly bubbly Dora. Solidly recommended.
Rating: Three stars out of four.
DISCLAIMER: All images here are the property of their respective owners, including Paramount Players, Nickelodeon Movies, Walden Media, Media Rights Capital, Burr! Productions, and Paramount Pictures.