NOTE: This film was not screened for critics in the Las Vegas Valley.
Scary Stories to Tell in the Dark (hereafter simply referred to as "Scary Stories") is directed by Andre Ovredal. The film is based on the horror story collections by Alvin Schwartz. The film adaptation stars Zoe Colletti, Michael Garza, Gabriel Rush, Austin Zajur, Natalie Ganzhorn, Austin Abrams, Dean Norris, Gil Bellows, and Lorraine Toussaint. Guillermo del Toro serves as a producer.
The Premise.
It's Halloween night in 1968. A group of teens are on the run from a group of bullies after pranking them in revenge for being treated badly. They end up in a long-condemned haunted house where, a century before, a strange girl known for her stories, died in captivity. The teens end up with her storybook, only to find new stories writing themselves. These stories come to fruition, resulting in disastrous consequences. It's up to them to learn how to stop these stories from being written to prevent further deaths.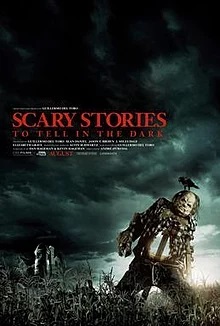 As a child, I was vaguely familiar with the Scary Stories anthology collections, though never actually read them. Adapting retro titles like this, especially ones revolving around horror and the macabre, is nothing new. It's become an even more popular practice in recent years. The film adaptation of Scary Stories is the latest in a long line of these movies. While the period detail and youth performances are solid enough, the movie falls into the usual tropes and cliches. These cliches, including jump scares, prevent it from reaching greatness.
I'll give the film credit for its period detail. The movie is set in 1968. It's so refreshing to see a movie where kids aren't constantly online on their smart phones or gossiping about the latest pop trends and teen sensations. Television broadcasts, for example, feature black-and-white footage of the presidential campaigns going on in anticipation of the election. The cars, the houses, the clothing, and the characters themselves all look great. From the opening moments with Donovan's "Season of the Witch" playing on the radio, you're transported back in time.
The Cast.
The cast primarily consists of youth actors I had no familiarity with prior to seeing the film. But every one of them is quite convincing. The true standout player is Zoe Colletti as Stella Nicholls. She's a girl with a single dad who's continually haunted by the taunting of her classmates and the absence of her mother. Everyone does the best they can with the material they're given, and there's some memorable dialogue and decent one-liners throughout. Though most of the other characters don't get the same level of depth and development, the film is undeniably well cast. Even if it doesn't reach the level of something like It.
Sadly, other elements of the production don't fare as well. It ultimately comes off as a watered-down PG-13 version of Final Destination. The teens are systematically eliminated as they seek an end to the disastrous events at hand. The overuse of jump scares is annoying and hurts the movie far more than it helps. Given the spooky nature of the source material to begin with, there's no excuse for this. It doesn't help that they movie tries to give a watered-down ending. This feels like an obligatory setup for a sequel.
Recommendation.
I can't quite recommend Scary Stories, although I won't deny its period detail and cast of youths impress. Just don't come in here expecting anything too original or truly scary. As is, this one will make for a good rental title around Halloween, should the movie hit home video formats by then.
Rating: Two stars out of four.
DISCLAIMER: All images in this review are the property of their respective holders, including CBS Films, Entertainment One, 1212 Entertainment, Double Dare You Productions, Sean Daniel Company, and Lionsgate. For promotional purposes only. All rights reserved.