This film was not screened for critics in the Las Vegas Valley.
The Peanut Butter Falcon is directed by Tyler Nilson and Michael Schwartz. The film stars Shia LaBeouf, Dakota Johnson, Zack Gottsagen, John Hawkes, Bruce Dern, Jon Bernthal, Thomas Haden Church, and Yelawolf.
Zak is a 22-year-old man with Down syndrome. With no family, he's a ward of the state living in an assisted living facility primarily occupied by senior citizens. An enthused wrestling fan, his dream is to run away and attend the wrestling school run by his favorite wrestler, the Salt Water Redneck. With the help of his roommate, Zak escapes and crosses paths Tyler, with a disgraced fisherman running from dangerous thugs, and the two forge an unlikely friendship, as the woman in charge of Zak's care sets out to find him. Will Zak get to fulfill his dreams of a wrestling career, and will Tyler settle his debts with his pursuers?
Every now and then a movie comes along with is a complete and total surprise. The Peanut Butter Falcon is one such film, and I have no doubt that come Oscar season it's a movie which will garner some much-deserved attention. Brilliantly cast and with a premise simultaneously original and drawing on classic stories for its inspiration, everything comes together brilliantly. Hands down, this is one of my favorite films of 2018, something I never would have expected from a movie which basically came out of nowhere.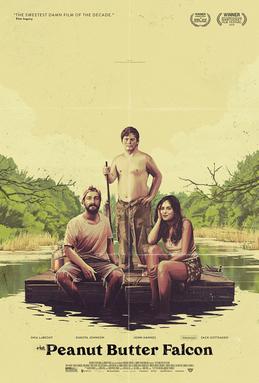 Down syndrome-inflicted Zak is the highlight of the movie, a young man willing to go the extra mile to accomplish his goals, no matter what it takes to get to the Salt Water Redneck's wrestling school. The character is likable, and has a sweetness and innocence about him, in many ways feeling like a modern take on Lennie Small from Of Mice and Men. Even the story at large feels inspired by the down river journeys of characters from Mark Twain stories, if one were to try and modernize them. Through it all, Zak remains the movie's highlight, and someone you never want to take your eyes off. It's a performance which will remain in your mind long after the movie has ended, with touching dramatic moments and laugh-out-loud hilarious ones.
Fortunately, the supporting cast fares nearly as well. A virtually unrecognizable Shia LaBeouf is fantastic as Tyler, the disgraced fisherman who's drawn in the ire of rival fisherman who seek to get their debts paid off by any means necessary. The relationship between him and Zak seems like an unlikely one, but it becomes a major focal point throughout the movie, and feels authentic despite the film's sometimes over-the-top nature. Other highlights include Dakota Johnson as the woman responsible for Zak's care in the nursing home, veteran actor Bruce Dern as Zak's roommate in said nursing home (who fortunately doesn't get enough screen time to upstage the other actors), Thomas Haden Church as the Salt Water Redneck, Zak's favorite wrestler, and even brief roles from WWE icons Jake "The Snake" Roberts and Mick Foley!
You can also tell the film appreciates its subject matter. Zak frequently watches an old video tape of his favorite wrestler. Said tape beautifully captures the attitude of 1990s prime-time professional wrestling, with the attitudes and the costumes to match, something I can personally vouch for seeing as how I grew up with a brother who was a die-hard wrestling fanatic back in the day. Seeing these clips brought back memories, and the scenes in which we see Thomas Haden Church playing the Salt Water Redneck in the present day, amid the changing times, are instant classics.
One also has to give the filmmakers credit for using different and more unusual filming locations. We're not in the middle of a bustling city or a worldly destinations. It's swampy backwoods locales and oceansides, as well as small towns. These further add to the charms and the memorable elements of the movie.
It looks great, it's well-acted, and above all, it's memorable and enjoyable. The Peanut Butter Falcon has something for everyone. The movie isn't quite perfect (a few plot points aren't really given the proper resolution and/or are wrapped up too fast), but it's close enough for this film fan. One of the best movies of 2019. Whether you're a seeker of eclectic and interesting cinema, a professional wrestling fan, or a fan of comedies/dramas about people living with a disability, it's sure to appeal to you. Very highly recommended.
Rating: Four stars out of four.
DISCLAIMER: Images in this review are the property of their respective holders, including Armory Films, Lucky Treehouse, Bona Fide Productions, Endeavor Content, and Roadside Attractions. For promotional use only. All rights reserved.