Motherless Brooklyn is directed by, written by, and stars Edward Norton. The film also stars Alec Baldwin, Bruce Willis, Willem Dafoe, Bobby Cannavale, Leslie Mann, and Gugu Mbatha-Raw. The movie is based in part on a 1999 novel by Jonathan Lethem.
In 1957, Lionel Essrog works for a private investigator. For Essrog, life is especially difficult, as he struggles with Tourette syndrome, making even the most basic interactions with people a challenge. Despite this, he has a photographic memory, which serves him well in his work. When his boss dies from wounds received as the result of an investigation gone wrong, Essrog sets out to learn more about the people involved, including a well-lauded public official, people fighting to save their homes from urban development, patrons of a jazz club, and many others around town who may have a connection to the series of events. But as is often the case in detective stories, things aren't always what they seem at first glance.
I love old-fashioned detective stories. I also love movies about people with disabilities. But if you'd told me one of the strongest movies I've seen so far in 2019 would be a mash-up of both of those genres, I never would have believed you. Edward Norton stars in, directs, and wrote Motherless Brooklyn, showing off his talents both in front of and behind the camera. It's a fantastic throwback tale of sorts with a gripping story and plenty of period detail, fantastic performances, and the musical score to match, only weighed down by an overlong run time and a narrative which bites off a little more than it can chew.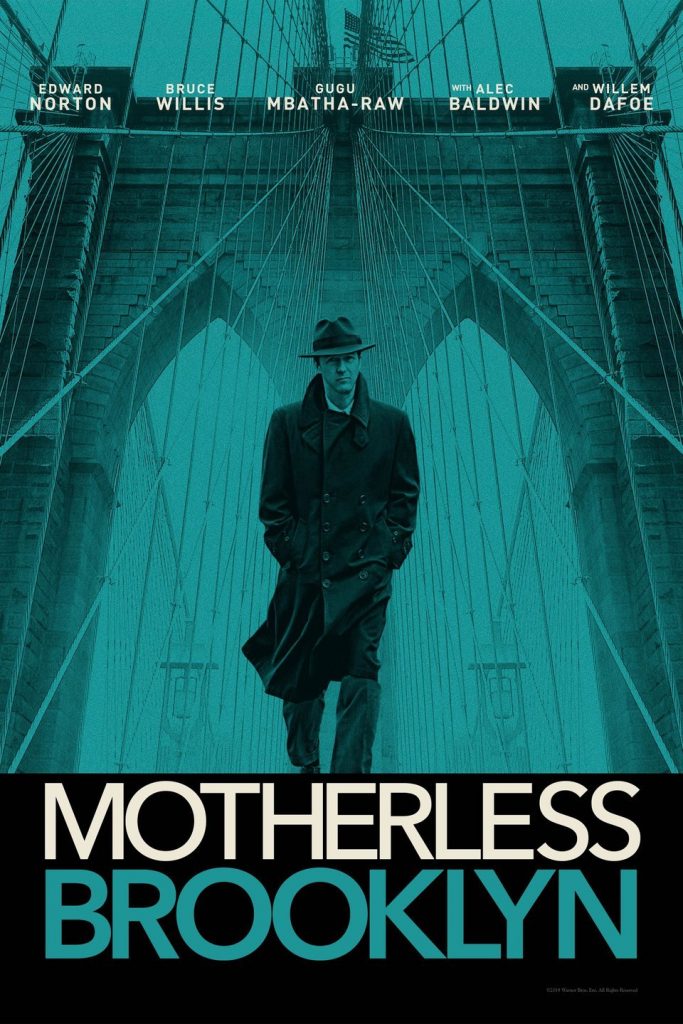 Edward Norton's performance as a Tourette's-inflicted private investigator is Oscar worthy. While his condition in the movie is definitely the source of many comedic moments (the audience I saw the movie with at the advance screening found many of his one-liners laugh-worthy), he doesn't just play the condition as a source of cheap laughs. We believe this is a man who struggles every day, in every single social interaction he has. In addition, the character is intelligent and has even has several defining traits. This role could have gone horribly wrong because of all it required and how easily it could have gone off the rails and veered into self-parody. But Norton's performance steals the show and is easily the highlight of the film.
The supporting cast features some equally strong names, including Alec Baldwin as a public official who may not be all that he seems, Willem Dafoe as a mysterious man who may be connected to the events in question, a criminally-underused Bruce Willis as Essrog's boss, Bobby Cannavale as one of his co-workers, and Gugu Mbatha-Raw, who I was previously unfamiliar with, as a love interest of sorts who ends up playing a major role. For the most part, these characters are in the movie just the right amount; no one steals Norton's thunder, and rightfully so.
Atmosphere is also a strength. The film's unique musical score, largely consisting of jazz horns and other sounds not heard in typical contemporary film scores, definitely help boost the feel and the sound of the movie. Furthermore, the look of the period is ideal, including reporters in suits with giant cameras and of-the-period cars. The cast and crew do their jobs perfectly here, and the end results come together quite nicely. It's clear Norton was influenced by films like Chinatown, which I of course mean in the best of ways.
There are a few minor issues which keep the movie from a perfect score, though the good still far outweighs the bad. There's a few too many characters, and at times, the production's reach struggles to juggle them all. Likewise, the running time of nearly two-and-a-half hours may put some off. Some editing and removal or certain scenes/characters/plot points could have made for a more concise and effective film, but these are hardly flaws which are enough to derail an otherwise excellent movie.
Edward Norton shines in many capacities in Motherless Brooklyn, and the great cast, atmosphere, and a strong narrative make the end result something to be proud of. Sure, it's a little too long, and there's a bit too much going on, but these are minuscule flaws in the long run which shouldn't deter you from going to see the movie. Very highly recommended.
Rating: Three-and-a-half stars out of four.
DISCLAIMER: Images in this review are the property of their respective owners, including Warner Bros. Pictures, Class 5, and MWM. For promotional use only. All rights reserved.