Ford V. Ferrari (released under the name "Le Mans '66" in other territories) is directed by James Mangold. It stars Christian Bale, Matt Damon, and Jon Bernthal.
In the 1960s, the Le Mans Grand Prix is dominated by Enzo Ferrari's cars and drivers. The Ford Motor Company, in a slump, decides to develop a race car to challenge Ferrari's dominance in the racing world, enlisting the help of Carroll Shelby, a former racing champion sidelined by a medical conditions, and his teammate Ken Miles, a family man of sorts whose behavior is not what Ford wants representing them, despite Shelby's insistence. Following many hurdles and obstacles, their creation and driver eventually square off against Ferrari at the 1966 Le Mans event.
Ford V. Ferrari was a pleasant surprise for this film fan. While I'd admittedly not a racing fan, the movie is much more a dramatic human story, and it's fairly accessible with a solid narrative and great casting and performances. While the end product is a bit overlong, there's no denying it's a solid piece of filmmaking.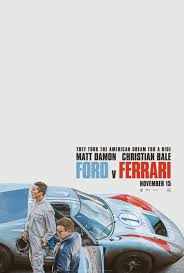 The two stars are what truly make Ford V. Ferrari. Matt Damon shines as Carroll Shelby, unable to continue pursuing his love of racing due to a medical condition, but it's Christian Bale as Ken Miles who steals the show here. A family man adored by his wife and child, he's not a team player and doesn't exactly have the best reputation. Seeing his struggles and chemistry with other characters here is definitely the highlight of the movie. Bale is more than up for the task.
James Mangold (3:10 to Yuma, Walk the Line, Logan) ends up being the perfect director to tell this story. While the film has a running time of well over two hours, it's never boring. The production feels accessible to all audiences, without feeling dumbed down for average joes either, so race fans and cinephiles alike shouldn't be disappointed in the least with what they see unfold here.
I'm also pleased to announce the race scenes don't disappoint either. They're beautifully shot, be it a vehicle traveling down the road at close to 200 miles per hour, or a fiery and devastating crash. You definitely feel like you're in the driver's seat, and you're genuinely engrossed in the action as it unfolds on screen. That's a refreshing change when many movies released these days feel increasingly "fake."
The only thing dragging the movie down is some issues with its third act's pacing. Naturally, the climax of the film is the Le Mans auto race in 1966, and it's an epic showdown. But it's very, very long (I understand it's a 24-hour race), and about a third of this content could easily have been cut without a real lost of substance. The movie also foolishly shoe-horns content after the bit race, including a tragedy which is treated like an afterthought. The movie needed to end at the finish line at Le Mans; the handling of the post-race tragedy is clumsy and sticks out like a sore thumb in an otherwise great film.
There are some issues in the third act of Ford V. Ferrari, mostly due to some pacing issues and unnecessary and rushed content which would have been better relegated to the "worded epilogue" text, but everything else in the movie is damn near perfect, including its spectacular racing sequences, human drama, fantastic performances, and great chemistry and period detail. It's still easily one of the best films of the year, and all moviegoers should find something they like here. Highly recommended.
Rating: Three-and-a-half stars out of four.
DISCLAIMER: All images are the property of their respective holders, including Chernin Entertainment and 20th Century Fox. For promotional use only. All rights reserved.