Star Wars Episode IX: The Rise of Skywalker is directed by JJ Abrams. The film stars Carrie Fisher, Adam Driver, Daisy Ridley, John Boyega, Oscar Isaac, Anthony Daniels, Naomi Ackie, Domhnall Gleeson, Richard E. Grant, Lupita Nyongo, Keri Russell, Joonas Suotamo, Kelly Marie Tran, Ian McDiarmid, and Billy Dee Williams. The score is composed by John Williams. It's the eleventh live-action theatrical Star Wars film.
Nearly a year has passed since the First Order battled the Resistance on Crait. The Resistance is in shambles, trying to rebuild itself. The galaxy is shocked when the voice of a villain believed deceased is broadcast across the worlds, prompting the First Order's Supreme Leader, Kylo Ren, to investigate. It isn't long before the galaxy finds itself under an even larger threat than they once believed, with new and old villains alike. The heroes of the Resistance, including old faces and new ones alike, must unite with the rest of the galaxy to confront a new and all-too-familiar menace, as shocking secrets and revelations are unearthed.
What a ride it's been for the Star Wars franchise these past few years! Disney's acquisition of the franchise, something many feared, has brought some of the best installments the series has seen in years, with new "Episode" films, as well as several side-story movies as well. The Rise of Skywalker is the ninth film in the core "Skywalker Saga" of movies, and its apparent conclusion, as well as the final Star Wars movie to feature music from legendary composer John Williams. JJ Abrams, who'd successfully relaunched the franchise with The Force Awakens, returns to help this installment (the movie was initially to be directed by Jurassic World director Colin Trevorrow, who left following creative differences with LucasFilm). The film ultimately succeeds, with new and old faces alike, complete with everything we love about Star Wars - exotic worlds, alien species, gripping plotlines, and its always entertaining combination of science fiction and fantasy, though it does struggle with some underdeveloped plot elements and tries to introduce too many new characters, many of whom simply don't get to do much.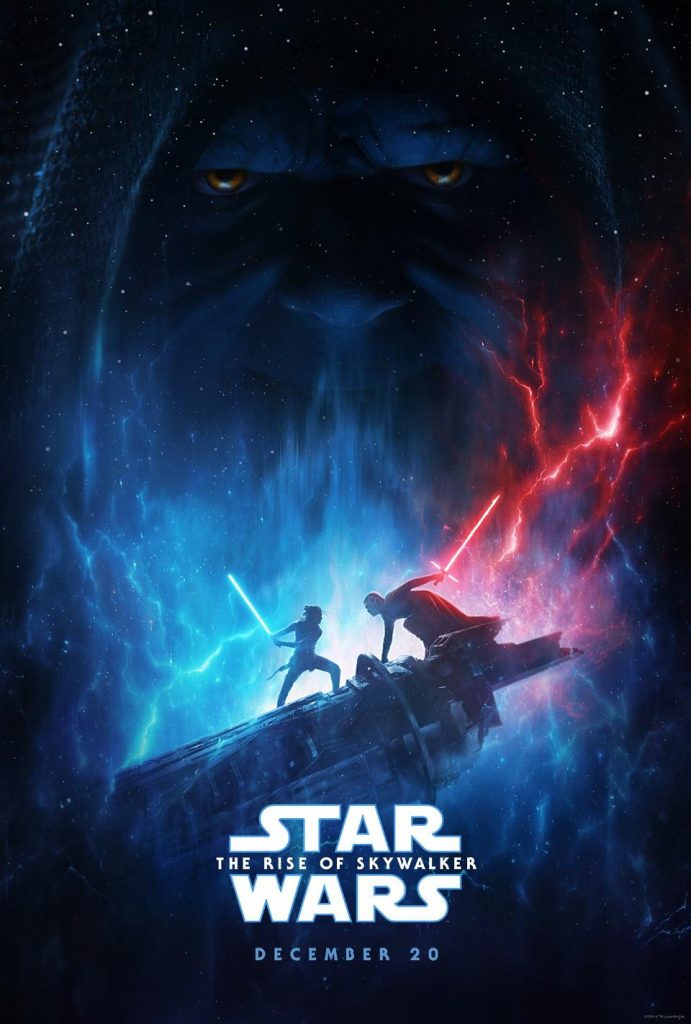 As with any Star Wars movie, the casting is top-notch, including some fan favorites we've known and loved for years. Carrie Fisher, who died three years ago, reprises her role of Leia Organa through unused filmed footage repurposed for this movie, and the results are, fortunately, convincing and entertaining enough. Adam Driver again impresses as the conflicted Kylo Ren, continuing to give this trilogy an interesting persona who's motives and goals aren't entirely clear to the audience, and perhaps even less so to himself. Oscar Isaac and John Boyega reprise their roles of Poe Dameron and Finn, respectively, and give great performances, but the true star of the show is Daisy Ridley's Rey, who gets plenty to do, and finds herself more conflicted than ever, when she's stricken with unexpected revelations. Other highlights include Billy Dee Williams (finally!) reprising his role as Lando Calrissian, and Richard E. Grant as a higher-up in the First Order. I won't spoil anything about Ian McDiarmid's performance here, but it's as suitably creepy and effective as you'd expect. I mean that in the best of ways. I'm also pleased to say the "old brass" of the franchise don't overshadow the newer, younger cast members we've gotten to know in recent years.
If you want the mysteries of the galaxy, the Force, plenty of exotic worlds, old and new alike, epic battles, and an unforgettable conclusion to it all the movie certainly satisfies in all those categories. The old and the new come together nicely, and it's unlikely anyone who's in the least a fan of Star Wars will be disappointed with what happens and unfolds here. Many of the revelations hit hard for the audience and the characters alike. Just when you think Star Wars can't throw anything new or shocking at you, The Rise of Skywalker still proves to have more than a few tricks up its sleeve. As this is a spoiler-free review, I can't go into to many details there.
One of the biggest highlights is the score from longtime composer John Williams, who claims this will be his final score for a Star Wars movie. His old themes are beautifully interwoven with new pieces, giving the movie much of its atmosphere. If this is truly is last Star Wars score from the franchise's musical mastermind, it's a suitable combination of the old and new, more than appropriate for the movie which finally brings the Skywalker Saga to a close.
While an overall satisfying film, it doesn't quite work in every single way. The movie makes the mistake of introducing far too many new characters, and not really taking the time to flesh them out or do much with them (guess we'll probably be getting Marvel comic books fleshing them out in the not-so-distant future). Additionally, many characters are cast aside and don't get much to do in the grand scheme of things, including some who were introduced in earlier films. Likewise, there are several plot points which don't get the explanations they deserve, leaving more than a few moments without the effectiveness they deserve. At times the filmmakers seem more interested in fan service than telling the story, though I'm sure the fans will appreciate these moments if nothing else. Fortunately, the flaws don't drag the experience down too far, or make it any less epic.
The epic Skywalker Saga that started in 1977 draws to an intense climax in The Rise of Skywalker! It's not the best Star Wars movie ever made, but longtime fans are bound to be impressed with the dramatic climax the cast and crew bring here. It's definitely worth seeing, but be sure you see the other films first, as it's definitely not the place to start your Star Wars journey. A highly recommended film, provided you've seen what comes before!
Rating: Three-and-a-half stars out of four.
DISCLAIMER: All images in this review are the property of their respective holders, including Disney, LucasFilm, Bad Robot. For promotional use only. All rights reserved.