Jay and Silent Bob Reboot (hereafter simply referred to as "Reboot") is directed by Kevin Smith. It stars Smith and Jason Mewes, as well as an ensemble cast of actors from past Kevin Smith films, and some new faces. It's the seventh live-action film in Smith's ongoing "View Askewniverse" shared universe.
Following their most recent bust and arrest, Jay and Silent Bob must stand trial, where they are stripped of their names, no longer able to identify as Jay and Silent Bob, due to the movie studios doing a reboot of Bluntman and Chronic, a movie series based on a comic based on their lives. Much as they did nearly two decades ago, the two set out on a cross-country journey to stop the movie from being made, only for Jay to encounter a woman from his past, who had his daughter many years ago! Will the titular twosome stop the movie from being made, and will the slacker/stoner Jay prove he can be "dad material?"
Reboot is the latest film in the View Askewniverse, following Clerks, Mallrats, Chasing Amy, Dogma, Jay and Silent Bob Strike Back, and Clerks II. It's the first entry in the franchise in 13 years, and unlike earlier films, this one did not receive a full-on theatrical release, instead being relegated to Fathom Events screenings and roadshow showings. As such, many fans didn't get to see this one on the big screen, but it's now arrived on home video formats.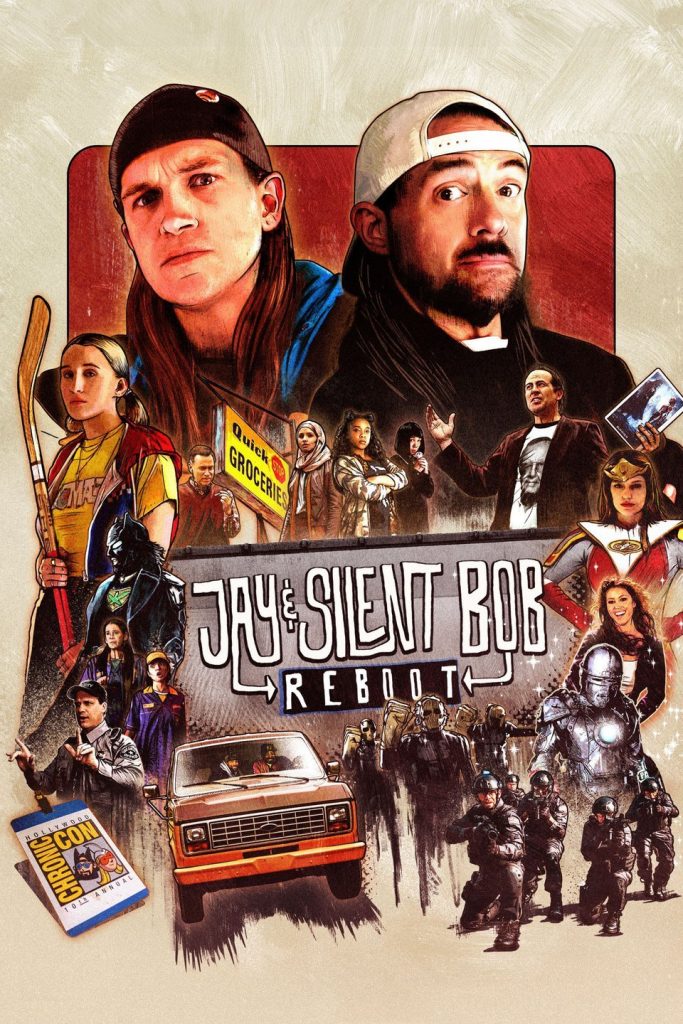 There's a scene in Jay and Silent Bob Strike Back which is largely self-referential meta-style humor of the characters reading about themselves working better as supporting characters, rather than being the stars of their own features. That largely summed up the way I felt about that film, and unfortunately, that stands true with Reboot. The titular twosome gets in some great moments here; don't me wrong. But ultimately Kevin Smith embarks upon a quest of many of the same tired jokes and seems to feel the need to reference nearly every character from every past movie he's ever made, even when it doesn't suit the plot in the least. This isn't a reboot, even though the title says otherwise. It's a movie which will mostly only appeal to the most die-hard fans of Smith's View Askewniverse; newcomers aren't going to get any of the jokes or know who anyone is.
To be fair, the two main characters are still funny, and we even manage to get in a few decent dramatic moments this time around; who would have thought Jay finding out he had a daughter would make for some genuinely touching moments? I'd be lying if I said the film didn't make me laugh; Smith's ribald and merciless sense of humor is on full display here, even if other aspects of the movie fall flat.
The biggest problem here is the movie isn't a reboot at all. It doesn't relaunch these characters. It's a "nostalgia trip" sequel which seems more intent on revisiting old characters, plotlines, and the like. A reboot is supposed to wipe the slate clean and start a franchise over. This is a sequel, not a reboot (and there's plenty of meta-style humor about this topic, unsurprisingly).
At one point in the movie, a character from an earlier Kevin Smith film who has sense gone on to become a major A-lister in his own right, reappears in a brief appearance, describing what happened to him after the events of that film. The problem here? This has literally nothing to do with the plot of the movie, or anything else going on in it. In fact, it stops the plot dead in its tracks. Something like this should have been relegated to bonus features on the disc (of which there are a handful worth checking out for fans).
While I appreciate Kevin Smith's love of comic books and pop culture, I won't deny that the finale of the movie, which features a completely unnecessary and pointless plot twist to derail what was already a flimsy storyline, doesn't help things any. The shocking "stoner" nature of Jay and Silent Bob also isn't as effective as it once was, because marijuana is becoming legal across the nation (and they don't once take advantage of this as subject matter for jokes, which is especially disappointing).
The best Kevin Smith View Askew movies are the ones which are largely standalone, which may include small references/cameos to other movies, and minor appearances of Jay and Silent Bob. This movie falls short for all the same reasons Jay and Silent Bob Strike Back did, as it's a self-referential nostalgia trip, even if it does manage to squeeze in a few dramatic and hilarious moments. And while we're at it, how many times has Smith had the same actors play multiple characters? Even having watched all of his films multiple times, I had a hard time keeping up with who was who for this very reason.
I think people who want to revisit this universe and these characters will get a kick out of Reboot, the movie ultimately doesn't quite succeed at what it sets out to do. This is a sequel, not a reboot. A reboot should be the perfect "jumping on" point for new fans of characters/franchises/etc., and this movie is, ironically, anything but. If you're an established View Askew fan who's seen the other movies and want to see these characters again, give it a rental. If you're anyone else, watch the other movies in the franchise before even attempting this one (and you'll find some great ones along the way).
Rating: Two stars out of four.
DISCLAIMER: All images in this review are the property of their respective holders, including View Askew Productions, Miramax, Destro Films, Mewesings, SMODCO, Hideout Pictures, Intercut Capital, Skit Bags Entertainment, Saban Films, and Universal Pictures. For promotional purposes only. All rights reserved.