Wendy is directed by Benh Zeitlin and stars Devin France and Yashua Mack. It's a modern reimagining of the story of Peter Pan.
Wendy is a young girl in a roadside diner. She, her brothers, and other children in the area dream of adventures away from the world of restaurants and the like. They hitch a ride on a train, ending up on a mysterious volcanic island, which may hold the secret to eternal youth. But is there a dark side to this newfound paradise, and will the kids ever go home?
How many times have filmmakers tried to adapt Peter Pan, putting their own spin on the classic tale? It's certainly not a new phenomenon. Wendy provides us with great youthful performances, namely those of France and Mack, but the movie itself is devoid of a compelling narrative, lacks direction, and simply can't decide what it wants to do. It also commits the cardinal sin no Peter Pan movie should do – it bored me.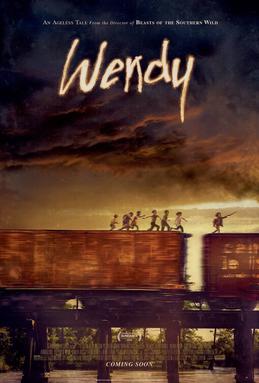 I'll give the filmmakers credit for the locations, cinematography, and youthful performances. Chances are some of these kids, despite the flaws of this movie, could go on to play parts in other more successful films in the future. I'm optimistic for that if nothing else.
Sadly, almost nothing else about Wendy works. There's a loose story at hand, but the movie is suspiciously devoid of any real narrative. It can't decide if it wasn't to be its own thing as a low-budget interpretation of Peter Pan, or something with the classic mysticism that made the original story so great, as seen with one CGI element the movie offers beneath the volcanic island's waters. Give us a full-on exciting and magical version or Peter Pan, or give us the stripped-down indy version. Don't give us something in between that won't please either audience.
I should also warn audiences that, while the movie features a predominantly youthful cast, it is NOT appropriate for children. There are many scenes of unsupervised youths behaving recklessly, stronger language than one would expect, and a very disturbing sequence of a child having his hand cut off. Don't take the little ones to this movie.
I wanted to like Wendy, but I was bored the whole time by the lack of narrative and direction. The film feels improvised and thrown together on the spot, and it's got no depth whatsoever. The young actors in the movie are promising, but even they can't redeem the movie overall. It's too dark and depressing for the little ones, and too boring for adults. Skip it.
Rating: One star out of four.
DISCLAIMER: Images in this review are the property of their respective holders, including Searchlight Pictures. All rights reserved.