Bill and Ted Face the Music (hereafter simply referred to as "Face the Music") is directed by Dean Parisot. The film stars Kristen Schaal, Samara Weaving, Brigette Lundy-Paine, Anthony Carrigan, Erinn Hayes, Jayma Mays, Holland Taylor, Kid Cudi, and Jillian Bell.
Years after coming into rock stardom, Bill and Ted have declined in popularity. They are both married and each have a daughter similar in personality to themselves, and they're still married to their medieval princess love interests, but their marriages and relentless efforts to write a song that will unify the world have come up flat, and no one seems to care. When the daughter of Rufus (the man who spearheaded the boys' past time travel efforts) shows up from the future amidst their crumbling marriages, they set out to get what they need, traveling through time to find the song they believe they've written, in order to restore the universe into harmony. But others in the future have less faith in Bill and Ted and whether or not they can achieve these goals. While the titular duo goes forward in time to get the song from their future selves, their daughters go back in time, trying to unite iconic musicians who they believe can make the song a reality.
The original Bill and Ted's Excellent Adventure is one of my all-time favorite movies. It's hilarious, it's got heart, there's a killer 80s rock soundtrack, and it's got the dimwitted-yet-lovable title duo leading the way, and it's a time travel movie that doesn't sacrifice laughs and heart for the scientific and historical angles. The sequel, Bill and Ted's Bogus Journey, was more of a hit-and-miss affair, but still had good performances from Keanu Reeves and Alex Winter, and of course, still had a solid soundtrack, including the likes of KISS and Megadeth. The franchise also spawned an animated TV series and a live-action TV series, both of which have largely faded into obscurity.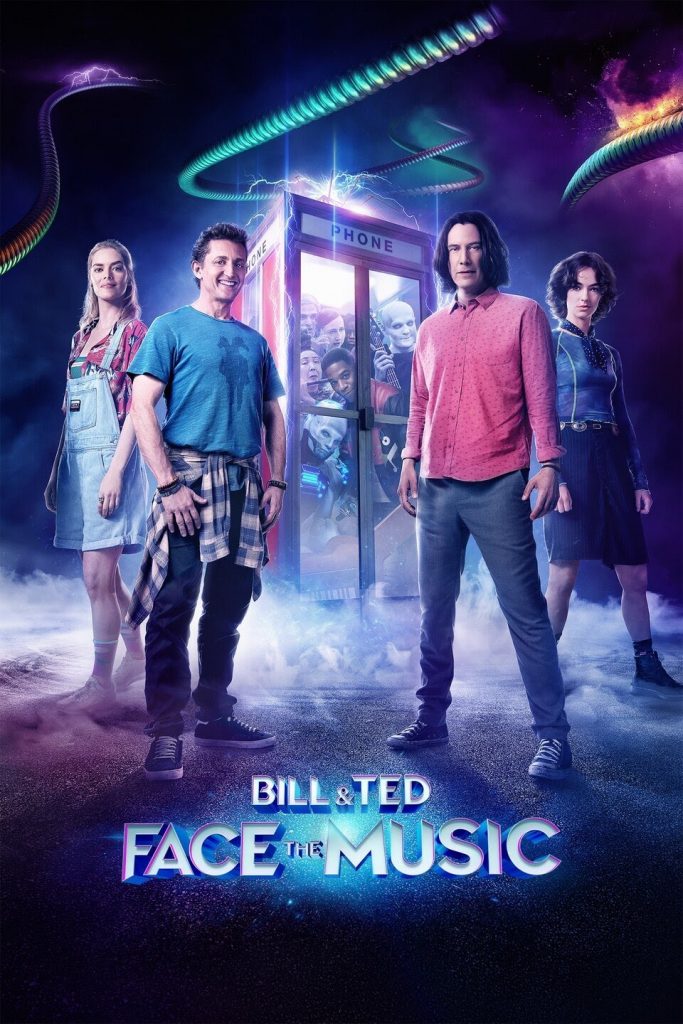 Three decades later, we've finally got a new Bill and Ted movie, something that has been rumored for very nearly as long. Of course, the big question on everyone's mind… does it rock?
The film is a bit scattershot and tries to cram too many characters and plot points into a 90-minute movie, but that didn't stop me from having a great time revisiting two of my favorite fictional headbangers, even all these years later. It's not a perfect movie, but it's also far better than it could have been, three decades after the originals. There's more than enough here to recommend the film.
Where the most credit must be given, of course, is the leading men. Keanu Reeves has launched himself into Hollywood superstar status long since the first two Bill and Ted movies came out; he's probably best known for playing Neo in The Matrix these days. But the fact he's humble enough to revisit the role of Ted Theodore Logan in a less prestigious project shows he's a humble guy, and he's as good in this role as he's ever been. Co-star Alex Winter is knows more these days for being on the other side of the camera, largely as a director, but again, it's worth the price of admission to see him as Bill S. Preston, Esq. once again. These two still have chemistry all these decades later, and it shows in every scene they share together. Seeing alternate "future" versions of the twosome during the time travel sequences is absolutely hilarious; I won't spoil any of those scenes here though.
Fortunately, we get just as strong a supporting cast, including old and new faces. Hal Landon, Jr., returns as Ted's angry overzealous police chief father, and he's as over-the-top as ever in his attempt to be the movie's "straight man." William Sadler's back as the Grim Reaper, clearly still sore with Bill and Ted over recent events. New faces include Samara Weaving (Ready or Not) and Brigette Lundy-Paine as Bill and Ted's daughters, who've clearly watched the old movies religiously to pull off their best impersonations – and it shows here! Even Holland Taylor (Two and a Half Men) shows up as the wife of the late Rufus, who doesn't share her deceased spouse's optimism in Bill and Ted. There are even a handful of surprise appearances and cameos as well.
The overall plot of the film feels like a remix of the first two films, taking the elements that work best and bringing them back into a fast-paced but still hearty and hilarious adventure. Time travel and a trip to the Land of the Dead? It's all here, and the 90-minute runtime, while a bit rushed in places, prevents the film from ever feeling stale or overblown. It's not the best Bill and Ted adventure, though I'd say it probably narrowly takes the second place slot in terms of the films overall.
Face the Music is the Bill and Ted movie we needed in these crazy times we live in these days, and while not perfect, it's a satisfying way to revisit these characters three decades later. Fans shouldn't be disappointed with the end results here. It's most triumphant.
Rating: Three stars out of four.
DISCLAIMER: All images in this review are the property of their respective copyright holders. For promotional use only. All rights reserved.