Origins Vol. 2 was released on September 18, 2020. The album was scheduled for release in March initially, but was delayed due to recent world events.
Even away from KISS, Ace Frehley has recorded and released some damn fine rock and roll, continuing to perform to ecstatic crowds around the globe. Despite a lengthy hiatus from releasing recordings from about 1989-2009, he's been back with a vengeance in the past decade. Including his 1978 KISS-era solo album, his latest release, Origins Vol. 2, is his ninth solo studio album. It's a covers album, and the follow-up to 2016's Origins Vol. 1.
I love Ace Frehley. Of the four original/classic members of KISS, I won't deny that he's my favorite. The guy doesn't necessarily have the best singing voice, but when's that ever stopped anyone? His solo output seems consistently stronger than his fellow former bandmates, and he still puts out plenty of solid original material as well, as we saw with his last studio album of original songs, 2018's Spaceman.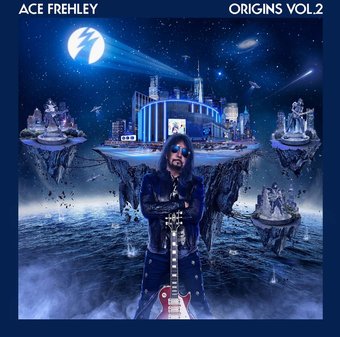 The fact that Ace's last covers album was called Origins Vol. 1 surely had fans wondering when a second volume would arrive. And now, it's here! Much like the first one, it's a pretty eclectic mix of songs from various classic artists, along with a few guest stars. The tracklist, guest stars, and the artists who made the songs in question famous are as listed below:
1. "Good Times, Bad Times" (Led Zeppelin)
2. "Never in My Life" (Mountain)
3. "Space Truckin'" (Deep Purple)
4. "I'm Down" (John 5 on guitar) (Beatles)
5. "Jumpin' Jack Flash" (Lita Ford on vocals) (Rolling Stones)
6. "Politician" (John 5 on guitar) (Cream)
7. "Lola" (Kinks)
8. "30 Days in the Hole" (Robin Zander on vocals) (Humble Pie)
9. "Manic Depression" (Bruce Kulick on guitar) (Jimi Hendrix)
10. "Kicks" (Raiders)
11. "We Gotta Get Out of This Place" (Animals)
12. "She" (KISS) (Bonus Track)
The album has been released on CD, digital, and even vinyl. For the CD release, Target stores have a variant with slightly different cover art but no additional bonus content. For the vinyl, there are several variants, as pictured below, including a "Black and Silver" version also exclusive to Target stores (but probably long since sold out by the time this review is published). The "Blue and White" edition seems to be the most common. From what I can tell, some variants may only be available in certain other countries; there's no specific guide that explains this I've been able to come across. Either way, vinyl collectors are bound to be in Heaven seeing how many options they've got to choose from here. The vinyl versions of the album are a two-disc set and run at 45 RPM. I'll also be posting some photos of my vinyl copy I picked up at the bottom of this review.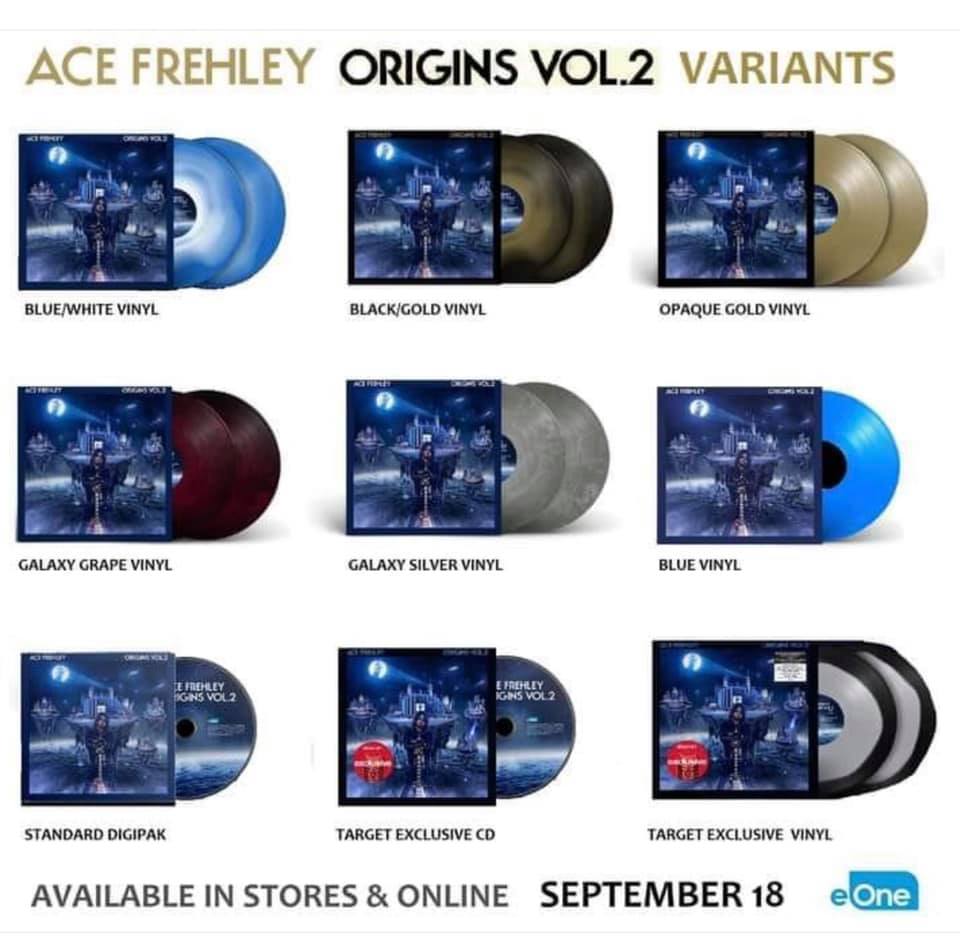 Covers albums are always tough to review because the covers will inevitably be compared to the original songs. And do you want artists who blatantly copy the originals with no creativity, or those who demolish the songs and rebuild them their own way? Ace doesn't exactly try to rebuild these songs in his own image; these covers are fairly close to the originals. That isn't necessarily a bad thing, as you can tell he's having a blast revisiting the songs of his youth. And enthusiasm for one's musical performance is half the battle.
I appreciate that, for the most part, Ace doesn't just go with the obvious songs to cover. I was especially pleased to see him covering a Mountain song that wasn't "Mississippi Queen!" Even Paul Revere and the Raiders' "Kicks" gets the Ace treatment here, and his rendition does it justice. And how about a Cream song that's known to fans of the band, but doesn't get a lot of recognition elsewhere?
The guest stars are another highlight, with the cover of "Jumpin' Jack Flash" featuring Lita Ford on vocals being my personal favorite song on the album. Underrated Jimi Hendrix cut "Manic Depression" gets new life thanks to guest guitar work from another fellow former KISS guitarist, Bruce Kulick. Hell, even Cheap Trick's Robin Zander gets in on the fun, doing vocals on the cover of Humble Pie's "30 Days in the Hole." Like Ace's earlier covers album, he definitely assembles a great cast of characters here.
If there's one complaint to be had here, it's that several of these songs have already been covered by other artists, despite not necessarily being the most popular. How many versions of "We Gotta Get Out of This Place" do we need? As I said before, these songs will inevitably be compared to the originals, and you shouldn't come in here expecting any of these renditions to replace those. But if you're looking for dozen cuts of Ace paying homage to some of his rock favorites, knowing what you're getting coming in, I doubt you'll be disappointed.
Track 12 is a remake of "She," a KISS song from the Dressed to Kill album, which Frehley played on the original recording of but, of course, did not sing the lead vocals on. Here he takes on vocal duties, and it's a surprisingly solid rendition of the song! This is listed as a bonus track, but from what I can tell, it's on all versions of the album.
Origins Vol. 2 more or less delivers what you'd expect, and that's a good thing to fans of the Space Ace. It's certainly a worthwhile pit stop on the pathway to his next solo album of original studio material (hopefully we won't be waiting too long for one), and fans who want to hear Ace's versions of these classic rock tunes should be more than satisfied with what they hear here.
Images of the "Blue and White" vinyl release I purchased: