Original Sin and Wicked Garden played Vamp'd on Saturday, September 4, 2021.

The band that truly got me into the Vegas music scene a decade ago was the Sin City Sinners. While not their original lineup, the best known lineup of the group and the one that initially won me over was that of singer/guitarist Todd Kerns (also the bassist in Slash's band), Brent Muscat (co-founding lead guitarist of Faster Pussycat), Doc Ellis (Love/Hate), and Rob "Boom Boom" Cournoyer (Raging Slab). These guys would regularly perform at venues around Vegas on weekend nights, typically the showrooms at the Station Casinos, usually doing two sets of music, often a combination of cover songs and original songs. Over the years, the Sin City Sinners lineup has changed drastically, with none of the "classic four" remaining in the group, although this quarter occasionally reunites and performs under the name Original Sin. The current version of the band sans these classic members performs under the name Sin City Sinners All-Stars, and has also spawned its own spin-off/side project group, Sin City Rejects.

This show had been postponed for a year and a half due to the current pandemic impacting the world. Fortunately, Vamp'd has been putting on rock shows again, and the venue remains consistently popular with those who want to see live music in an ideal setting for it. Sadly, drummer Rob Cournoyer, who'd since moved back to Louisiana to establish a music school, was unable to attend to the show due to natural disasters in his neck of the woods, leaving the remaining three classic Sinners to recruit their friend Corky Gainsford for the evening.

There was a VIP event offered by Original Sin for the evening which allowed fans who paid for it to attend an earlier soundcheck, and get a bonus item and a photo with the band, but since this wasn't part of the main "open to the public" concert itself I'm not going to cover it here.

The opening band for the evening was Las Vegas' premier alternative rock tribute band, Wicked Garden. These guys have been around for years, having put out several releases so far, offering a mixture of covers and original material. The lineup of the group consists of Dominick Muzio, Shawn Trojahn, Troy Spriggs, and Jay Dardano, all of whom brought their A-game to kick off a satisfying night of rock and roll in Vegas. While the handful of covers that were played were satisfying (never thought I'd see an alternative rock band putting a spin on Gerry Rafferty's "Baker Street!"), the real surprise in the Wicked Garden set was the original material, drawing from a variety of influences but still sounding like something unique. Cover bands in Vegas are a dime a dozen, so seeing an alternative-style band who can also produce original material every bit the equal of what was in and popular back in the 90s is a definite breath of fresh air.


And a short time later, the Original Sin guys took the stage. I was lucky enough to catch these guys doing free shows weekly back when they regularly played the Station Casinos showroom venues around town. Back then, their shows often featured special guests, but the guys always managed to succeed in pulling in a solid sized crowd, even without a guest star. This was my third show at Vamp'd since the pandemic, and the venue was even more crowded than it was for either of the previous two shows I'd seen at the venue – no small feat. Classic Skid Row vocalist Sebastian Bach was in attendance, hanging in the venues VIP area, though he disappointingly didn't join the band for any songs. What we got was great, no questions asked, but that would've been unreal (I saw Bach as a Sinners guest back in 2011 and he doesn't disappoint when performing with these guys).

While I was somewhat skeptical about the band doing the show without Rob Cournoyer, Corky Gainsford proved himself to be more than up for the tasks. There were wisecracks made about him learning all the songs in one way, and while I don't know if this was a factual statement or a wry joke (there were plenty of one-liners and humorous moments throughout the gig), one thing I won't deny is that the man delivered and then some. Learning a combination of originals and covers alike in that short a period is no easy task.

The setlist, consisting of roughly 20 songs, didn't disappoint either. This gig was initially meant to commemorate the 10th anniversary of the first Sin City Sinners album, EXILE ON FREMONT ST., but was obviously pushed back due to the current world situation. The set was diverse and appealing in more ways than one, featuring the band members swapping lead vocal duties, with Kerns handling the majority of the vocals as he did on the album, including songs like TURN IT UP, IT'S NOT YOU IT'S ME, NUMB, and GOIN' TO VEGAS. Muscat took the microphone for a cover of The Rolling Stones' classic GIMME SHELTER, as well as renditions of the Faster Pussycat songs HOUSE OF PAIN and BATHROOM WALL. Doc Ellis sang his two songs from the Sinners' first two albums, GOTTA GIRL and HEY HEY ROCK AND ROLL. There were plenty of other interesting moments in the form of cover songs and originals alike, bringing together songs many of the long-time Sinners fans haven't heard in years.

Just as impressive as the band was the crowd of fans, many of whom were decked out in their Sin City Sinners and Original Sin shirts, singing along with every song, regardless of its origins. Fans in the audience who'd seen these songs done live in the past knew who was going to say what at what point in the show, and held nothing back. It was one of the most enthused rock audiences I've seen in recent years, and with the quartet on stage bringing their A-game for a gig that had been delayed a year and a half, it was a win-win situation for all involved.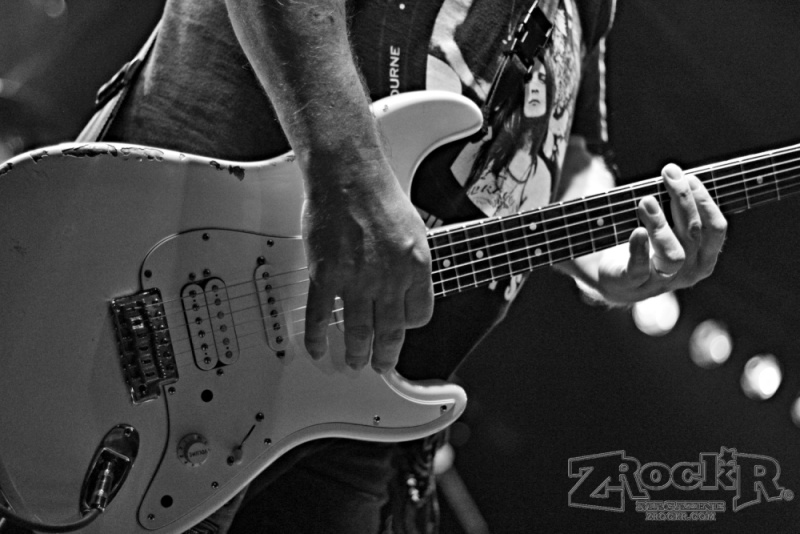 The only two minor criticisms I had in an otherwise stellar set were as follows:

-The lack of Rob Cournoyer meant the lack of one of the most signature events at Sin City Sinners shows, in which he'd tuck one arm in his shirt and continue to drum, mimicking the one-armed Def Leppard drummer Rick Allen during a performance of that band's POUR SOME SUGAR ON ME.

-One of the greatest "cover song" moments in Sinners shows of the past was having Doc Ellis sing a mash-up on Dramarama's ANYTHING ANYTHING and Sponge's PLOWED, though this was sadly omitted. Doc-sung songs are always a highlight of the evening for a number of reasons, and getting one more would've been nice, this being a major omitted classic.

Still, with time constraints (it's definitely a matter of "so many songs, so little time,") we got a 20-track set cramming a ton into a relatively narrow window, and I doubt anyone in the crowd was disappointed in the least. This was my first time taking my girlfriend to see a show with these musicians, and she already wants to see them again! Here's hoping we won't have to wait another year and a half for the next Original Sin gig.

The Sin City Sinners' classic lineup reborn as Original Sin was something I'd eagerly awaited despite all the delays. End results here didn't disappoint, and I definitely saw what could be one of my favorite concert moments of 2021 so far. Wicked Garden's kick-ass opening set was impressive as well, and fans in attendance clearly couldn't get enough of either band. This evening of rock… rocked. Need I say more?

PHOTO CREDIT: All photos by Stephy Muzio (Hayward) for ZRockR Magazine