Even with the world still in a crazy situation due to the current pandemic still impacting so much of the globe, live music is alive and well here in Las Vegas at Count's Vamp'd, one of the city's premier venues. This house of rock has been hosting the best in rock/metal shows for over a decade now, and I'm glad to see things are still that way. The crowds at many of the recent shows are all the proof you need to see.

John Corabi is best known for being the man who sang for Motley Crue in the mid-1990s, having replaced Vince Neil when he was fired from the band, with Corabi releasing a studio album and an EP with the group. He'd previously played in Racer X spin-off band The Scream, with whom he recorded one studio album, and following his time in Crue, played in Union alongside Bruce Kulick (formerly of KISS) and Brent Fitz (now of Slash's band). Subsequent projects have included a stint with Ratt (as a guitarist) and work with The Dead Daisies. He also released an acoustic unplugged CD a few years back. This is by no means all-inclusive, but to say that Mr. Corabi has kept busy since his stint in Crue would be an understatement!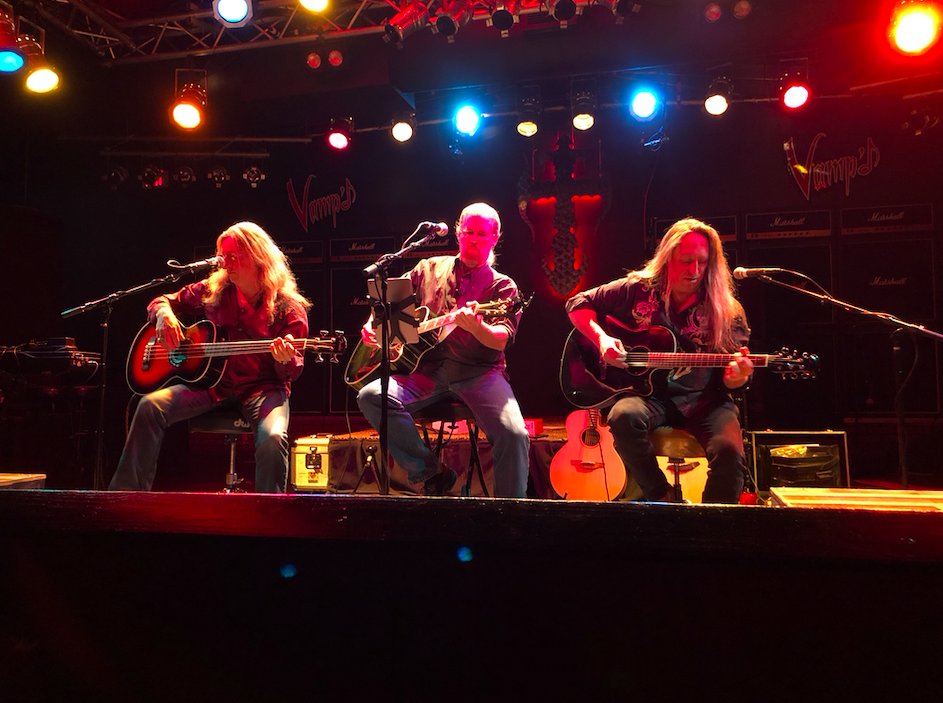 This was a night of rock and roll I was looking forward to; I've seen Corabi do plenty of shows in recent years including unplugged gigs, an electric gig of him playing the complete 1994 MOTLEY CRUE album on which he did vocals, and an event he did as part of The Dead Daisies (with whom he no longer plays) at a local Guitar Center a few years back. Opening this show was an acoustic trio featuring several popular local Vegas musicians calling themselves The Smokin' J's, featuring Jay Cee, JP Michaels, and Jeff Outlaw. I've seen these guys with various other groups; Jay Cee is perhaps best known for his Sammy Hagar tribute shows which are a personal favorite. Tracks played during their set included two tracks from Guns N Roses LIES record, and even "Fly High Michelle" from Enuff Z'Nuff. It was a solid variety of cuts, culminating with a performance of Van Halen's Sammy Hagar-era cut "Poundcake" (appropriate given Jay Cee's other gig). As I previously stated, I've seen these guys around town in other bands, so seeing them together as a trio was especially entertaining. Here's hoping we get some more gigs from the three of them together!

We then, of course, come to Mr. Corabi. This was certainly not the first time I'd seen John Corabi. Hell, it wasn't even the first time I'd seen him do an acoustic show. One of the biggest surprises of the evening was that the crowd of people assembled was frustratingly small. This was likely due to the fact Journey was playing a concert in Vegas on the same night, not to mention the fact that there was also a rodeo going on in town. Anyone who missed the show because of other commitments should be kicking themselves right now; it was one of Vegas' best nights of rock and roll in 2021.

Corabi's acoustic shows are a ton of fun not just because of the music, but because of the stories behind the music and plenty of jokes in the middle of it all. He started with a joke he deemed lame because "things could only go up from there," though there were plenty of laughs nonetheless. Stories ranged from the origins of his songs with all his assorted acts over the years to the first time he met the guys from Aerosmith in a recording studio. Sometimes the truth is stranger than fiction, and these tales, while admittedly a bit too long between musical performances at times, were equal parts amazing and hilarious. Corabi has to be seen to be believed, and this is why. He spared no expense at making wisecracks at audience members for their reactions and shouted comments, and even this rock and roll fan wasn't immune to Mr. Corabi's berating!

The actual setlist was surprisingly diverse, opening with a fine cover of Creedence Clearwater Revival's "Who'll Stop the Rain." From The Scream, we got "Father Mother Son" and "Man in the Moon" with the latter closing the gig. The Motley Crue Corabi era was represented in the form of "Hooligan's Holiday" (complete with audience sing-alone participation) and "Misunderstood," though we did get Mr. Corabi representing the classic Vince Neil era of the band with "Home Sweet Home." Covers included songs from KISS, The Cars, The Beatles, and Aerosmith, with the audience getting a fine cover of "Seasons of Wither" from that band's seminal 1974 LP, GET YOUR WINGS. I personally would liked to have heard "Outlaw" from The Scream and "Power to the Music" from Corabi's Crue years, though I admit these would be difficult to adapt for an unplugged setting.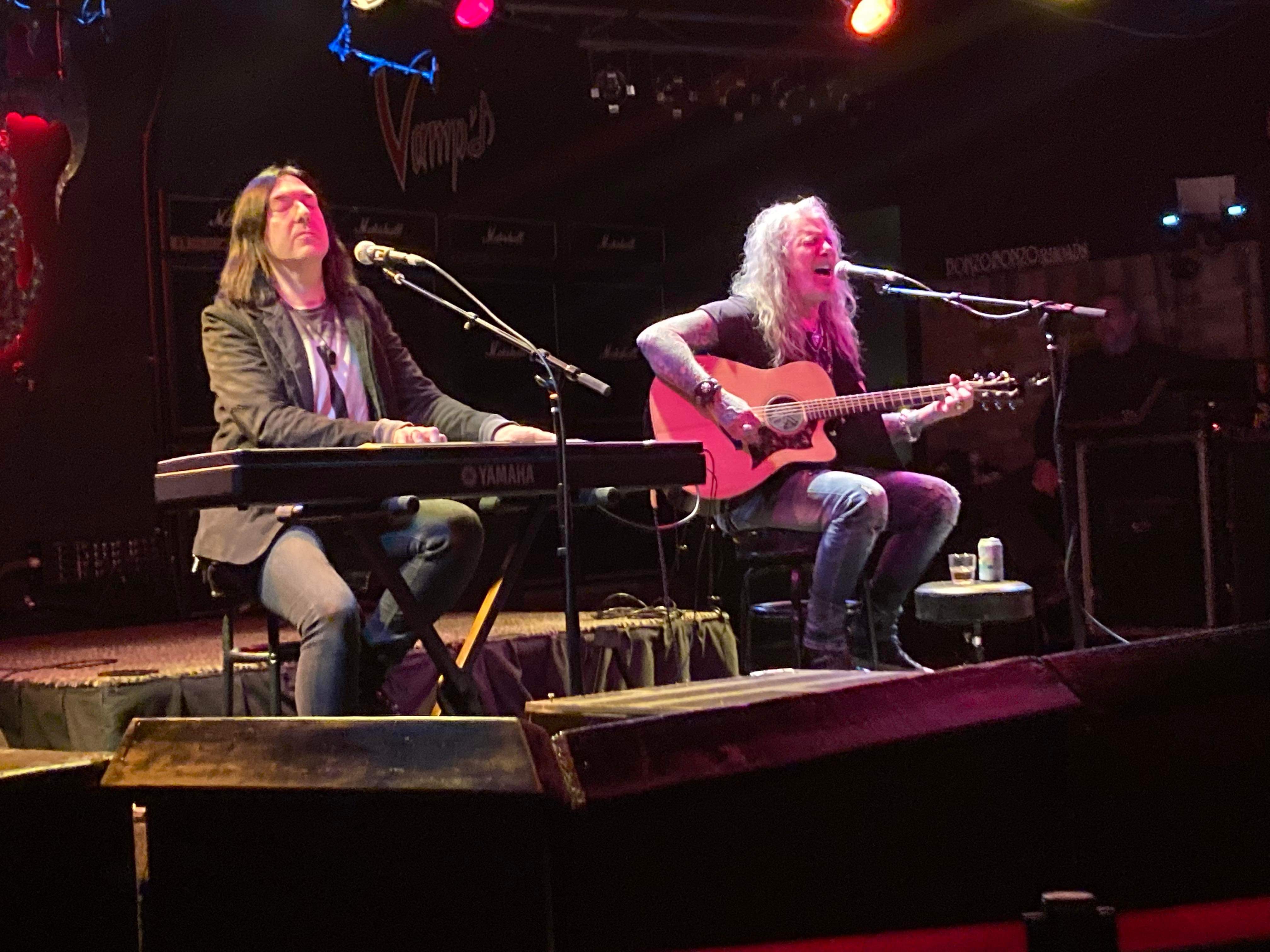 The big surprise of the evening was that I noticed a keyboard and a bass set up on stage near Mr. Corabi, who of course was playing acoustic guitar. Did this mean he'd be playing with a band? Like the previous gigs, the show was Corabi alone with an acoustic guitar, but we got a special guest for the latter few songs – Corabi's old Union bandmate Brent Fitz! Fitz, who resides here in Vegas (along with fellow Slash Band members Todd Kerns and Frank Sidoris), took the stage to play keyboards and bass for the show's latter half, including work from their days in Union. His keys certainly added something to a few of these tracks, and it's only too bad they couldn't get Bruce Kulick to come out to the gig to play as well; Kulick also lives in Vegas now, and will be doing a gig at the end of December along with Todd Kerns. Also in the audience for the show was former Ozzy Osbourne/Beggars and Thieves/Raiding the Rock Vault bassist Phil Soussan, though he didn't take the stage at any point. Corabi and Fitz were also cool enough to come out ever the show to take pictures and sign autographs for the fans in attendance.

John Corabi deserves more attention and respect in the world of music; he's far more than "The Guy That Wasn't Vince Neil Who Sang for Motley Crue Once." This was an evening equal parts musically entertaining and hilarious, with Mr. Corabi showing off so much from his career and beyond, entertaining the audience thoroughly. The quieter crowd was a disappointment, but those who did show up to support live music and this fantastic set got what they wanted and far more.
Pictures by Taylor T. Carlson and Angelina Cain. Used with permission.