Slash and Myles Kennedy and The Conspirators played The Theater at the Virgin Hotel and Casino on Saturday, February 19, 2022, with support act Dead Sara.

Saul Hudson, better known to the world as Slash, has been making a name for himself as an axeman since the glory days of the Decade of Decadence. The child of David Bowie's costume designer and a man who designed album covers for the likes of Neil Young, perhaps it was inevitable that he'd be thrust into the forefront of the music industry. Making a name for himself on Guns N Roses' hits and eventually exploring other projects including the supergroup Velvet Revolver, he's found the perfect band to make music with in the form of The Conspirators, featuring vocalist Myles Kennedy of Alter Bridge fame, as well as bassist/vocalist Todd "Dammit" Kerns, drummer Brant Fitz, and second guitarist Frank Sidoris. While I've followed Slash's music for many years, this was the first time I'd ever seen him live. As 3/5 of the band lives here in Vegas, this was very much a "homecoming" show and one I greatly looked forward to seeing.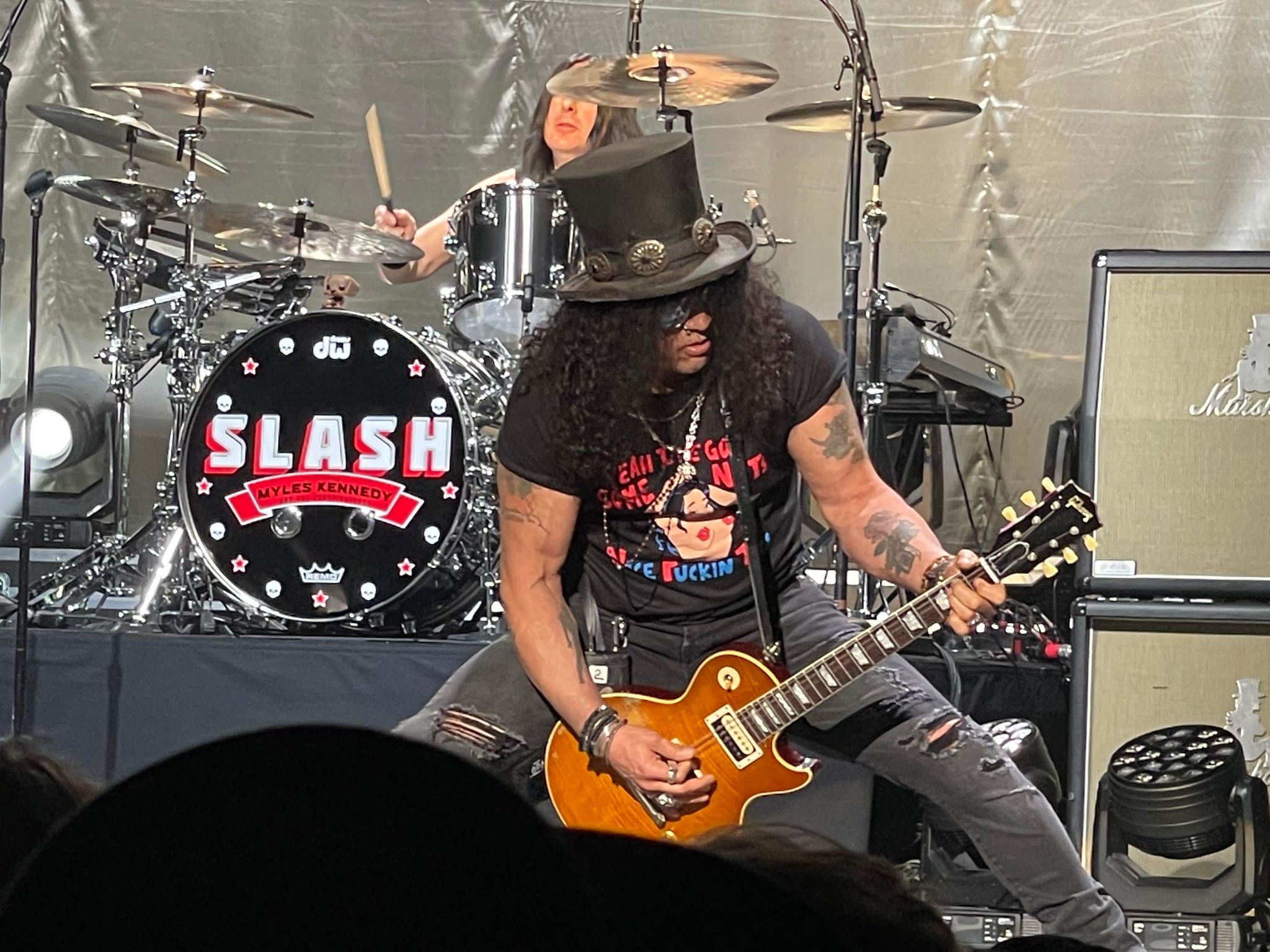 The Virgin Hotel and Casino was previously the Hard Rock Hotel and Casino, and this was my first time inside the resort since its transformation. While the interior of the casino floor has sadly been stripped of all that once made it great and a rock mecca, I'm happy to say that the primary concert venue, formerly known as The Joint, has been mostly untouched; I think I saw some repainted walls and possible renovations to the bar area, but for the most part it still looked the same, not as big as a full-on arena but still large enough to pack in a crowd. I've always liked this venue because it's small enough you can have a good view from almost anywhere in the house, while still accommodating the large crowds headliners often bring. As far as concert atmosphere goes, the seats we had, essentially some of the closest you could get without being right in "The Pit" offered a good view, though the rows/seating were a little cramped. Not a problem exclusive to this venue, though.

The opening group was a band called Dead Sara who I'd never heard of prior to this night. Upon doing some light research, this band has apparently been around longer than I thought, which was surprising. When they took the stage, I was pleasantly surprised. One of the best parts about concerts is the support acts, because you find up-and-coming talents you didn't know about before, and I fully intend to add some Dead Sara albums to my collection following their set supporting Slash and company here. Female-fronted, this quartet has a great modern-ish rock sound and plenty of stage chemistry. The drummer, in particular, was one of the most aggressive and energetic I've seen, and I'm very happy to see they got the slot here; they're more than worthy. Hell, we even got to see the group's singer go into the crowd near the end of their set, getting audience members to help her sing one of the songs! I fully intend to go out and add material from their catalogue to my ever-growing music collection. They're a group to keep an eye on.

And then, of course, everyone's favorite top hat-clad guitarist took the stage. Slash's career has been long and varied, from GNR to Slash's Snakepit, his 2010 solo album, and more recently, albums with Myles Kennedy and The Conspirators, arguably the best ensemble of musicians he's played with since the glory days of GNR, and that's no small statement. They've forged enough studio material at this point that a setlist can revolve primarily around it.

It can be a hit-and-miss experience seeing one of your favorite performers from the glory days of classic 80s hard rock and heavy metal, but I'm pleased to say Slash hasn't lost any steps along the way. This man shreds every bit as much as he did back in the day, and he gave this audience a spirited performance that easily ranks among the best I've seen in recent years. It's not hard to see why the guy ends up on "Greatest Guitarist" lists on a regular basis, having created some of the genre's most iconic riffs, and continuing to give audiences new ones. The most recent release from Slash and The Conspirators, 4, was just released, featuring the instant classic "The River is Rising." Recorded with a different producer and largely live in the studio, the latest release from the quintet just might be their best yet. And it shows they've still got plenty of chemistry as a coherent band.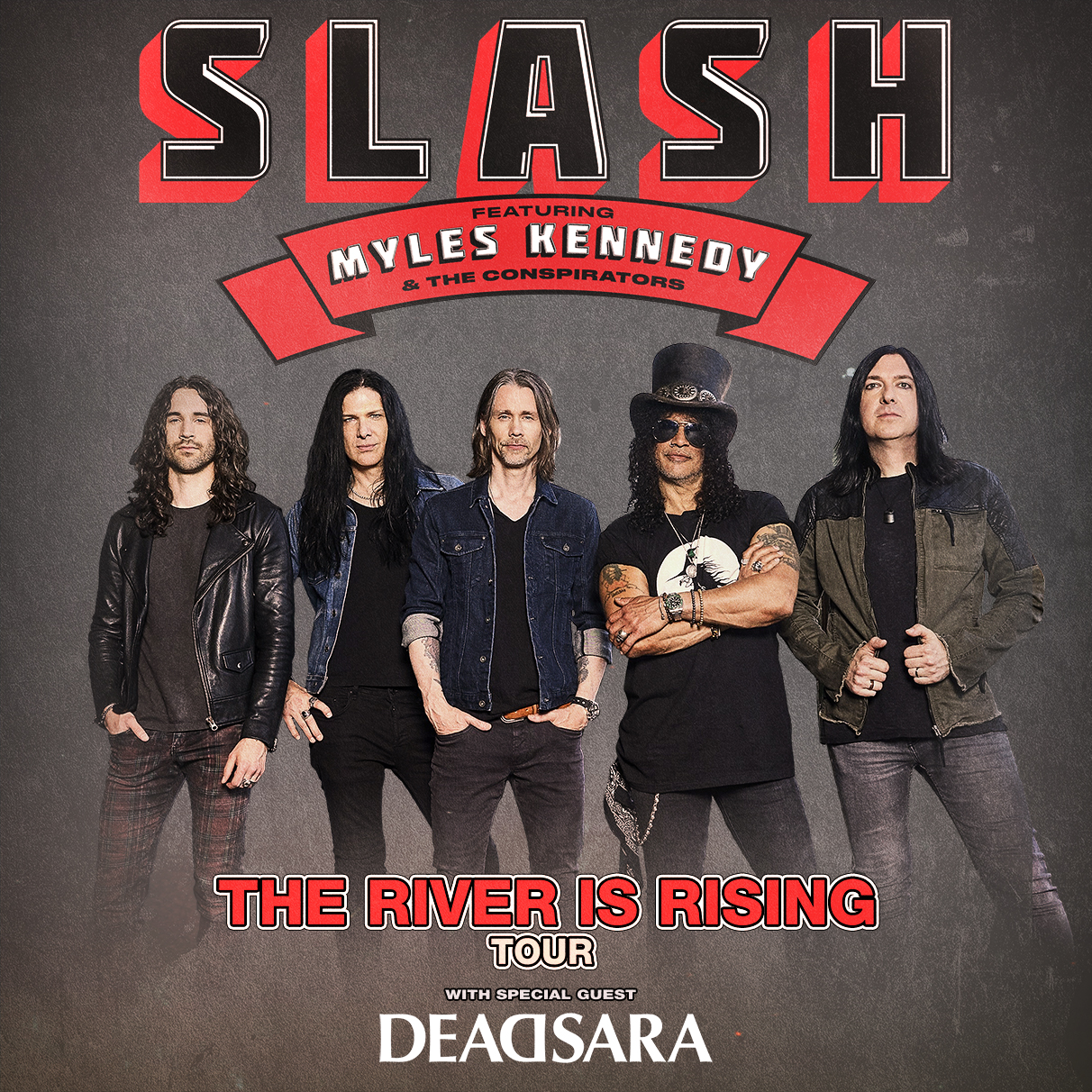 How much chemistry this group has cannot be denied. The Conspirators aren't just "Slash's Backing Band." Each one of these men is an established artist, performer, and songwriter in their own right. With many of these artists living in Las Vegas, I've seen several of them in concert in the past, including smaller venue gigs, so I know firsthand what they're capable of. This night was me seeing them for the first time with Slash, and I'm happy to say they're all still at the top of their game. I'm a rock fan who used to regularly see Todd Kerns weekly at Sin City Sinners gigs, and this man is every bit worthy of the lofty position he's had with Mr. Hudson over the past decade. Also not to be overlooked is his rhythm section bandmate Brent Fitz, who's played with many other promising acts over the years; a few months back I saw him get up on stage at Vamp'd to perform some songs with his former Union bandmate John Corabi. And not to be outdone is second guitarist Frank Sidoris, the only native Las Vegan of the group, who replaced former second guitarist Bobby Schneck around 2012. Roughly two decades younger than his bandmates, Mr. Sidoris proves he can play with the big boys and hold his own at every single gig. I love the music of Slash, and the chemistry he shares with his bandmates, both on stage and in the studio, says it all. I love this band, and look forward to more albums from them in the future.

The setlist, not surprisingly, was comprised primarily of material Slash had recorded since 2010, both on his solo album from that year and on the four Myles Kennedy-fronted releases that have followed, albeit with a Slash's Snakepit song thrown in for good measure and a surprise Elton John cover, "Rocket Man." Classics from the past decade or so like "World on Fire," "You're a Lie," "Anastasia," and of course, tracks from the latest album, dominated this setlist and were performed superbly on the live stage. For me, the highlight of the evening was Todd Kerns taking the vocals for a performance of "Doctor Alibi," a track from Slash's 2010 solo album that was co-written and originally sang by Motorhead's Lemmy (RIP). This brings me to my only point of contention with an otherwise stellar evening - The set included absolutely NO Guns N Roses songs, and perhaps less surprisingly, no Velvet Revolver songs. It does seem strange we'd get a Snakepit song yet nothing from Slash's most famous outings. I don't want a setlist drowning in nostalgia, but I don't want one completely devoid of it either. Two GNR songs and one Velvet Revolver song would've sealed the deal and make this the perfect night. Slash live albums with The Conspirators that have come out in recent years feature a decent helping of GNR material, including an extended jam/solo of "Rocket Queen" that lets Slash show off what he does best - why couldn't we get that here? This doesn't change my overall opinion of the show, though fans paying for a ticket should be forewarned that there is absolutely no Guns N Roses material in the set.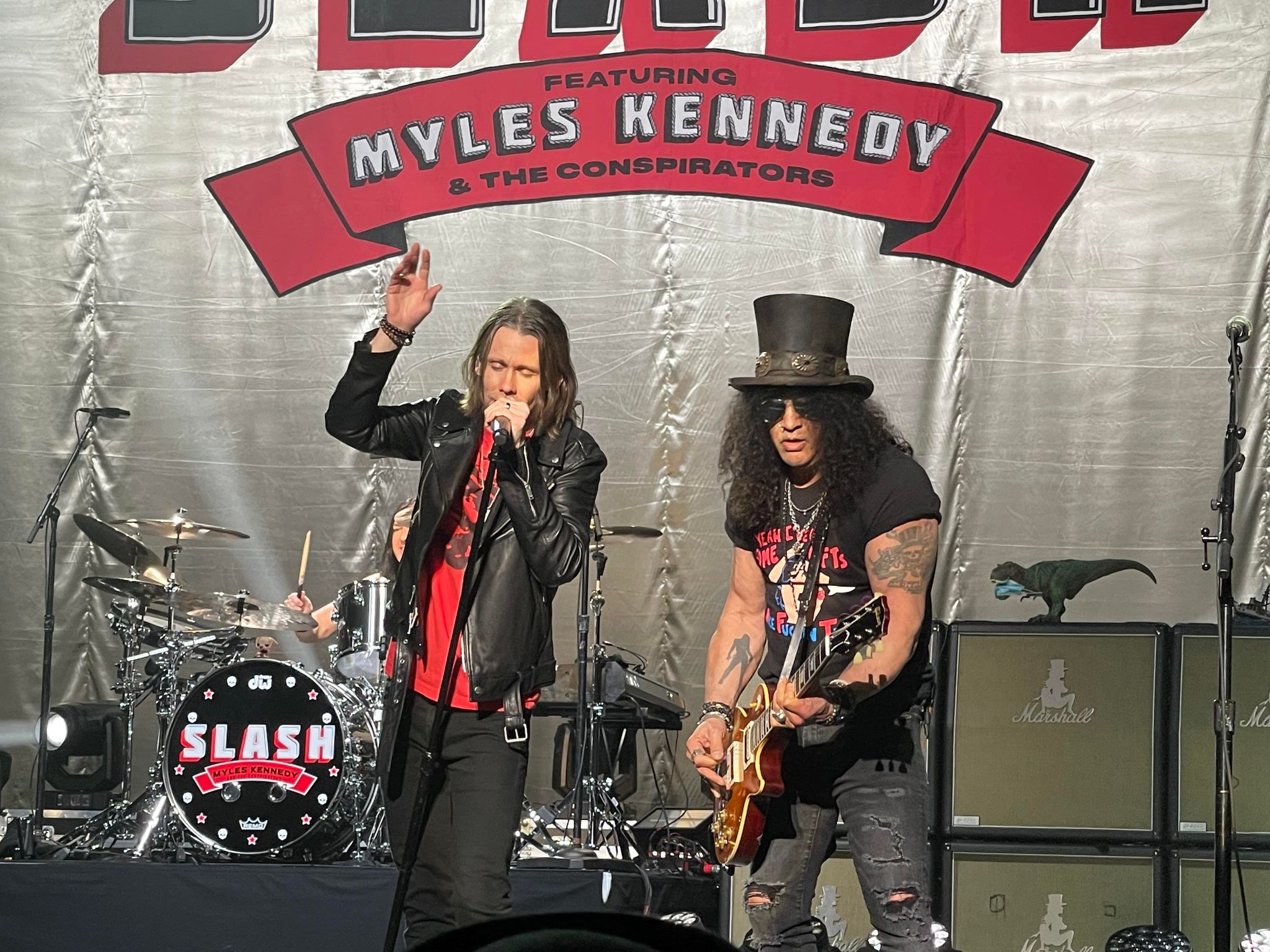 I love Slash and everything our favorite top hat-wearing guitarist has given the rock world over the decades. This live gig, featuring the best musicians he's played with in years, didn't disappoint. It's especially impressive they now have enough original material to create an entire set around, and The Theater at Virgin made for the ideal spot in which to see them do their thing, both small and intimate but capable of packing in a diverse crowd of rock and rollers, young and old alike. Fans of Slash will love seeing him on the live stage, doing what he does best and having lost nothing along the way, but again, anyone considering buying a ticket should be aware that the setlist is almost entirely new (since 2010 or so) material with absolutely nothing from Guns N Roses played. That said, I still strongly recommend going if you get the chance and you're a fan.
PHOTO CREDIT: Photos from local SMKC fan and ZRockR friend Rich Loffredo - Used with Permission