Last in Line played the Hard Rock Cafe on the Las Vegas Strip for the release party of their new album, JERICHO, on Saturday, April 1, 2023, with support acts Crash Midnight and Roxanne. Eddie Trunk of Sirius XM/THAT METAL SHOW hosted.

Last in Line rose from the ashes of the original Dio band many years ago, following the passing of Ronnie James Dio. The group features original members Vivian Campbell (these days also of Def Leppard) and Vinny Appice (these days also playing in more bands than I can count), as well as Phil Soussan (who replaced Jimmy Bain following his passing in 2016), and vocalist Andrew Freeman, he himself building up a reputation with many bands and being quite in demand! Freeman even just finished a short run fronting classic 80s rockers Great White. JERICHO is the third album of original material, although the group does continue to play some classic Dio material in their sets.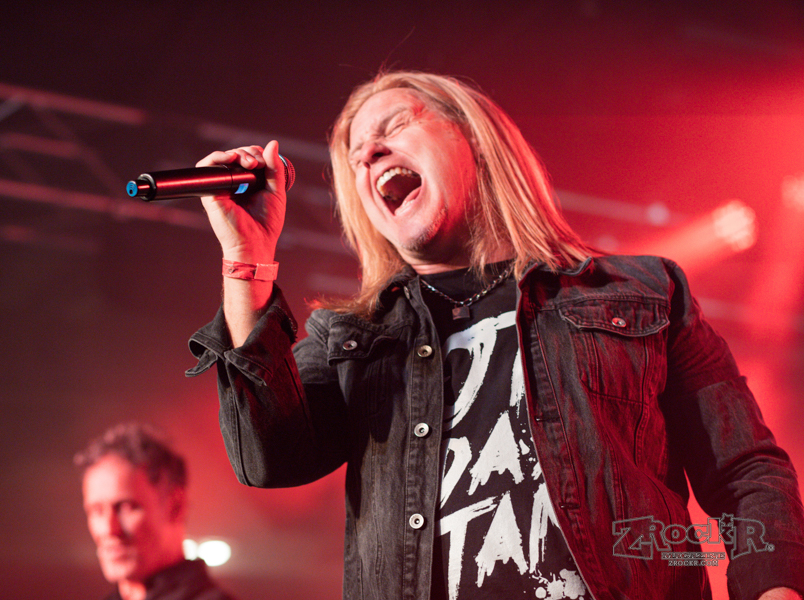 The Hard Rock Cafe on the Las Vegas Strip is a fantastic venue, even if getting/parking there is a bit of a pain. The venue is a three-story complex with its gift shop on level one, the restaurant on level two, and the bar/concert venue on level three, which also features some nice balconies overlooking the Strip. For this evening, Eddie Trunk was hosting the festivities, and there was plenty of rock royalty in attendance, including Sebastian Bach, Paul Shortino, Danny "The Count" Koker, Jeff Blando, Jason Walker, and many others. Unfortunately, the doors opened late and the show took some time to get going (with an advertised 7:00 doors open time, I wasn't in until 7:40). Not totally sure what the deal was there, but it was certainly noticeable.

Starting the evening following an Eddie Trunk introduction was Las Vegas' favorite Bostonians, Crash Midnight. These guys have been rocking Sin City for many years now, and no matter how many times I catch their gigs, I'm continually entertained. Shaun Soho's Myles Kennedy-esque vocals are a definite attention getter, and the material, which is mostly original songs, continues to impress. That didn't stop the boys from putting their own spin on some classic Led Zeppelin and Nazareth tunes though! I've caught Crash Midnight several times in the last few months, and I'm always eager to see what stage they'll rock next or what they'll be releasing. Several wisecracks regarding the release of their newest song being delayed throughout the show were quite humorous, but I'm eager for the final product when the time comes… which hopefully won't take as long as these guys claimed!
Crash Midnight Gallery.


Roxanne was the second band on the set; they were a later addition to the show who was not originally on the bill. Having just seen the band for the first time at Vamp'd a week prior, I was happy to see these guys again so soon. Dressed like they just walked off the set of MIAMI VICE, they aren't exactly the image people typically have in mind when it comes to a hard rock band. But when the show begins, they bring the thunder and defy any preconceive notions. Having just released one album in their initial 80s tenure and come back three decades later with two new ones, they're an amazing sounding band who continues to serve up the rock on the live stage. As a support act (rather than a headliner which they were at Vamp'd last weekend), they had limited set time, but they packed their set with some great rock anthems. The set even had a guest appearance by Christian Brady of Hellyeah and Andrew Freeman of headliners Last in Line! They're a band my familiarity of is fairly limited, but I intend to add their albums to my collection very soon (a merch table in the venue was selling their stuff, but when I got over there to purchase some Roxanne CDs later in the night, they'd already packed up for the night). Either way, I can highly recommend these guys and it's a shame they're so overlooked.
Roxanne Gallery


And then, of course, we arrived at the headliner for the evening: Last in Line! I've seen the band several times since their initial conception, including way back when Jimmy Bain (RIP) was still playing with the group. Getting to see Vinny Appice and Vivian Campbell on a small stage is a rare privilege no rock fan should miss, not to mention iconic rock bassist Phil Soussan, the latter of whom is probably best known for his tenure in Ozzy Osbourne's band, during which time he penned the hit song "Shot in the Dark." The surprise MVP of the band, however, is Andrew Freeman, who has an insanely powerful voice which has kept him in demand on the rock circuit for well over a decade. He gives the band's original songs the powerful backing they require, but also does a solid job when it comes to the old Dio covers as well; while this set was mostly original Last in Line songs, including numbers from the new JERICHO album, we did get some Dio songs from the HOLY DIVER and THE LAST IN LINE records, which were a nice inclusion.

These guys have the catalogue and the stage presence alike to do what it takes to bring a live stage to life. It would be easy for a frontman to simply hide behind a mic stand, but Mr. Freeman's vocals are rivaled only by his energy on the stage. They've got a definite chemistry, and Vivian Campbell, playing what he claimed to be the original guitar he played on the old Dio records, tore up the stage with killer riffs and solos. You wouldn't know this guy underwent a cancer battle a few years ago unless someone told you otherwise. And who can forget Mr. Vinny Appice, one of the most powerful timekeepers in the business? This show let the younger Appice Brother show off not only his skills behind the kit, but also his sense of humor, which is always a welcomed addition.

I only had two minor issues with this otherwise stellar set.

First and foremost, I love that these guys play Dio-era tunes as part of their set, but why does this never include anything from the Rainbow and Black Sabbath era? Given that Appice played drums for Dio in Sabbath, it seems an odd exclusion. This was an issue even in the early days of the group when Jimmy Bain as still alive (and Bain was with Dio in Rainbow!)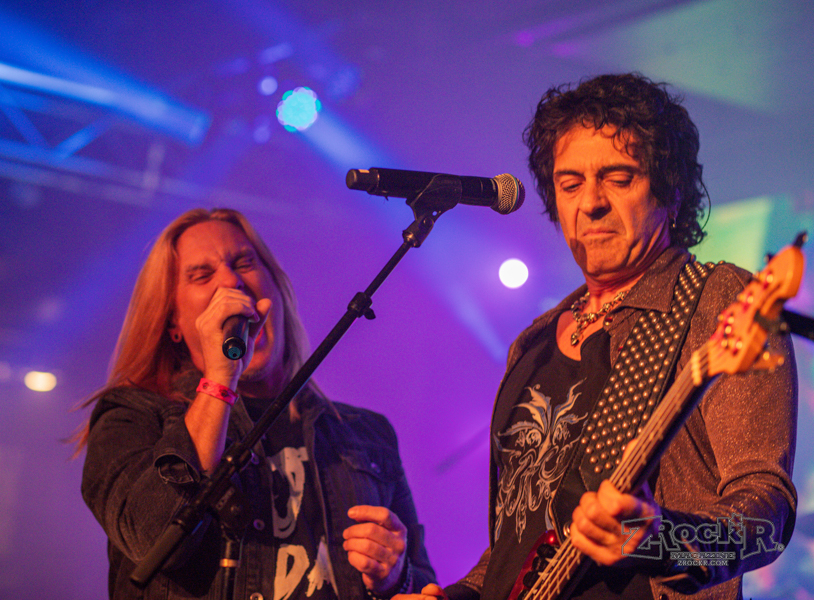 The other minor issue: If you've got guys like Paul Shortino, Danny "The Count" Koker, and Sebastian Bach in the house, how could you not ask them to come up on stage and sing for a song or two? Given that Shortino was a personal friend of Ronnie James Dio, the lack of this is surprising. Especially when you consider Roxanne had guests jam with the group in the prior set.

Minor quibbles aside, there's no denying this was a kick-ass night of rock and roll, and I couldn't have been happier with the end results. This is real live rock and roll in a real venue with no bullshit or backing tracks. Crash Midnight continues to rock Vegas every time they take the live stage. Roxanne remain unsung heroes of the rock world who'll hopefully continue to garner the respect they deserve. And Freeman, Soussan, Campbell, and Appice continue to bring the loudness as Last in Line, with both originals and classic Dio covers. The presence of Eddie Trunk, always a champion for live rock and roll, is always appreciated. All of these bands come highly recommended, of course!
Last in Line Gallery


PHOTO CREDIT: All photos by Alex Sanchez for ZRockR Magazine – All Rights Reserved