October 18th sent all of Las Vegas into pandemonium, as a large sign appeared off of the roof at Backstage Bar & Billiards that read "SEND AN SOS IT'S GETTING SERIOUS". Friends who work at the venue received texts asking if everything was alright, and in just a few short hours, it would all make sense as Green Day then posted it on their page.
With the When We Were Young festival taking place on the 21st and 22nd, local fans realized this could only mean one thing: a not so secret "secret" pop up show. Later in the evening of the 18th, the handmade sign would change yet again before details of the show were released. This time, it made all true fans of the band's insides turn with pure excitement.
"Eat at Chef Wong's. ONE NIGHT ONLY"
Could it be? Dookie in its entirety? Since we are fast approaching the 30th anniversary of the album, it would only make sense. I'm not going to lie, with the exception of a couple of the radio tunes here and there, I haven't picked up a full album since Nimrod, and I remember having a cassette of Dookie when I was a kid. Fuck, I think I still might have it and will have to go check now when I'm done writing… I was one of those freaking out, refreshing venue and band pages frequently for news, and communicating with other local friends about what the fuck could possibly be happening.
Within just a few hours, ALL was revealed. October 19th. Tickets on sale at 10:00 am. I, like many others, appreciated the fact that there were limited batches and the need for a photo ID and payment method to pick up at will call so that way scalpers were deterred (although a physical ticket picked up at will call would've been so damn cool for those of us who collect our stubs). Sadly though, I was not one of the lucky few to score tickets. Thankfully, a friend had an extra one and bestowed some kindness on me because what was witnessed was once in a lifetime…
The Show.
Pulling up to Fremont Country Club was an adventure to say the least. The entrance line to the venue was down the block, which is not at all surprising. In addition to the lucky ticket holders, many hopefuls walked the line, money in hand, to try and catch an extra ticket to the event.
Once inside the venue, you could feel the anticipation build as the crowd packed in shoulder to shoulder.
If you've never been to Fremont Country Club and you live in Vegas, you're missing out. It's a decent sized club decorated in velvet and chandeliers, and it connects to the sister property Backstage Bar & Billiards, which is more leathery and small. Both venues had their stages fully decorated in Green Day Dookie props and ready to go.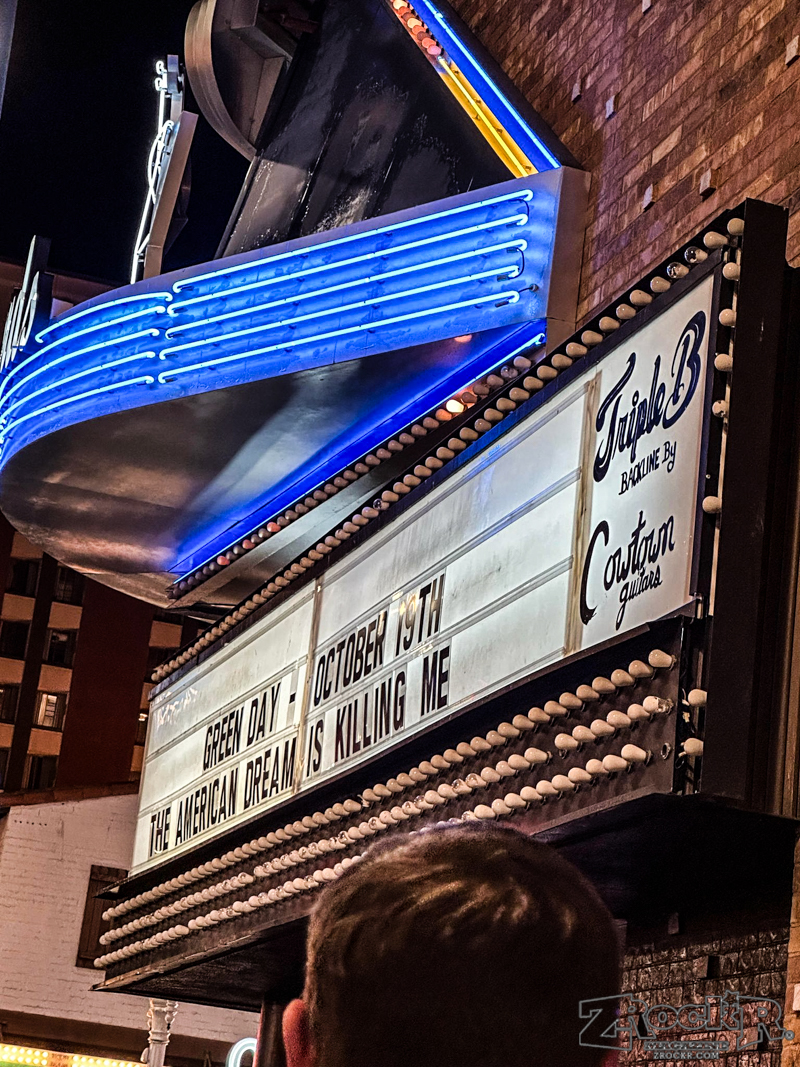 Ultra Q, led by Green Day vocalist Billie Joe Armstrong's son Jakob, opened up the show. Their sound is a bit less punk rock and more straight rock/emo, but they delivered a great 45 minute set. These kids definitely set themselves apart and brought a ton of energy to the stage to get the night going. They appeared to be well received by the crowd as well, and I'll definitely be giving them a further listen.
Green Day hit the stage around 9:15 with the opening track to the great album we were all there for, "Burnout". Within seconds mosh pits opened up and crowd surfers took to the hands, heads, and shoulders of the packed tight floor. You have no idea how fucking refreshing it is to see stuff like that in a small club. Most venues nowadays have strict no moshing/crowd surfing/stage diving policies. While I'm all for concert-goer safety, it takes away from the magic of events, and this was certainly a magical evening.
Throughout the evening, there were moments where I swear the band could've stopped playing and no one would've cared. Everyone was there to just sing along and have a great time, and luckily (thanks to the way they did the tickets), Fremont Country Club was full of die-hard fans, so there was a level of respect you don't see often at gigs anymore. Too short to see? Someone would pull you in front of them to see better. Wanted to take turns being closer to the stage? No problem. Bumped into when not moshing? There was always a "oh hey sorry!" I honestly wish every show was like this one. Back to the band though…
For almost two straight hours, Green Day pumped out song after song with ease. They sound as tight in person as they do on their albums, with very little speaking in between. It was obvious they had one focus, and that was to entertain and bring it as best as they could. One of the few times they did stop was to announce a big upcoming tour for 2024 with The Smashing Pumpkins, Rancid, and the Linda Lindas. No dates have been announced just yet for this tour reveal.
While I am a fan of some of the band's later hits off of albums like American Idiot and 21st Century Breakdown, it was a relief to not hear the hits and get some deeper cuts. Green Day played their newest track "The American Dream Is Killing Me" and a couple Revolution Radio and Father of All Motherfuckers, but there was no "Good Riddance" or stuff like that to be heard. Aside from Dookie, they kept it "old school" with stuff off of Nimrod, Warning, and Insomniac. Like I said earlier, this was a show for the die-hards.
They ended their set with "Homecoming" off of American Idiot, waves, and a goodnight to the thankful crowd.
We left the venue to other clubs in the area blasting Green Day, drenched in sweat, in need of Ibuprofen and Bengay (because let's face it, we are all older and once the adrenaline wears off, we fuckin' hurt; I'm pretty sure I twisted my knee going crazy during "Sassafras Roots"), and in complete awe of seeing one of the biggest punk bands in the world in a small venue perform the album we've all annoyed our parents with. Can't wait for the upcoming tour, and if you're at WWWY this weekend, chug your water, slap on your sunscreen, and stay for Green Day's set, because you won't be disappointed.
Setlist.
Burnout
Having a Blast
Chump
Longview
Welcome to Paradise
Pulling Teeth
Basket Case
She
Sassafras Roots
When I Come Around
Coming Clean
Emenius Sleepus
In the End
F.O.D.
All By Myself
The American Dream Is Killing Me (live debut)
Geek Stink Breath
One of My Lies
Oh Love (first full performance since 2013)
Stuart and the Ave.
Disappearing Boy
Graffitia (live debut)
Letterbomb
Last Night on Earth (first performance since 2017)
Father of All
Nuclear Family (first full performance since 2017)
Warning (first full performance since 2001)
Revolution Radio
Homecoming (first performance since 2010)
Gallery.
All shots by Stephy Muzio via cell for ZRockR Magazine – All Rights Reserved