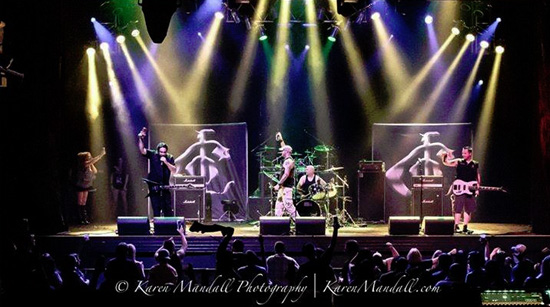 I walked into the House of Blues for the first show of a free residency showcasing local bands. It seemed to start out almost like a low grade local show. People crowded the bar, and the crowd seemed to dwindle a bit with each passing band as fans began to depart. However, once local metal band Double Barrel Diplomacy hit the stage, you could feel the intensity of the crowd build. People filled the general admission area, coming from out of nowhere, feeding off of the energy the band was giving. Vocalist Clark worked around the stage, giving the audience the perfect mix of passion and angst that one expects from a metal singer. The rhythm section, composed of drummer Rob and bassist Zach, worked their hearts and souls into keeping the sound tight, accompanied by the shredding of guitarist Ric. I got to sit down with this fantastic group backstage at the famous House of Blues during their celebration of not only a great show, but a celebration of bringing in the most tickets for the night. Here is what they had to say.
ZR: Why did you guys want to do this?
Ric: We did it for the local scene. It was all about trying to get together and create the local scene as one again.So, doing it tonight with about 400-500 people out there for a free show was a good turn out. The fact that people came out for a local free show was amazing. It's the first of 4 as a test, and it's good for the music scene in general.
ZR: How did you guys fall into doing this?
Ric: Honestly? I've been doing this for a long time, and the right kind of people asked us to do it, and I said "of course". Las Vegas as a music scene, if you don't count heavy metal, it's huge. You have those like Imagine Dragons, Escape the Fate, The Killers, which is cool, but as far as heavy metal…
ZR: Well, let's not forget bands such as Crystal Method and Slaughter.
Ric: Yeah, if you want to go back that far, but heavy metal and hard rock now are like a bunch of step cousins all over the country. It's not a family anymore like it should be. Doing shows like this make that family happen.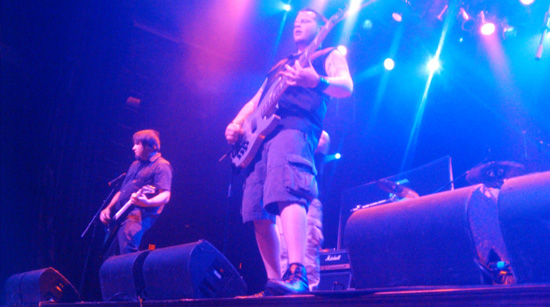 ZR: So, how does it feel now that the show is over? I know you guys were all very stressed prior to the show
Zach: Post-orgasmic.
Rob: It's zach's first time playing at the House of Blues.
Zach: I was nervous. It was my first time. I took it like a champ and lost my cherry like a pro. Ric: In all aspects of the live performance it was good. We've actually had to sell tickets before, and it was a good turnout, but not like a free ticket show. This is amazing. It's hard to go to your friends and say, "Hey, give me 12 bucks for a ticket." What the people look for in management here, the promoters, they wanna see how many heads come out.
Clark: They wanna see how many people you're going to bring to the fucking show. They wanna see the turnout, how many beers they sell, and overall performance.
Ric: If there are 500 people here they're going to do it again.The bar and venue will make money. It's not like it's 1 local band bringing in 20 people. This is not a local venue, this is a national venue. So, in order for us to do what we have to do and get into that level, we have to put on our best performance and promote the hell out of this. All of the bands did that tonight, and it is very good. We busted our asses doing this.
Clark: The 4 of us don't give a flying fuck about the money. I want to see a crowd in front of me. Zach: It's about playing and having people say, "Fuck yeah, I saw those guys. They were great!"
Ric: I'm pretty good as far as the local scene goes. I've been doing this for a long time. I've been in other bands, and we've done things, but it's not about doing that now. It's about doing what the local scene wants to do, and it's about being a family. All the bars and venues involved need to be on the same page and this is the start of something good.
ZR: The Huntridge revival is a big issue right now, you say you've been in a lot of bands.
Ric: I'm dating myself here.I played there 3 times.
ZR: Okay, so with that, would you guys do any promotion, or if there was a local band benefit would you play it?
Rob: Oh hell yes. The Huntridge has been a staple back in the day. I'm dating myself as the 2nd oldest member of the band. Been in a lot of bands and seen some of the coolest bands play there. The Huntridge is not just a venue it's an experience.
Ric: It's history.
Rob: You can have a local band play and the next night have Slayer play. The sound is awesome. It's the place to go. It will bring the scene back to life. We need something of that caliber that everyone can play.
Ric: It has to be quality. If the Huntridge comes back it'd be the greatest thing. There has to be equality. Local bands and big acts. Even if we just bring back Sanctuary for local acts. Do free shows. Who gives a fuck about the money for tickets? If it can be done, we will play for free every single time. Every band hates playing the same damn venue over and over.
Zach: When I was in high school everybody congregated at the Huntridge. That was the only place you could see ICP one night, Slayer the next, and a local band the next night! Machine head, Nine Inch Nails, Disturbed; the list goes on.
Rob: I've seen Snot, Deftones, Fear Factory… you name it, they've played there, and there are a lot of bands who won't play Vegas now without it.
Clark: There just needs to be more venues fair to the bands and the customers. That's all there is to it.
Zach: it's historic.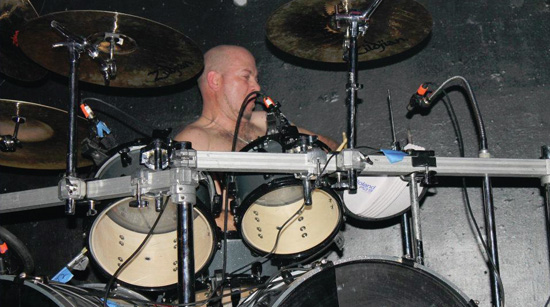 ZR: Speaking of venues, if we had to take House of Blues out of the mix, what would be your favorite place in town to play?
Zach: Dive bar, Double Down.
ZR: Places you have played; What is your favorite is what I mean?
Ric: Oh man, Diablo's. It's cool, but you don't have the same draw.
Rob: The Junkyard was awesome. I used to play drums in Broken End, and we jammed there all the time. The Boston. Shark's.
ZR: What types of crowds do you enjoy playing? Small and personal or large?
Ric: A full audience. You're gonna feed off the energy. We will give the same amount whether it's 10 or 600, but that's a larger amount of fuel for the fire.
Rob: We've played all kinds of places. Played a place in California that looked like Long John Silver's. The place was tiny, but the people rocked. It doesn't matter how many people are in the crowd. It's the energy and interaction.
Clark: If they're into it that's all that matters. If you get a crowd who loses their mind, they're going nuts. YOU created this.
Ric: If you are playing original shit, and one person likes it, then you've done something. We've been doing it a couple years. 1 turns to 2, 2 to 4, 4 to 10, etc. If people like it then there's nothing better than that.
ZR:If you guys didn't play the instruments you played, and for one performance or one song had to switch it all around, what would you play?
Zach: Guitar.
Ric: Drums.
Clark: Everyone wants to be the drummer.
Rob: I can't sing, so I'd have to say guitar.
Clark: I tried to play guitar. I never intended to be a singer, but here we are.
Rob: I taught him everything he knows, haha.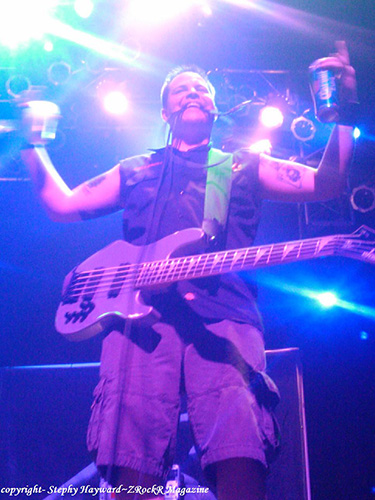 ZR: Any last words?
Rob: We appreciate the House of Blues. And uh, support the local scene.
Ric: The next band you see at like, Cheyenne Saloon could be the next band you see on TV. Go to every fucking show you can.
Zach: All you have to do is show up to any show because you don't know what it takes to make this happen. Come over. It doesn't matter how long you stay; just come and hang out. Remember, we bust our asses for this. The only thing we get out of this are people who come up after and say, "You rocked." And on that note all we can say is simply, thank you. Thank you for showing support and love to this music scene. We will see you at the next show.
I could not have said it better myself. Keep an eye out on the local residency at the House of Blues, sponsored by Bicardi. It's free, it's fun, and it is a great way to get exposed to what Las Vegas has to offer.
~Stephy Hayward