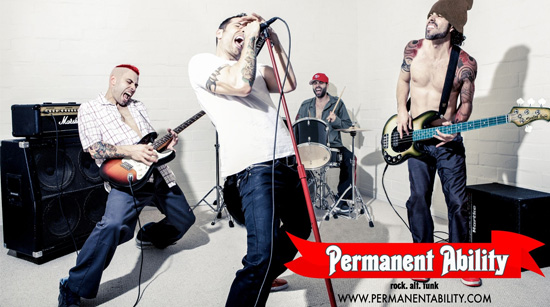 What happens when you get a band who is so well liked, that even members of the funk community such as George Clinton, acknowledge them? You get Permanent Ability. A band based out of California, who tantalize the ear drums with their bass lines and sultry lyrics .We got to talk to the brains behind Permanent Ability, Brian Lanese.  Let's see what they have in store, shall we?
ZR:  Your music, obviously influenced by a funky sound, it's full of rich bass lines that sounds as if Flea played on your tracks. What was it about funk that caught your attention to the point of you wanting to play it?
Brian: The "funk" gives off an intensely-energetic-passion for me to create and perform to music that I has immense love for. I salivate when I hear a pop 'n slap bass riff, and many people still do too. That's why when I decided to launch the band, I knew it had to be based in the funk rock genre. This style WILL ALWAYS make you move regardless…and that is why Permanent  Ability has such an explosive live show as well. The music makes us menace with energy inside and then it is released when we perform to it, and when the audience feeds off it its like a circle of energy that keeps fueling us the entire performance.*
ZR:  How did it feel to know that your music caught the attention of legends  like George Clinton and Lige Curry?
Brian: Like a fist full of flattery just sucker punched me in the face. Having P-Funk's bassist Lige Curry and his veteran experience implemented into the recording process of my first record 'From the Womb to Hollywood' was outstanding, he is immensely professional, and still a close friend of mine. We met through Dwayne "Blackbyrd" McKnight, who was a long time Funkadelic guitar player, and even had a quick stint in the Red Hot Chili Peppers back in '89 before John Frusicante joined. I sent him an email on Myspace (when that was cool…remember) asking if he new any funky bass players to help me complete my record. So he referred me to Lige Curry, and when Lige heard my demos, he was instantly on board and said this exactly, "The funk is on now!"
ZR:  When you sit down and write a song, do you have any particular song writing rituals, or do you just grab whatever you can write on and go for  it when the moment arises?
Brian: There really is no formula to my creative motor. I can turn it on and off…luckily….at times. I can't say one thing in particular inspires me.  When creativity does strike it's like  lightening in a bottle however, and it's those moments I try to pounce on and capture the beauty of what needs to be released.
ZR: What fuels you to write?
Brian: Underestimation fuels the passion.
ZR:  If you had to choose just one song to play for the rest of your life, yours or another's, what would you choose and why?
Brian: 'Stairway to Heaven' by Led Zeppelin…no explanation needed =)
 ZR: Did you start out singing, or did you learn any particular instrument first that just catapulted your love for the art?
Brian: I've always been a performer my entire life. Starting with Pre-school all through High School even. I was lucky enough to have music education in the schools I attended growing up. It wasn't until college I realized my skill for writing lyrics and it came so naturally to me and I'm glad I stuck to it. I took a break from performing for quite some time, and it kinda fell back into my lap when a Sony executive saw me guest perform with a friends band.
 ZR: I noticed you have "East-coast roots". Why LA to settle and make music? Why not stay in the East and make it from home?
Brian: I'm originally from Connecticut, and the music scene there isn't at the level I wanted to take my music to. It was hard finding serious players that wanted to make it a profession so I moved to LA. New York is more Hip-Hop and Rap, some Rock, but I knew LA would have more to offer for an indie rock band and exposure than The City….so I made the leap, and have been rather fortunate luckily.
ZR: What was it like the very first time you hit the stage? More nerves, or more excitement? Brian: The very first time I hit the stage here in Hollywood was at a place called the GiG on Melrose…which is no longer there anymore. I do recall that butterfly feeling was at its peak leading up to it, but those butterflies instantly turn into excitement once the music starts. We are all at home on stage, very comfortable, and ready to go to work. Our first show was decent though, but nothing compares to the show when I dressed up as a giant inflatable penis…Classic!
ZR: Last question, what can your fans expect from you in the future?
Brian: Well, in the very near future fans can expect the release of our first full-length record 'Love You to Death' hopefully due out later this year. It features Serj Tankian's bassist Mario Pagliarulo and good friend guitarist Orlando Mestre. This record is peppered with an evolved more mature Permanent Ability but still true to our funky ass roots and original sound. Look for us in a town near you very soon to support the record! For the most up-to-date news visit www.PermanentAbility.com follow us on Twitter and like us on Facebook too. Thanks to ZRock*R for the support and exposure. Be good. 😉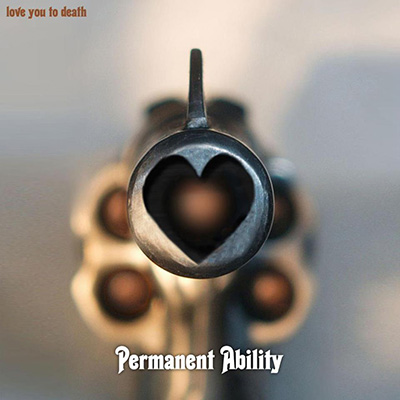 And there you have it. A funky band with a sweet demeanor. You can find their music on Facebook and Spotify, and keep an eye out for tour dates near you. 😉
                                                             ~Stephy Hayward
Photo Credit: Huy Truong. Copyright 2012 Permanent Ability.