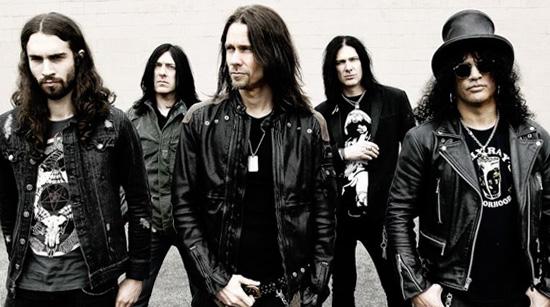 Vegas show the finale of a successful Tour for Slash with Myles Kennedy and the Conspirators
There was a quiet sense of restless anticipation as the minutes ticked down to the start of the performance. The opening songs were fast and snappy, raising the pulse of the audience though the audience participation was a little slow getting going it did finally pick up later on to more the level one might expect at this kind of event. The performance was augmented by lighting effects; supporting musicians throughout the performance to good effect. Unlike some shows in Las Vegas, the lighting was not overdone and distracting, it fully complimented the performers as a good light show should.
As Slash entered the stage, his signature top hat and sleeveless 666 smiley face T-shirt, there was something undeniably monolithic about the man that rooted and anchored a performance from the first moment he appeared. He was an immovable fixture of the set around which the entire show orbited; rarely at the center of the stage but always at the heart of it and impossible to overlook.
At first impression Myles Kennedy seemed almost ordinary in appearance in contrast the Slash's flamboyance, but from the moment he began to move what immediately leaped out was his vivacious energy drew and held every eye and that was before he had even made a sound. Myles welcoming words to the audience, coupled with his powerful vocals that were delivered with feeling and depth, filled the stage with the force of his personality easily making him the focus of attention.
It was not until almost halfway through the performance that the artists really began to alternate between their own very unique styles and we were treated to classic Slash and pure Myles' heart wrenching vocals. Todd really shined at this point in the show and synergized amazingly well with the stars of the show. During his solo, Slash's fingers danced across the strings as if they were possessed by the guitar itself.
The second half of the show was fast and furious, heavier than the earlier songs and the audience was definitely more into it by then. The encore songs were also well selected to end the show on a high and memorable note. Slash's unequaled guitar playing joined Myles's amazing voice in a symbiotic rendition of those old anthems such as Nightrain, Rocket Queen and Sweet Child O'Mine that we all know the words to with a unique sound coupled by Myles's brilliant style and Slash's time proven mastery. It was the perfect ending to an amazing and memorable tour.
~Jack Winchester