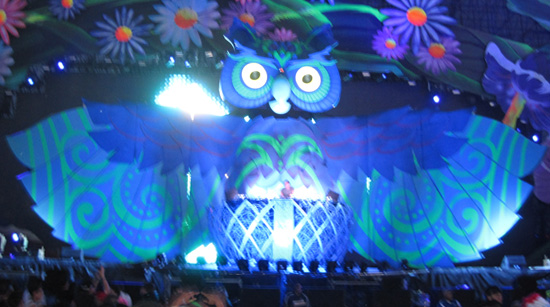 It's hard being a dance music aficionado in Las Vegas. Oh sure, our nightclubs are filled year round with people boogieing to the ever so commercial electronic dance music of Avicii, David Guetta and Afrojack. But that, quite frankly, is kids stuff. So is Krewella, Nervo, Skrillex and just about everything else considered popular EDM these days. You know how rock and roll has a bunch of styles that are nothing like each other? Like, say Black Sabbath sounds nothing like Devo, and Devo doesn't remind you in any way of the Grateful Dead? Or if you were a fan of thrash metal bands you may very well have hated the so-called 'hair metal' offered by Poison and Warrant? Same deal with EDM. So if you're from the old school like yours truly (proudly 'raving' since the 90's), your eyes light up when the line up for the Electric Daisy Carnival is announced and long time underground dance titans such as Ritche Hawtin, Sasha and John Digweed are on it, as well as rare Vegas appearances from DJs like Loco Dice, Adam Beyer and Yousef. And if you happen to be this particular old school-er, you get really excited when you notice that Carl Cox, one of your all time faves is doing not only one, but two nights at EDC: Saturday taking over the Neon Garden with his 'Carl Cox & Friends' line-up, Sunday being given a sizable hour and a half time slot (most are only doing hour stints) in the main area known as the Kinetic Field. And if that wasn't enough, he's also scheduled to do a set advertised as running "Late – ???" at Lavo inside the Palazzo Friday night. Then I realize…I hate buying tickets for anything before line-ups are announced, and EDC has been sold out for months. Crap.
Desperate texts are sent in search of a hook-up. My in from last year can't help, he'll be out of town. He says "if worse comes to worst just find the woman who helped you last time". Uh, ok. I check Craigslist: $600 for three day passes, three times as much as they were during the early bird sale back in November. I wouldn't pay it on principle, I also don't happen to have $600 I can just toss off nonchalantly.
After all texts come up short, so I put up a Facebook post with a plea for EDC tix and ask about the douchebag factor at Lavo. Much to my appreciation I'm immediately put on the Lavo guest list and promised it will be relatively douchebag free. I'll be the judge of that.
Another note hits my in-box from someone else, this one offering to sell me a three day EDC pass for $500. Grrr…
Day One of EDC arrives and still no hook-up for the fest, but all is not lost as I'm on the list at Lavo. I decide to give up trying to get in to EDC on Friday. It means I'll miss Victor Calderone, Loco Dice and Ritchie Hawtin; but at least I'll have another chance to see Hawtin if I can get into EDC Sunday when both he and Cox will be on the main stage. If I can't get in free, Sunday is the easiest day to buy passes for; a lot of people are either burned out by then or can't get that extra day off the following Monday.
I get to the door a little after 2am and the better half and I are ushered through with no hassle whatsoever. We arrive upstairs to hear New York duo Sleepy and Boo laying down a particularly tasty set to a packed, sweaty house of people eagerly anticipating seeing one of the worlds greatest DJs in such an intimate environment.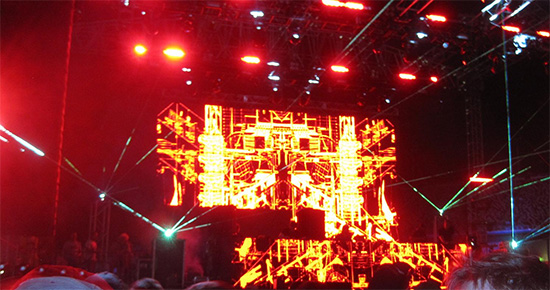 4am rolls around when the master himself, Carl Cox takes over the booth and commands control over the crowd from minute one. The song choices for much of his set are a little more intense than you would expect at a Vegas nightclub, and everyone is pleased. In a town were just about any other weekend offers you the amazing variety pack of Electro and Dub-step…and not really much of anything else, he serves up furious techno; just the way his fans like it. I recognize at least one repeat track that he played during EDC '12 – Let Me See You Work by Joe Brunning. I don't mind, it's a killer tune.  He rages til 7:30am, a full three and a half hours after he started. I go home vowing to make it to both of his EDC sets somehow.
After a short nap and some food, I head down to where EDC passes are to be picked up, recognize the woman who helped me last year, namedrop my out of town buddy and miraculously receive a pass for that day. Back at the house I roll joints and put together a schedule of things I want see – with no less than 7 areas of music and not being able to stand listening to most of it, it's always a good idea to know who's spinning where and when. Leaving at 4:30 seems like the smart thing to do; last year I was stuck in bumper to bumper traffic for hours because I made the mistake of hanging out until after the music had shut down.
Nothing can prepare you for walking into EDC – it's truly is like stepping into another world if you're a first-timer. There are carnival rides, art cars driving around, guys on stilts, girls with not much on besides panties and pasties, and lots of music thumping from every direction. But it's the lighting and staging that really grabs you. The production of this behemoth is second to none, with the world's largest stage and a budget reported to be $35 million.
My first mission is to locate the Neon Garden, since that's where I'll be spending the bulk of my Saturday and Sunday. I then make note of where the Bass-pod is, so I can stay as far away from there as possible. As I saunter into the Kinetic Field, I spot what $35 million can buy: a big ass animatronic owl that's creepy, yet cute; and more than a little reminiscent of the designs used at Tomorrow-Land, held every year in Belgium. The people behind that festival are bringing a version to the US for the first time (Tomorrow World, in Atlanta). Think Insomniac is feeling the heat?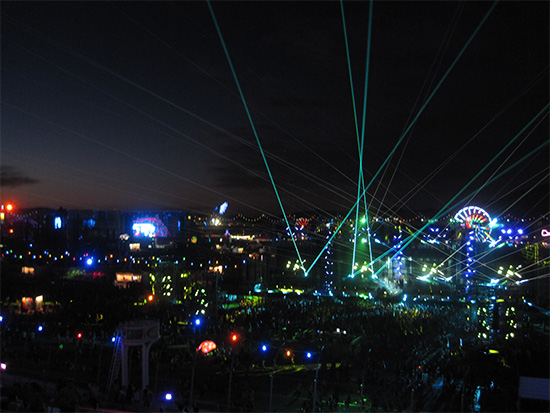 You know who is feeling the heat? Yours truly. I've made the mistake of wearing jeans and a baseball cap; both are drenched within seconds of walking into the 80, 000 strong Kinetic Field. This probably has something to do with the camera I didn't bother to learn how to use in one pocket, and a completely useless phone (cell service out here is spotty at best) in the other, both emitting as much heat as the blinding lights swirling around the angry Owl God and it's dancing worshipers surrounding me on this sweltering June evening. And while I'm convinced a huge portion of the EDC crowd is significantly below the advertised minimum age of 18 (they must make great fake IDs these days), and disturbed that the younger they appear the skimpier the outfits get…I'm starting to become very jealous of people who have the courage to run around in their undergarments.
Sander Von Doorn is doing his best to whip the crowd into a frenzy, one of the ways he does that is by dropping 'Now Let Me See You Work'…which I had already heard the night before at Lavo. This repeat track was a lot better than most of what I was hearing walking through the Speedway though; it seems bad Electro and Dub-step haven't just taken over Vegas clubs, but music festivals too. On top of that (and I'm starting to sound like every one of my friends who couldn't appreciate dance music back in the day) – it all sounds the same to me.
Just as I'm thinking "these kids don't party as hard as we did", I notice a girl puking. Hmm, maybe I've misjudged the youth of today?
Eric Prydz finishes his well received set, and then…nothing. Avicii seemed to take an eternity to start. We're talking minutes, plural. In the world of electronic music, too much dead air has always been a no-no. There aren't 20 minute (if you're lucky) wait times between acts like there is going to see a rock show. 2 maybe 3 minutes have passed; people start looking around at each other, wondering what was going on. As silence continued to envelop the restless throng, I spot a buddy who I used to work with. He also happens to be the same guy that tried to sell me a pass for $500 a couple days earlier on Facebook. Yeah, it was kind of a dick move, but he was able to get his asking price a few hours after trying to gouge me. Who can blame him? Besides, he has E. All is forgiven.
"Let's get the fuck outta here and go catch Digweed" he says; I follow his merry crew out of the Kinetic Area and away from its psychedelic owl for the rest of the night. I can hear Avicii finally starting and am told later he goes down a storm, but I don't care; I have a different agenda. I hit my buddy up for the Molly, decide to hold off on taking it until tomorrow, and eat a few more magic mushrooms. "What is wrong with you? Why aren't you gonna roll?" He's a couple days into a serious bender, and unlike me has a limo driving him back to a suite at the Bellagio. "Aw c'mon, man." I start, "You know how it is; you can't really roll two days in a row." He looks at me with a mixture of disdain and confusion. "WHAT?!?" Then he laughs and exclaims "Just take more!". I decide to stick with my game-plan.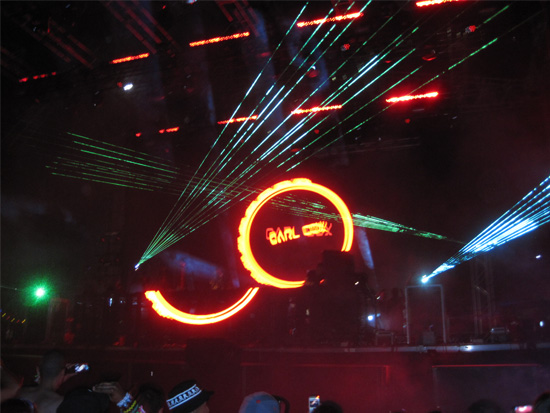 The Neon Garden is my fave spot, and not just because the lack of dub-step and electro keeps the 'Bro' crowd away (when the hell did these meat-heads starts showing up to raves?), or that a free water refill station is close by (huge props to Insomniac for this BTW), or the fact that a few DJs on the stage have been around so long that I'm actually not the oldest party-goer in this area for a change. No, it's because some of the most world renowned names who rarely, if ever make it to Vegas are doing their thing here. Why bother with the Afrojacks currently polluting our clubs and pools every other week when you have an opportunity to catch the Digweeds who only spin when Pasquale Rotella brings his party to town?
It's been years since John Digweed has been to Vegas, and he fills the area with some great tribal percussion. But my fave set on this night goes to Adam Beyer. He knows how to get butts moving, and he accomplishes this with some great minimal tech. This was my first time seeing Beyer and the Swede did not disappoint. Insomniac should think about bringing him back next year, along with people who have yet to spin at EDC Vegas like Nina Kraviz, Ida Engberg, Fatima Hajji and Dave Clarke.
Our second chance to see Carl Cox in two days is here, and he continues banging out techno like he did at Lavo the previous evening. Everyone is having a great time; he certainly has a bigger stage and light show than he did at the Palazzo venue, including flame columns rivaling those on the inside gate fold pic of KISS Alive II and more lasers than Star Wars; this works especially well when he delights the crowd with Green Velvet's 'Lazer Beams'. Tracks like "A Lost Era' by Gesaffelstein are aired, continuing the groove. My buddy has to round up his posse and pile in the limo, but I'll be hanging out until 4:30 when Cox is over. I spark up a fat doobie and immediately make a new friend: a reveler here all the way from Toronto with a bunch of other Canadians. He's actually the second Canuk I meet this evening; the first was also from Toronto and came up to me when I was smoking a joint upon my arrival to the race track. Smuggling pot out of Canada is rather difficult, apparently.
We continue to sway to the pulsating beats coming from the speakers and it seems Carl can do no wrong. I mean, yeah he did throw out some familiar tracks (let's just say that it wasn't the first time I had heard Lazer Beams on Saturday), but he was still putting out the best set of the night, until…
'Let Me See You Work' comes on and I have to roll my eyes. I just heard it yesterday, it was played during his lone Vegas appearance last year and much like 'Lazer Beams' this tune spun by someone else tonight prior to Cox on another stage. "Dig a little deeper" I think. However, it's still better than hearing Avicii's 'Levels' all night, which I swear happened last year every time I walked near the main stage or Circuit Grounds. I decide I'm just being a super picky music snob. After all, I used to bitch when I'd see the Black Crowes and they would dare air a 'hit' like Jealous Again more than once over a five night run of shows.
Just then, one of my all time favorite DJs to ever grace the decks makes me wonder if I should have been somewhere else: he throws 'Killing In the Name Of…' by Rage Against the Machine into the mix. Let's get this out of the way right now. I like Rock. I like Techno. Unlike how chocolate and peanut butter collide to make amaze-balls Reece's Peanut Butter Cups, I don't find rock and roll mixed into EDM to be enjoyable at all. You don't need to pander to the casual music fan out here, so why do it? He brings it back to slamming dance music within a couple minutes, but I'm unable to enjoy it as much as I was before; I'm sitting here wondering if Linkin Park or some other heinous shit is going to come my way courtesy of Carl trying to be 'eclectic', and worried that he has similar surprises in store for the main stage tomorrow.
I head to the gates upon completion of Cox' set (it recovers nicely, but the mushrooms won't allow me to let that Rage thing go) and make it to my Isuzu by 4:45. A few vehicles around me are already gone, and there are some folks hanging out on the hoods of cars waiting for drivers and other friends to appear: most more than likely won't show up for another hour when the music finally stops. I hop into the seat; feeling rather satisfied that I'm going to beat the terrible traffic. Thinking about breakfast and sleep, I turn the key. Nothing happens. It appears my battery is dead. Everyone on the hoods around me seems to be waiting for the car owners, no luck there. I spot a dude starting his engine and ask for a jump. "Sorry, can't help you" he says and drives off. Exasperated and envisioning vultures picking at my pasty flesh, I blurt out "Where's the PLUR at, bitches?" (For those of you unaware, PLUR is an acronym for peace, love, unity and respect). It takes me an hour to find a jump and once again I'm stuck in post EDC traffic. After arriving home, I text a friend who wants to go and tell him I'll get him in tonight; but there's a catch: I don't want to drive. I also suggest he bring some party favors. Then I nod off for a couple hours, completely forgetting about my need to eat.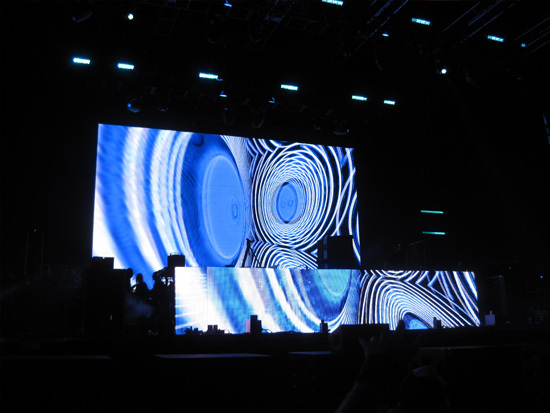 "Are there going to be piles of drugged out ravers molesting each other like Southern California in the late 90's? I mean, those people believed in raving as a lifestyle and thought that eating E and going to parties 24/7 was how they were gonna live their entire existence" my fellow 'been there, seen it, wrote the book' party compatriot asks as he drives towards our destination. I burst out laughing. "People tend to keep it together. It's never, ever going to be like late 90's SoCal. I just don't think that can ever be replicated." And I'm not sure anyone besides my buddy wants it to be, it's kind of taxing to party like that all the time. Baby boomers reminisce about the Summer of Love fondly, but you never hear them saying they're going to take a year off, eat a bunch of acid and fuck in a muddy field to the groovy sounds Joan Baez or anything.
After once again securing credentials with a smile and namedrop, we pick a spot and time to meet: 3:30, stairs by the Neon Garden after Sasha is over. Mark Knight is going to start a run of DJs I want to see the main stage at 8. He performs to a sparse crowd at the Kinetic Field, but sparse in an area set up for 80k is still thousands of people, and it's rather early. Attendees will be flowing into the venue at a steady pace all night; most of them well after Knight's hour long set is complete.
The crowd grows a little after UMEK takes the stage, and I eat more mushrooms. By the time he's done, I'm definitely feeling a pretty good body high. I have two pills and wonder if I should only do one, but remind myself that I don't have to get behind the wheel. This kid is signing up for the full ride, baby; so I eagerly gobble both hits of Molly eagerly as Ritchie Hawtin comes on. Hawtin starts filling Kinetic Field with dark, futuristic sounds, which is good since he isn't really filling the area with bodies. The crowd doesn't seem to grow while he's on – in fact, it's possible his minimal techno drove some people away, and those people happened to be women. Hawtin's set becomes a dudefest, but at least it's nerds with impeccable taste, not the dubsteppin' 'bro' crowd who will be overflowing the grounds within hours. Those who stay for his 60 minutes are in for a treat, and they have plenty of dance space to boot.
10 o'clock is here and so is Carl Cox. Kinetic Field's attendance grows exponentially and Cox picks up the pace. There is a Super Moon hovering over the giant owl this evening, only adding to the ambiance. Everyone is losing their mind as Cox proceeds to crush not only the other DJs who were on before him on this behemoth stage, but also manages to erase last nights' Rage faux pas from my memory bank. He's totally killing it, and that's all I can concentrate on right now. Well that, and the fact I'm suddenly feeling rather queasy.  Way too queasy…uh oh…
Walking as fast as possible without breaking into a full sprint; an interesting mixture consisting of nothing but water and white powder projectile vomits out of me. I hear a girl say "How did you know?" and her partner replying "I can always tell…" trails off in the distance as I pick up the pace. Self loathing starts to dominate my thoughts. "Did you really vomit in public at your age?" I sheepishly think while continuing to move to the other side of the main area. Party foul indeed. Within minutes I'm as far away from my watery puke as I can be while still in the main stage area, leaving behind something that was more than likely sat in by an under-dressed schoolgirl once it had dried up on the hot asphalt.
I pop a stick of gum in my mouth and enjoy the remainder of Cox' furious set. He's basically conducting a master class for what every superstar DJ should do when working a large crowd.  The throng is in the palm of his hands the entire time, bouncing along to the throbbing, pulsating beats the 51 year old is delivering from the confines of a giant owls nest. "Let Me See You Work is aired once again; for those keeping score at home it's now the fourth time I've heard this tune in three days, but I'm just glad he's sticking with dance music tonight.
Towards the end of Cox's allotted time, the crowd begins to swell and I start noticing a bunch of people wearing Above & Beyond tees are suddenly filling up the area as the trance starts will be on next. The shame from puking is still with me, and now it's coupled with loathing. Who the fuck do these assholes think they are, just showing up at the tail end of this spectacular performance? "You posers don't even realize what you're hearing, you don't deserve to be in the presence of a techno legend, master, no scratch that, a TECHO GOD" I ramble in my brain. "We would all be better off if a nuclear bomb hit and Carl Cox was the last thing you were allowed to hear, you goddamn sheeple" (remember what I said about thrash metal fans hating Poison and Warrant earlier?).
Just then, a kid walks up who is obviously as intoxicated as I am. Seemingly reading my mind, he decides to take my thoughts and put them into a tidier, less hostile sentence: "Carl Cox…is the truth" is the only thing this stranger says in passing. He's right. Yeah 'Killing In the Name Of..'  was a drag for me personally, but the crowd loved it, Cox can't be expected to know who else is going to play the same tracks as him, and if I can only name one or two repeats from his performances it's still more variety than most music acts who aren't jam bands. Carl then blows everyone away by rocking us with 10 minutes or so of drum 'n' bass, and just as he's finishing his hour and a half I remember I've packed a toothbrush and toothpaste. Woohoo!
Back at the Neon Garden, I hear a familiar voice. "Hey, you smoked me out last night" says my friend from Toronto. "Let's spark another" I retort, and then I realize I have no idea who's on stage right now. "Oh, this is Art Department" the Canadian explains. "They're from Toronto and they're like, world famous now." I suddenly feel old and outta the loop, I can genuinely say I had no idea who Art Department were before EDC, but they have suddenly become one of my new fave acts. The duo of Kenny Glasgow and Johnny White specialize in the kind of soulful deep house that is severely lacking at this event, and keep the Neon Garden grooving their entire performance.
I'm sure there are more than enough new dance fans to take my place, but it's nice the organizers of EDC always make a point to book DJs like Sasha who will make partiers from the 90's want to spend time around their modern day counterparts. I'm most comfortable around his crowd, and that's probably because I'm not as likely to get slapped with a contributing to the delinquency of a minor charge or anything by accidentally sharing a joint or mushrooms with the wrong person. Instead, I'm now hanging with a group from Los Angeles who all seem within 5 years or so of my age. Talk turns to the amazing set Carl Cox put in on the main stage, so I decide to relay the story about the kid telling me Cox is the truth.
"That's a pretty bold statement, man" says one. "What the hell are you supposed to say to that?" another asks. And in the second instance of feeling like my mind was being read, everyone replies "Yes" in unison and we all look at each other knowingly and laugh. Could there be any other answer?
I meet up with my ride after Sasha finishes and we decide to head out of the raceway. The carnival rages on, it's only 3:30; there's another two hours to go. But it's alright, my body has had all the dancing, booze, drugs, sleep deprivation and lack of food it can handle. Well, until next time anyway.
~ The SmirK