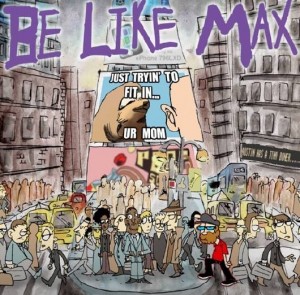 The Vegas Ska scene has a gem under its belt. I recently went to the CD release show for the band Be Like Max. With a $10 ticket you got their new album titled Just Tryin' to Fit It In… Your Mom. If I would've known how badass the album was going to be, I would've gladly paid $10 more to support the release, and after seeing the show, I'll be going out any night of the week to see them again.
With an album title like that you know these guys are a comedic as shit, and they got that across beautifully while keeping  the Ska sound true .  With songs about masturbating and not giving a shit who cares, to skits about doing five minute show in someone's bathroom and getting paid in high fives, I had a couple moments in the album where I couldn't stop laughing.
I was immediately hooked on this album as soon as I heard the opening song Local Band. The point they get across as just being another band on the under card of a show while owning the entire night is hard to back up, but they aren't lying when they say it. I saw Be Like Max open up for my favorite band of all time Anti Flag and Less Than Jake at The Hard Rock Cafe, and the words they say about being there to "save the show" are no joke.
Tracks like "Cheap Shot Youth Anthem" will relate to anyone who grew up going to shows just hoping that it would be all ages so you could go, and Be Like Max assures that they aren't for anything but all ages shows. Ending the album with the track Chin Up gave the best horns on the album in my opinion, but left me wanting so much more! This album hasn't left my CD player in my car since I got it, and every morning on my way to work it gets played all the way through. I have a theory that it's impossible to be sad while listening to Ska music, and this Be Like Max album gets me all cheery  every time I put it on.
If you're in to bands like Big D and the Kids Table or Reel Big Fish I highly suggest you go out and buy this album as soon as you can. You can take a listen and buy the album at belikemax.bandcamp.com, and I promise you will not be disappointed.
Photo Credit: © Be Like Max- all rights reserved