HEY! HO! LET'S GO! This beloved punk rock chant echoed through the Iron Post in Urbana, IL last December as Rockaway Beach, local Ramones tribute band took the stage for an hour of fast beats and loud chords. The four members of Rockaway deliver a show that could only be more authentic if it were Joey, Dee Dee, Johnny and Tommy themselves. Toby Diener takes to the drums with sheer enthusiasm, a leather jacket slung around his shoulders. Tim Kirby on bass and Mark Rebman are leather clad and wig adorned, jumping as they shred. Scott Thomason fronts as Joey in round red glasses, a cloud of fluffy black hair and Ramones's shirt under his jacket. They've got the moves: from Scott and Tim pointing to each other during "Pinhead," to the fist pounds, to removing the jackets after the first two songs. They know their parts: Tim screaming out Dee Dee's "1-2-3-4!" before each song and Scott's Joey inspired head jerks. They've even got the props, producing the "Gabba Gabba Hey!" sign during "Pinhead."
Ok, so they look the parts and they've done the research, but how do they sound, right?
In a word, incredible!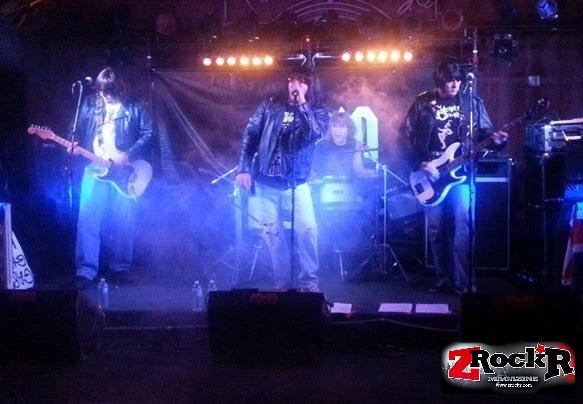 Twenty two songs are pounded out in about an hour, one after another in rapid succession, like a punk music machine gun. They include Ramones favorites "I Wanna Be Sedated," "Judy is a Punk," "Beat on the Brat," "Cretin Hop," "Do You Wanna Dance?", "Pet Semetary" and, for the month of December only, "Merry Christmas (I Don't Wanna Fight Tonight)." And, of course, they close with "Rockaway Beach."
Rockaway Beach formed in Summer 2011 when Scott contacted Tim and Mark through a mutual friend. Before Scott could finish saying "I want to start a Ramones tribute band," Tim said he was in. A Craigslist ad brought Toby in just a few months later. In less than two years the band has played about ten shows with local groups such as Airacobra, Seventeen Sisters and ADHD, tribute band for ACDC. The Iron Post is a favorite venue, as it was Rockaway's first venue and they have played their two more times since. The crowd had a great time fist pumping and singing along, even posing for pictures with the Gabba sign after the show. If you are a Ramones fan you will appreciate the details and have a blast hearing some of your favorite music live, and even if you aren't a die-hard, Rockaway Beach puts on a fun show that is worth checking out.
https://www.facebook.com/pages/Rockaway-Beach/109714195813878
photo credit: Jennifer Kirby - all rights reserved.