DC4 and Let it Rawk played Count's Vamp'd on Saturday, June 28, 2014.
For the unfamiliar, Vamp'd stands as the leading rock music venue in Las Vegas. This establishment, owned by Danny "The Count" Koker of Pawn Stars and Counting Cars fame, continues to grow in reputation, garnering the world's best musical talent – local, national, and international alike. There is always something going on here.
Kicking off the night was a performance from DC4. This band combines the talents of the Duncan Brothers (Jeff on guitar and vocals, Matt on bass, Shawn on drums) and former Dio guitarist Rowan Robertson. Jeff Duncan is one of the latest rockers to move out to the Vegas Valley and begin calling it home; his past exploits have included being a member of the band Odin (which also featured Shawn) and Armored Saint (which he remains a member of). Jeff is also a regular fixture around town, in bands like Playground, Three Blind Mice, and the Bones.
This was the first time I had seen a DC4 show, and it is something that this rock and roll fan eagerly awaited. With the three Duncan Brothers and a former Dio axeman, expectations were naturally high all around. Of course, from the very beginning, this was a hard and heavy show, and to say the band rocked the house would be an understatement. DC4's sound is slightly heavier and more modern than the other bands that these musicians have played with, but no less excellent. They managed to keep things fresh throughout the show, and had a good sized crowd cheering after each song. From original material to a Who cover to finish things off, this served as a damn good introduction to the music of DC4 for this rock fan!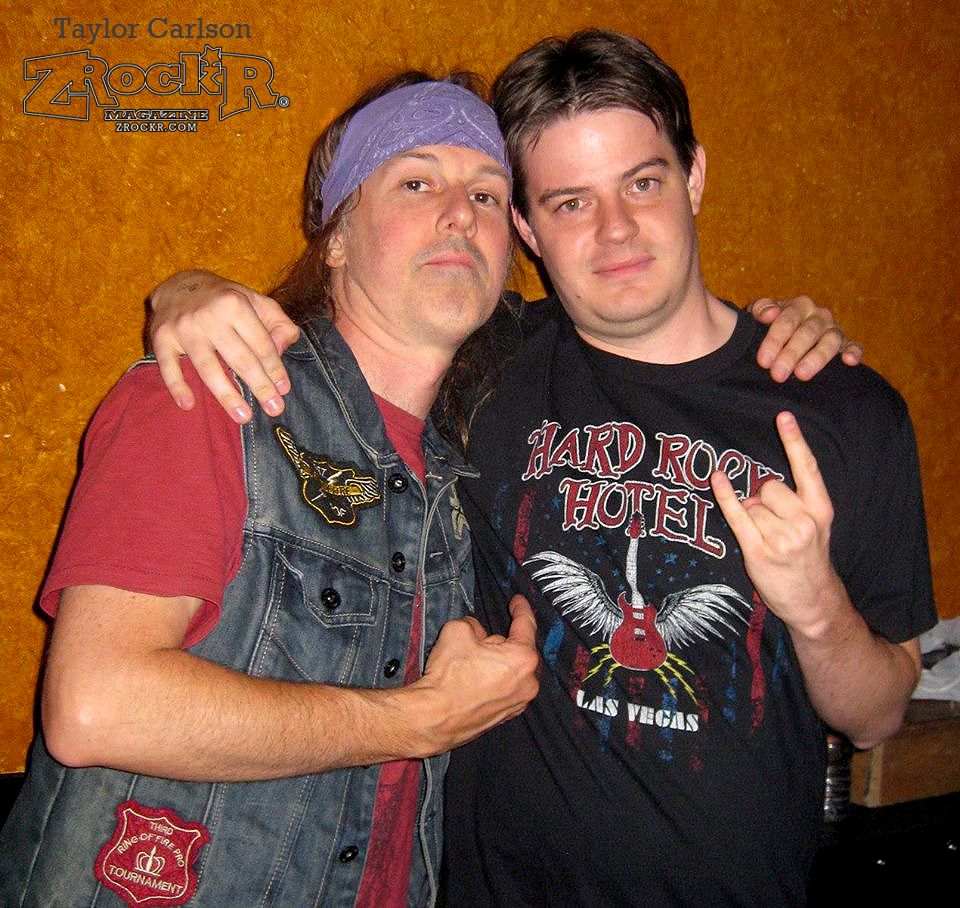 ZRockR's Taylor Carlson with DC4's Rowan Robertson
Let it Rawk, a tribute band focusing on the classic Sunset Strip hard rock scene of the 80s, has done a handful of shows in different locales over the past few months, having recently played Vegas twice this year. The lineup fluctuates and changes regularly (no doubt due to the members commitments to other bands) but always includes some of the best talent to come from that scene and to play with those bands. For this show, the lineup includes former LA Guns guitarist Stacey Blades, Black N Blue/former Warrant vocalist Jaime St. James, Armored Saint and former Odin guitarist Jeff Duncan (who had played with DC4 earlier in the evening), former Bulletboys drummer Jimmy D'Anda, and former Vince Neil and Ratt bassist Robbie Crane. Of these musicians, only St. James and Blades have been at every show throughout the band's brief time together.
Let it Rawk delivers exactly what it promises, nothing more and nothing less. And that is a good thing. Basically, you've got five of the best musicians of this scene paying homage to the big hits and legendary acts of the day, including the bands that they were a part of. Of course, there were the obligatory hits, like Ratt's Round and Round and Twisted Sister's I Wanna Rock, but I admire the band for digging a little deeper too. It was awesome to hear Autoblast and Miss Mystery from St. James' classic Black N Blue days, and even gems like Ratt's Wanted Man. At one point the band talked about the musicianship in this band being great, and I think everyone in the crowd there that night would agree. Despite the revolving door nature of the band, every last Let it Rawk show is great. This was no exception, with a tight, solid band that served up some of the best rendition of these classic tunes this fan had ever heard. The band even played one original song, which they have released on iTunes.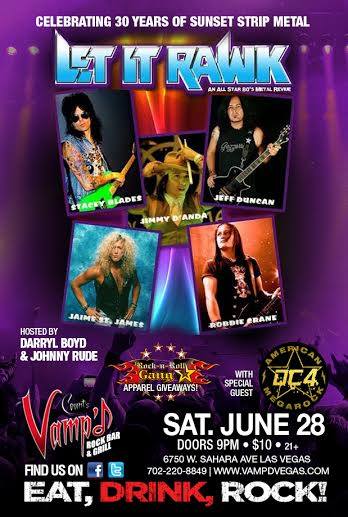 All in all, for fans of the 80s hard rock and heavy metal scene of the Sunset Strip, you absolutely cannot go long with Let it Rawk. You'll see the best musicianship and hear all the classics, plus go beyond the surface as well. The band has been touring, so no fan of this era in hard rock should pass up one of their shows!