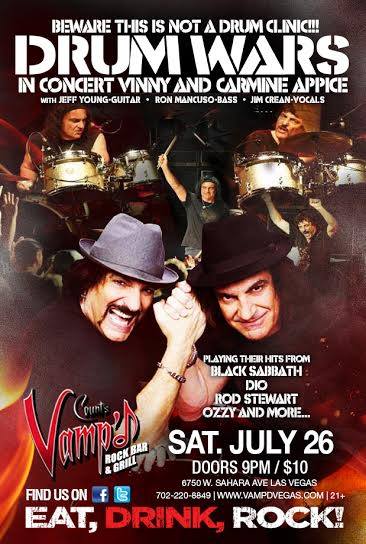 With another Appice Drum Wars on the way to Vegas, this fan thought it would be a good time to look back at the careers of these musicians, and their contributions to the world of pop, rock, and metal alike. It is going to be yet another epic show between the brothers Appice, and anyone who knows this rock and roll fan knows it is one of his most eagerly awaited shows of the year.
Carmine Appice was born on December 15, 1946 in Brooklyn, New York. It was with the psychedelic band Vanilla Fudge that Carmine first came into a public light. He and his Vanilla Fudge bandmate Tim Bogert would also play together in the band Cactus, and the duo would team up with legendary guitarist Jeff Beck for the short-lived Beck Bogert Appice supergroup, which spawned a lone studio LP. 1972 saw the release of his drum instruction book, the Realistic Rock Drum Method, which remains in print to this day.
Over the course of the years, Carmine has had guest spots on records by a number of artists, including Paul Stanley, Michael Schenker, Marty Friedman, and Pink Floyd. In the late 1970s and early 1980s, Carmine served as Rod Stewart's drummer, and even co-wrote two of Stewart's biggest hits, Da Ya Think I'm Sexy and Young Turks. Following his parting ways with Stewart, Carmine had a brief stint in Ozzy Osbourne's band, playing on the Bark At the Moon tour (Carmine can be seen in the music video for that album's title track, but did not play on the record).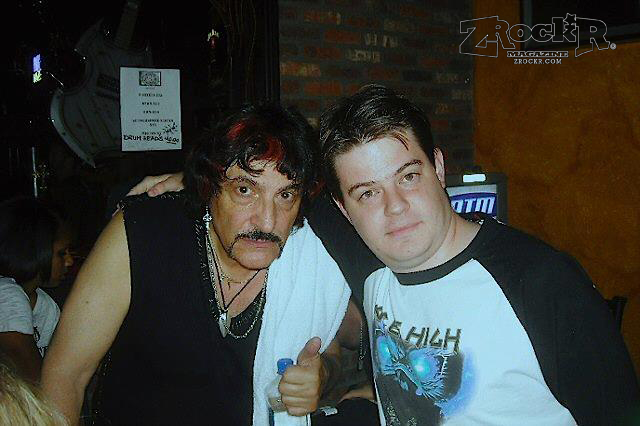 The mid 1980s saw the formation of King Kobra, who recorded three albums in the 1980s and spawned some modest hits and popular MTV videos. But it was the follow-up band, Blue Murder, teaming him up with ex-Whitesnake guitarist John Sykes, that gave him a much needed return to the forefront, even if his involvement with Blue Murder was fairly short.
In more recent years, Carmine has reformed King Kobra with new vocalist Paul Shortino, and has also played on recordings by other artists as well. A covers album, Vargas Bogert Appice Featuring Paul Shortino, was released in 2011.
With such an illustrious career, spanning half a century and countless collaborations and bands, choosing definitive releases from Carmine's career is not an easy task to pull off! After much consideration, these are what I consider to be the three definitive Carmine Appice releases:
3) King Kobra – Ready to Strike (1985)
This record was the first King Kobra album, and far and above the heaviest one that they released in their heyday. The band, which also includes future WASP bassist Johnny Rod, has an unrivaled amount of energy here. The music on this record is definitely hard and heavy, but has pop appeal and solid production courtesy of Quiet Riot producer Spencer Proffer, making it all the more universal in its overall place in the Carmine Appice discography. Tracks like the title cut, Shadow Rider, and Hunger are all instant classics.
2) Beck Bogert Appice – Beck Bogert Appice (1973)
Vanilla Fudge and Cactus albums are all definitely appealing and solid in their own way, but in terms of Carmine's earlier, more blues rock-oriented material, this short-lived collaboration with Jeff Beck definitely takes the cake. Lady became something of a minor classic, but there is no shortage of excellent music on here to go around.
1) Blue Murder – Blue Murder (1989)
Some will argue that this is more of a John Sykes album than a Carmine Appice album, and in some ways, they would be right. But what this record is, is kick-ass rock and roll that is the culmination of everything this pair of musicians had worked towards at the time. Sykes' guitar playing kicks ass and he even proves himself a more than competent vocalist, but Carmine's drumming definitely stands as one of the strong points on the record. Classics like Valley of the Kings, Jelly Roll, and the eponymous title track continue to be revered as classics, and with good reason.
Vinny Appice was born on September 13, 1957, in Brooklyn, New York. In his early years, after having taken drum lessons for much of his youth, Appice met John Lennon while Appice's early band, BOMF, rehearsed at the Record Plant studio in New York, where Lennon did much of his recording (BOMF, which also featured Appice's childhood friend Angelo Arcuri, later the sound engineer on Sabbath and Dio albums with Appice, would subsequently back Lennon in his last live appearance). The following years would see Appice backing Rick Derringer, and also forming his own group, Axis.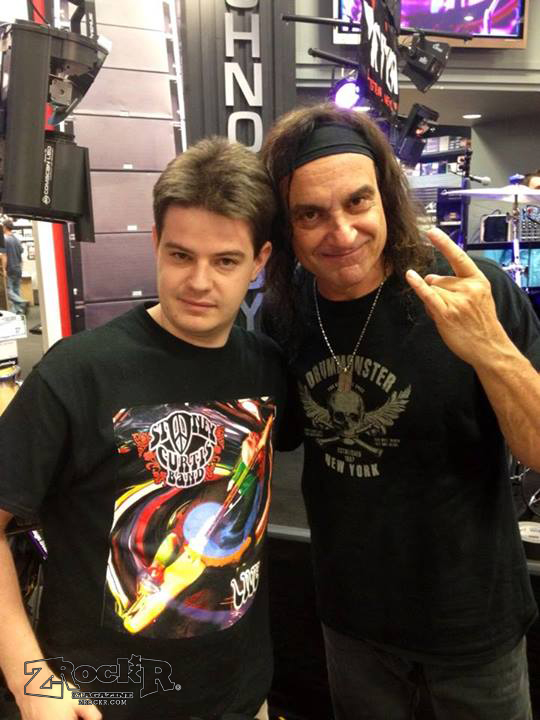 Taylor Carlson with Vinny Appice
Appice got his big break when he replaced Bill Ward in Black Sabbath and appeared on two of the bands Ronnie James Dio-fronted LPs, the Mob Rules and Live Evil. Following disputes regarding the mixing of the latter LP, Dio and Appice left to form (the band) Dio, in which Appice almost always remained a key figure, appearing on some of Ronnie James Dio's landmark recordings. In fact, Appice even joined Ronnie James Dio for a Dio Sabbath reunion in the early 1990s, and subsequently in the 2000s, played alongside Dio Sabbath again under the Heaven and Hell moniker.
As the years have passed, Appice has been in many other side projects as well, including WWIII alongside other Dio band members and singer Mandy Lion, and in recent years, Kill Devil Hill, which also featured former Pantera bassist Rex Brown. The Drum Wars shows, which began in recent years, have been a huge hit as well. Even more recently, Vinny has cofounded Last in Line, a Dio tribute comprised of the complete classic Dio band with new vocalist Andrew Freeman.
Rock and roll fans will agree that Vinny has maintained a reputation and past discography every bit is impressive as his elder brother. And much like his brother, it is not easy to pick just three definitive releases from a lengthy career.
3) Axis – It's a Circus World (1978)
This blues-based hard rock band definitely stands as one of the highlights of a young Vinny Appice's career. Sadly, the group tends to be all but forgotten. That does not change the fact that this release contains some of the best music Vinnie recorded in his early years, and is arguably the best material he did which Ronnie James Dio was not involved with. Sadly, this record has been out of print for years, but many of the songs can be found for listening on sites like YouTube.
2) Black Sabbath – The Mob Rules (1981)
Ronnie James Dio's second album with Black Sabbath was Vinny Appice's first. The first record these two musicians would make together definitely stands as one of their finest, and a prelude of the things to come. Classic cuts like the title track, Country Girl, the Sign of the Southern Cross, and Falling Off the Edge of the World are some of the best songs in both Dio and Sabbath's repertoires. Vinny's drumming contributions definitely stand out throughout the record.
1) Dio – Holy Diver (1983)
What else could the definitive record to feature Vinny Appice's playing be? Proving himself to be a monster of a drummer, Vinny leaves his mark on Dio's first solo band LP. The group, also featuring Vivian Campbell (later of Def Leppard) and Jimmy Bain (formerly with Dio in Rainbow) does not have a single weak track. Everyone is in fine form here. Classics like the title track and Rainbow in the Dark have stood the test of time and then some. If there is one LP that Vinny Appice played on that everyone should own, this is that record.
There is no denying the contributions that the Appice Brothers have made to music, be it pop, rock, or metal alike. To see the two of them together, sharing a stage, will be a rare privilege that no fan should pass up.