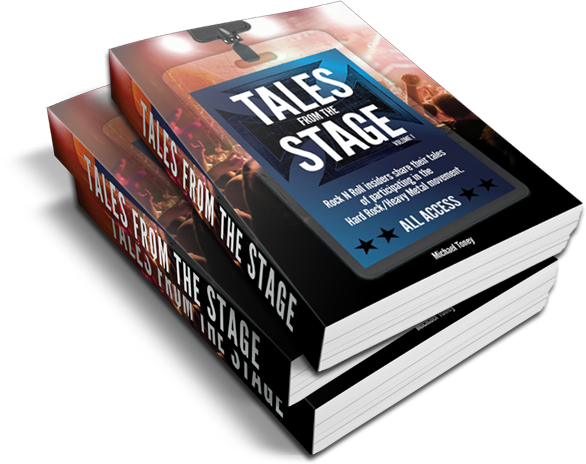 Las Vegas has quickly evolved into one of the leading rock and roll cities in the world, featuring no shortage of talent as residents, and plenty of national and international bands are regularly making appearances out here.  I am definitely lucky to call this city home, and have met incredible musical artists, as well as fellow fans and supporters of the music scene.
One person I met at shows over the course of the past several years was Michael Toney, who was working on a book when I first met him, which was to comprise a number of rock star interviews. This project almost immediately intrigued me, and I waited patiently for the end result. As a die-hard fan of the bands that play out here, I am always curious to learn more about these musicians, their past, and other key factors that have come into play over the years. This is not the first book from Toney; he previously authored a similar book several years ago entitled Tales From the Cage, which featured interviews with MMA fighters.
The interviewees in Tales From the Stage are as follows:
-Bruce Kulick – Guitarist with KISS and Grand Funk Railroad
-Jay Reynolds – Guitarist with Megadeth and Malice
-Herman Rarebell – Drummer with Scorpions
-Tim "Ripper" Owens – Vocalist with Judas Priest and Iced Earth
-Eddie Trunk – Hard rock/metal media personality
-Jeff Duncan – Guitarist with Odin and Armored Saint (Las Vegas resident)
-Tracii Guns – Guitarist with LA Guns and Raiding the Rock Vault
-Paul Shortino – Vocalist with Rough Cutt and Quiet Riot (Las Vegas resident)
-Chris Holmes – Guitarist with WASP
-Oz Fox – Guitarist with Stryper (Las Vegas resident)
-Steve "Lips" Kudlow – Vocalist/guitarist with Anvil
-Betsy Bitch – Vocalist with Bitch
-Ron Keel – Vocalist/guitarist with Keel and Steeler (Las Vegas resident)
-Brian Slagel – Hard rock/metal producer/record label owner
-Brian Tichy – Drummer with Whitesnake/Guitarist with SUN
If you are at all a fan of classic hard rock/heavy metal, chances are most of those names look familiar to you. It quickly becomes apparent that Toney has many contacts in the world of rock and roll, including some of the biggest names out there.
So, what exactly does the book contain? Rock and roll interviews are nothing new, so you may be wondering if this is just another book of mundane, monotonous interviews that we have seen a million times before. Readers will be delighted to know that Toney takes the high ground here, asking only interesting questions which delve into both the history of the artists on a professional level, and their personal lives to this day as well; some of this stuff may surprise you! As such, the book gives you the best of both worlds. The sections are just the right length, not too short but not overblown or drawn out either. This makes the book a quick, easy read. In fact, this rock and roll fan shot through the entire book in about a week!
Black and white photos are included for all of the participants; in several cases artists have more than one in their respective sections. The one problem I had in regards to the pictures is that Lulu (the self-publishing company the book was done through) is terrible at printing darker pictures; the darks and blacks all tend to bleed together, and you get a mess. Look at the picture of Paul Shortino in his section of the book to get the best idea of what I mean. What was likely a great photo in its original form basically now looks like a field of black with a face and a hand in it. The photos taken in good light and outdoors all look fantastic, so it is a shame that the darker pictures tend to suffer as a result of all this.
If there is one minor complaint in regards to the book, it is that there seem to be a lot of missed opportunities. So many musicians live out here in Vegas who have strong legacies in their own rights, and it seems strange that they were not interviewed here. A few of the gaping omissions as far as Vegas resident rock and rollers go:
-Brent Muscat – Guitarist with Faster Pussycat and Sin City Sinners
-Frank DiMino – Vocalist with Angel
-Kelly Garni – Bassist with Quiet Riot
-Jake E. Lee – Guitarist with Ozzy Osbourne and Badlands
-Jizzy Pearl – Vocals with Love/Hate and Quiet Riot
-Michael T. Ross – Keyboardist with Hardline and Lita Ford Band
-Jimmy Crespo – Guitarist with Aerosmith
-Todd Kerns, Frank Sidoris, Brent Fitz – All members of Slash's band
-Scot Coogan – Drummer with Lynch Mob
-Stacey Blades, Scott Griffin, Phil Lewis – All members of LA Guns
-Louie Merlino – Vocalist with Beggars and Thieves/backing vocalist for countless others
As this book is a Vol. 1, it is a safe bet that some of them may turn up in the second Tales from the Stage book. To date nothing has been revealed about a second book, but if there is, I will be all the more eager to check it out.
Ultimately, Tales From the Stage will not disappoint if you are a rock and roll fan. I do my part to make sure the music fans of the world do not waste time with inferior books on rock, and Tales From the Stage steers clear of those pratfalls entirely. I have read countless rock star interviews over the years, but Toney's style of questions makes this one of the fresher, more unique takes on the subject. Before you know it, you could be reading one of the best "rock star interviews" books you have ever checked out. This book comes strongly recommended!