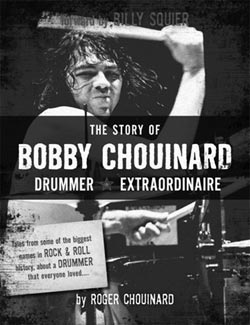 Chances are, unless you are a die-hard classic rock/hard rock fan, Bobby Chouinard's name is not going to be an immediately recognizable one. Despite that, he has had a career that ranks amongst the most diverse and interesting of any rock musician. His career includes stints in Billy Squier's backing band, Alice Cooper's band, and Beggars and Thieves (alongside Red Dragon Cartel's Ron Mancuso). His career is amongst the most accomplished of any musician out there. Tragically, he died fairly young, in the late 1990s.
Over the years I have come in contact with many musicians and related personnel. One such person is Roger Chouinard, Bobby's nephew. For months, I heard about him trying to compile a book of memories and photos, spanning the career of his late uncle. The book was finally released in the Fall of 2012. How does the finished product measure up?
Bobby Chouinard: Drummer Extraordinaire is a book that is not without its issues, but as a whole, does justice to the legacy of this classic, oft-forgotten drummer. There are tons of rare photos, excerpts from interviews, and people that knew Bobby better than anyone else. Just looking at a few pages is all you need to do to learn about how much Roger is dedicated to keeping the legacy of his uncle alive. Rock fans are going to be drawn in with this assortment of information, and will likely cruise through all 200 pages or so in no time flat. There is more information in here than you would find in your standard coffee table book, though this certainly is not what I would consider a "biography."
The thing that truly impressed this fan is the sheer number of people that Roger was able to get together to compile memories and quotes about his uncle. Bun E. Carlos, Carmine Appice, Jack Douglas, and Don Brewer are just a few of the names that will pop up in this book. Even Billy Squier shows up to contribute the book's foreword! The raw, uncut, down-to-earth nature of things makes it all the more interesting, and for that matter, all the more real.
I would recommend having at least a basic knowledge of Bobby's career before you read this book. You will learn a lot here, but it is also clear that this book was written with someone in mind who likely already has some familiarity with the work that he has done. You will maximize your enjoyment of this book if you have that basic knowledge of his career.
The major issues I had with the book stemmed from the production end of things. There are typos on almost every page – misspellings, lack of capitalization and proper grammar/punctuation, and so forth – in many cases involved proper names. The word "foreword" is misspelled on the cover, and the spine text goes the wrong way (spine text on a book should always be right side up if you lay a book flat on its back).
The content of the book itself is uneven, with minor, brief quotes on one page and drawn out, multi-page interviews on the next. Some of the longer interviews could have done with some editing, and just used the highlights (Roger told me that not many interviews of Bobby exist, so what is in here is certainly rare, desired content, though). Furthermore, there come times where you will go for more than ten pages without ever seeing a page number.
The photos in the book create yet another issue. Do not get me wrong; the photos themselves are phenomenal. In fact, this rock and roll fan had no idea so many great pictures of Bobby even existed! Yet again, you see that Roger has gone to the ends of the Earth to get the best photos of his uncle in existence. The problem I have is this, though. Many of the photos contain multiple people, and there is absolutely nothing in or around the pictures that tell you who the other people are (aside from some promo shots that have names on the photo itself). One of my personal favorite photos in the book was a two-page spread of drummers associated with Ludwig. Unfortunately, with nothing to tell me who any of these other people were, something was definitely lost there.
Of course, the flaws all tend to be minor in the long run. If you are a fan of Bobby Chouinard's work, Roger's book is definitely a worthy tribute to his legacy. Rare photos, stories, quotes; the list goes on. You will get plenty of it all here. Overall, I can still give the book a solid recommendation despite the minor problems.