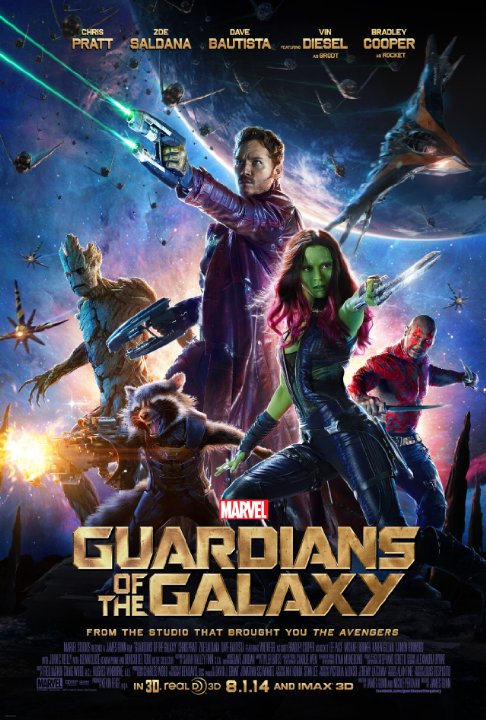 Guardians of the Galaxy is directed by James Gunn. The film stars Chris Pratt, Zoe Saldana, Dave Bautista, Vin Diesel, Bradley Cooper, Lee Pace, Michael Rooker, Karen Gillan, Djimon Hounsou, John C. Reilly, Glenn Close, Josh Brolin, and Benicio del Toro. The original musical score is composed by Tyler Bates.
In recent years, particularly the last decade, superhero and comic book films have skyrocketed in popularity. Though it was initially DC Comics that ushered in an age of comic movies with their classic Superman and Batman franchises, in more recent times it has been Marvel that has been waving the flag for comic book supremacy in cinema. The arrival of the Marvel Cinematic Universe of films, which started with Iron Man in 2008, has become many a comic book fan's dream come true – well-made films, within a singular universe that is not unlike the comic books stories themselves. The tenth entry in the MCU, Guardians of the Galaxy, was released in the summer of 2014.
Guardians definitely proves to be a bit of a departure from other Marvel Cinematic Universe, in that it is comprised of more obscure characters than what fans are used to seeing. So far the MCU has given us movies with Iron Man, the Hulk, Captain America, Thor, and several other major players from the Marvel Bullpen. To mainstream audiences, the Guardians of the Galaxy are a relatively unknown hero team, and definitely one that is substantially different from what moviegoers have experienced so far. Making a film of more obscure characters with a $170 million dollar budget is definitely a gamble for Marvel, but it also shows that they have faith in the property, as well as other lesser-known properties (the fact that an Ant-Man movie is on deck for next year further substantiates this).
For the unfamiliar, the unified Marvel Cinematic Universe only comprises those films produced directly by Marvel Studios. It does NOT include ones that were and continue to be done by other studios (20th Century Fox owns X-Men and the Fantastic Four, while Sony/Columbia has Spider-Man). Fans are hopeful that eventually all of the franchises will be owned directly by Marvel Studios; it would make for the ultimate consistent comic book film universe.
Guardians of the Galaxy is a tough movie to review or to write a plot synopsis for, because it is so different from everything else out there. Essentially, the plot follows Peter Quill (AKA Starlord), an intergalactic outlaw of sorts who was abducted from Earth as a young boy. Through a series of unfortunate events, Quill finds himself incarcerated in an intergalactic prison, alongside a group of misfits with problems of their own – a wisecracking, gun-wielding raccoon, a genetically engineered humanoid plant creature, an alien warrior seeking vengeance against the warlord that killed his family, and a sexy, green-skinned woman who is an adopted daughter of that very same warlord. Despite tensions between the group, they eventually come together and escape imprisonment, but of course, nothing goes as expected, and they quickly find themselves in over their heads in a heated battle more intense than anything any of them has ever faced before.
In its two hour duration, a lot happens in Guardians of the Galaxy. You'll meet several characters, good and evil alike, and travel from one end of the galaxy to the other, encountering a little bit of everything along the way. Trying to describe this film or trying to write a conventional review is no easy task, because it is so wild, unpredictable, inventive, and like nothing comic book and sci-fi moviegoers have ever seen before. Of course, that is to be taken as a compliment. This is one of the best times I have had at the movies in 2014 so far.
If there is one thing that Marvel Studios knows how to do, it is how to cast their films. Fans often question their casting choices (myself included), only to find that said role ends up becoming the definitive part that actor becomes known for. A number of the actors in this film I was not previously familiar with, but they are all chosen well for their roles. It is unlikely anyone is going to question the casting/voicing choices here.
What truly impressed me about this film is how well it works as a whole. Straddling science fiction action and adventure with comedic elements is a difficult thing to pull off successfully. Yet director James Gunn pulls it off beautifully here. When the witty one-liners are flying at you just as fast as the explosions and the gunshots, you will find yourself both in awe of the visuals, and impressed at just how well everything comes together. It is rare to find that film that is the best of all worlds, but Marvel Studios has made it happen here.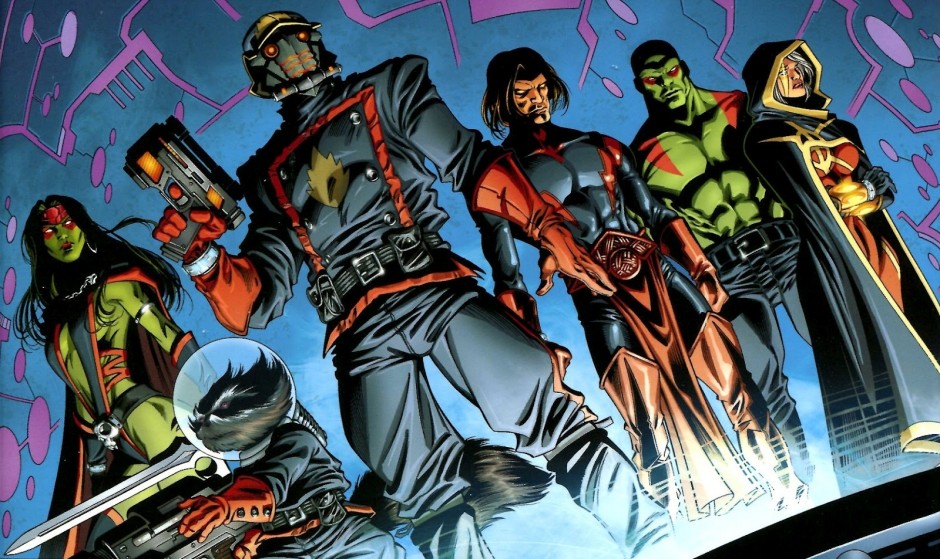 The characters themselves deserve equal praise. I have a feeling people are going to be quoting Rocket Raccoon for years to come. We learn everything we need to know about these characters in the two hour run time; and as we bond with them, we become all the more engrossed in everything that is going on. When you are making a movie, you cannot settle for one-dimensional characters, but you cannot tell a character's entire life story outright. What the filmmakers have found here is the perfect balance. You will grow to love these characters, but at no point will they wear out their welcome.
Another thing that helps to give the film a feel of its own is the soundtrack, largely comprised of classic 70s rock/pop songs which Peter Quill listens to on a mix tape and a Walkman throughout the movie. I admit to being a little biased here, as I am a classic rock fan, but this definitely gives the movie its own identity and helps it to stand out further in the Marvel Cinematic Universe.
Having seen Guardians of the Galaxy, like many fans of the film, I am left wanting more. A sequel is already in the works, and that is a good sign as to Marvel's faith in this property. Furthermore, down the road it is likely that we will be able to look forward to seeing these characters enter into crossovers with the other major players of the Marvel Cinematic Universe, possibly in a future Avengers film. Overall, Guardians is one of the best films this moviegoer has seen all year. Witty, funny, fast-paced, and totally original, you cannot go wrong here!
DISCLAIMER: All images in this review are the property of their respective copyright holders. For promotional use only. All rights reserved.