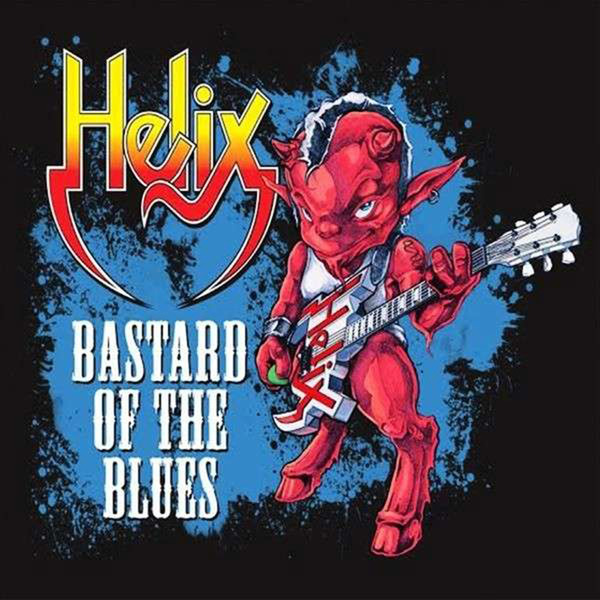 Canada's Helix first came into the national spotlight upon being signed to a major label in the early 1980s. Albums like No Rest for the Wicked, Walkin' the Razor's Edge, and Wild in the Streets stand as true classics to fans of hard rock and heavy metal, with classic cuts like Heavy Metal Love and Rock You. Unfortunately, despite the band's musical prowess and having won over their share of fans, the group just never quite achieved the same level of success and popularity as many of their peers from the era. While the group quietly faded away following their short lived 1980s heyday, they have continued to tour and record on a smaller scale. To this day, the group maintains a following amongst their fans.
With Bastard of the Blues, the group gives fans their first studio album of original material since 2009 (their most recent studio release prior to this was actually an acoustic studio album, containing unplugged renditions of their classic hits). Despite being a Helix fan, this fan will admit that he has not heard all of the band's post-80s albums. But that did not make me any less eager to hear and review the latest studio release from the band!
Anyone who knows me knows I am a die-hard fan of classic hard rock and metal, and Helix is definitely one of my favorites; these guys are criminally underrated. One thing that definitely helped the band to stand out in their heyday was Brian Vollmer's distinctive vocal style; it is great to see he has stayed in the band all this time, and remains on board all these years later. Of course, the question on everyone's mind is the obvious one. Is this new album from Helix any good?
Visiting new releases from old artists is one of those things I both eagerly await and dread at the same time. Await, because it is fun to see what artists are up to these days, but dread because so often, artists continue past their prime and are not the musicians they once were, or they insist on copying modern bands and trends. Any doubts I had in the form of the latest Helix record were quickly laid to rest when I gave Bastard of the Blues a listen. The latest effort from these Canadian rockers is a damn good one, and will be well worth the time of any fan.
It always pleases me when a band is able to somewhat modernize their sound without blatantly copying every other modern band out there. Helix manages to strike that happy medium on Bastard of the Blues; the band stays true to their hard rock roots, but still manages to bring a bit of a modern edge to things as well. Hard, heavy, bluesy, you really get the best of it all on this record. The music on this album is not going to be mistaken for 80s Helix by any means, but it impresses this rock and roll fan to see a band that is not afraid to venture out and take chances musically, evolving along the way. That is just what Helix has done on this new record.
There are many choice cuts on this record, and the whole band is in fine form through. The title track kicks off the record brilliantly, the sound on this opening track is similar to the more recent Motley Crue releases, but Vollmer's vocals still give it a sound all its own. Even Jesus Wasn't Loved in His Home Town is a great, fast paced rocker that stands as a solid addition to the album. Winning is the Best Revenge is a lighter, pop-flavored number, but it is songs like this that show just how musically diverse the band can be. Screaming at the Moon, one of the hardest and heaviest songs on the record, is also one of my favorites. A song like When All the Love is Gone is great, slowing things down a bit, once again showing off the band's musical diversity. My other personal favorite cut on the album is Axe to Grind, a great hard rocker that I could totally picture someone like Alice Cooper recording. There are several cuts on the record, and all of them bring something interesting to the table. With so many solid cuts and no dull moments anywhere in sight, fans should be impressed with what they have here.
If you are at all a Helix fan, even if you have not listened to the band in many years or lost track of them over time, this is a record well worth checking out. This would be a great time to rediscover Helix, and everything that they do best. Bastard of the Blues is a solid album from start to finish, and comes highly recommended!