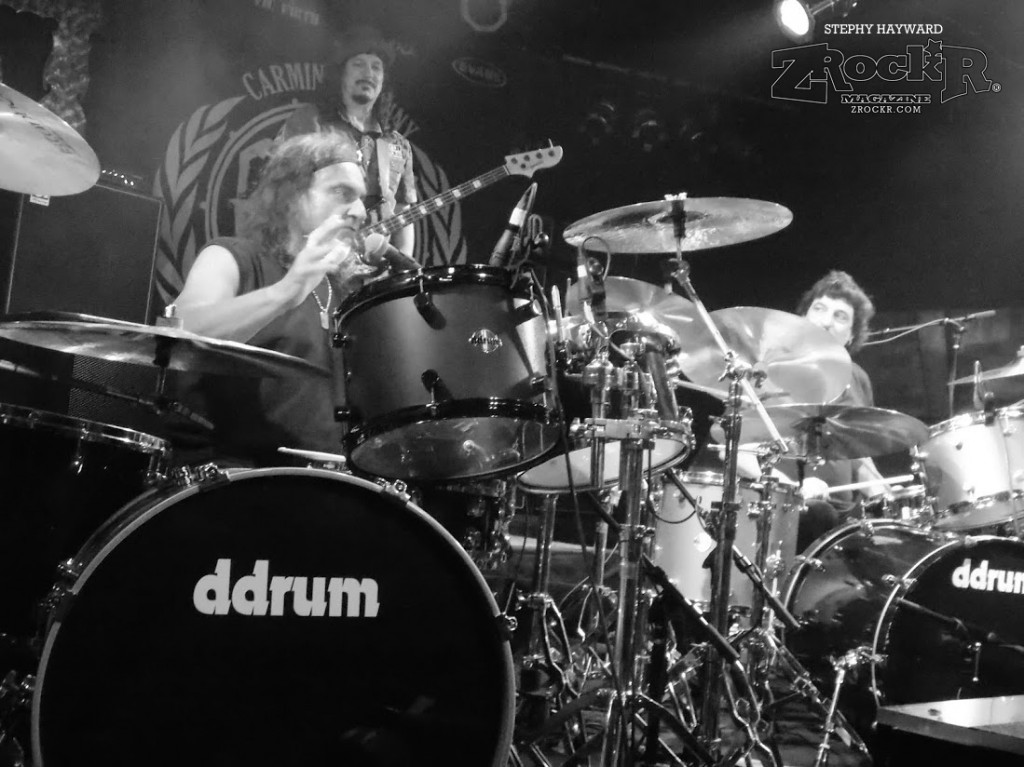 In the world of rock and roll, for several decades, the Appice Brothers have been some of the greatest, most accomplished drummers out there. These Brooklyn-based rockers continue to go strong, even to this day, still performing and touring with a myriad of projects.
Carmine Appice, the older brother of the two by over a decade, had first risen to prominence with Vanilla Fudge, a band renowned for their psychedelic reinventions of some of the biggest hits of the 60s. Carmine's Fudge bandmate, bassist Tim Bogert, later played with him in the hard blues rock band Cactus, and the short lived supergroup Beck Bogert Appice. The Realistic Rock Drum Method, a rock drum instructional book first published by Carmine in 1972, remains in print to this day. Various reunions of his early bands have occurred over the years, and Carmine would receive a further revival in the 1980s with the arrivals of the bands King Kobra and Blue Murder. A King Kobra reunion occurred in 2010 and has since spawned two albums. Carmine remains a powerhouse in the industry and regularly appears as a guest on albums by other artists. It is also worth noting that Carmine has been a member of Rod Stewart's band (and co-wrote the hits Da Ya Think I'm Sexy and Young Turks) and Ozzy Osbourne's band (Carmine appears in the Bark at the Moon video but did not play on the actual studio track).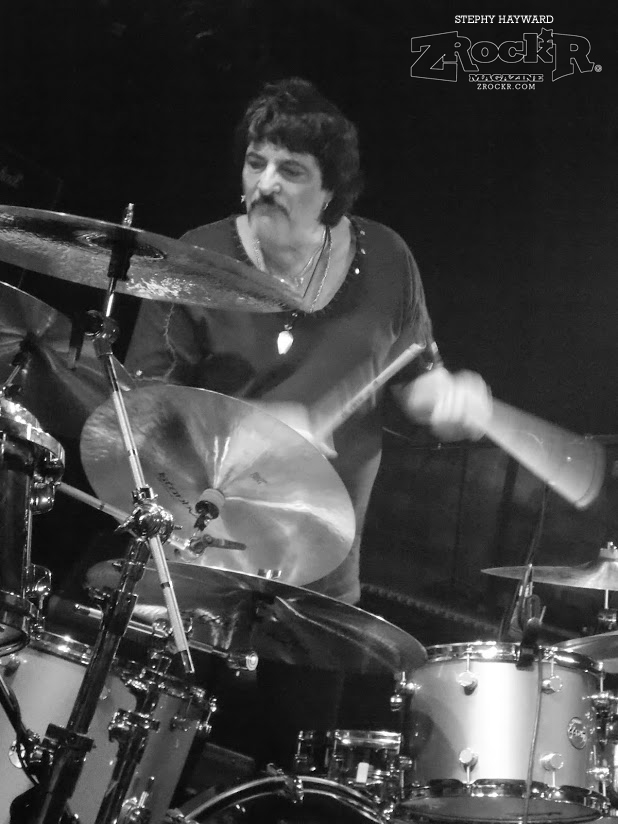 Younger brother Vinny Appice is no slouch either; he has an equally impressive resume. In his younger years, he met John Lennon and even backed him in his final live performance! Following a stint with his own group, Axis, Appice became legendary for his work with Ronnie James Dio, both in Black Sabbath, and the band Dio. Vinny has played with a number of other side projects and bands, and was a sporadic member of Dio and Heaven and Hell up until Dio's death in 2010. More recent years have seen Vinny play in the Last in Line Dio tribute, which pairs him up with other "classic Dio lineup" members, and vocalist Andrew Freeman (probably best known to Vegas rockers as a singer in Raiding the Rock Vault).
Recent years have seen the arrival of the Appice Drum Wars, featuring both brothers playing on stage with a lineup of other musicians, doing a variety of assorted material. By my count, this is the third time this show has come to Vamp'd; it had previously happened there in the Summers of 2011 and 2012, to much acclaim by local based rock fans.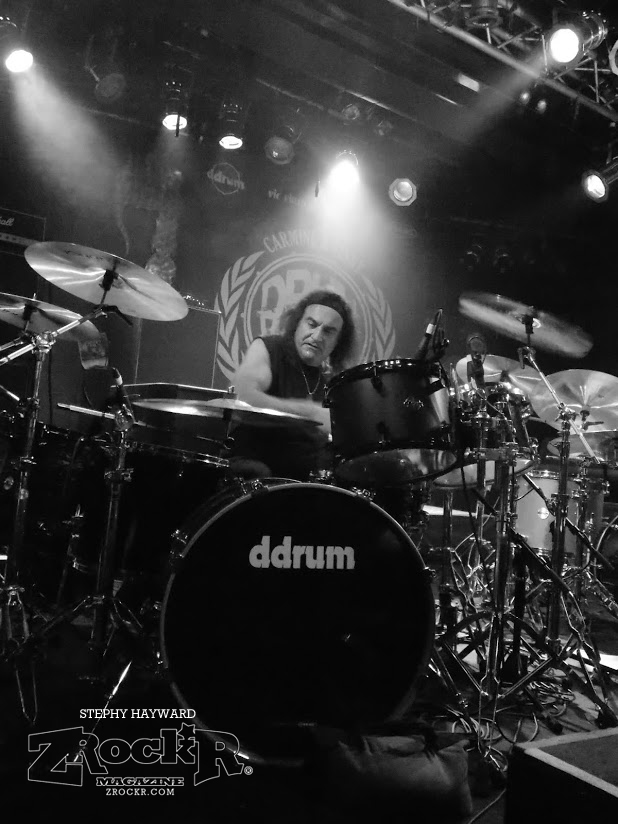 For this show, the Brothers Appice were joined by guitarist Jeff Young (formerly of Megadeth), bassist Ron Mancuso (also of Beggars and Thieves, but best known for his role in Jake E. Lee's new band, Red Dragon Cartel) and vocalist Jim Crean (of the Hair Nation tribute band). The band lineup apparently differs from city to city (it is worth noting that Young and Mancuso both call Vegas home).
Reviewing an Appice Drum Wars show is a difficult task, because there is not exactly anything to compare it to. Anyone know knows this rock and roll fan knows that I am a die-hard fan of both of the Brothers Appice. Getting both of them together on one stage, in my eyes, is worth the price of admission alone. Of course, I was probably asking myself the things that other people were as well, including what the setlist would be comprised of.
They say variety is the spice of life, and the Appice Brothers definitely had it in no short quantity here. Right from the get go, including a mock "boxing ring" style intro with comical "weigh-ins" (made all the more comical by Carmine hiding towels under his shirt to look bigger and "weigh in" heavier) the brothers took their seats at their drum stools and began rocking out. Different parts of the show emphasized one brother or the other, but my personal favorite parts of the evening would have to be when the brothers played together on stage. The sheer amount of hours they must have rehearsed to get this routine down would have to have been pretty staggering. Their timing was dead-on, and they were even able to do some wild drum moves I had never seen before. You could tell the audience was all the more enthusiastic when they were doing their thing, including tossing sticks to one another mid drum solo! The more comical moments further added to the routine, including a moment where Vinny was going to explain the differences in pronunciation of their last names, only to have Carmine "drown him out" with a drum solo of his own!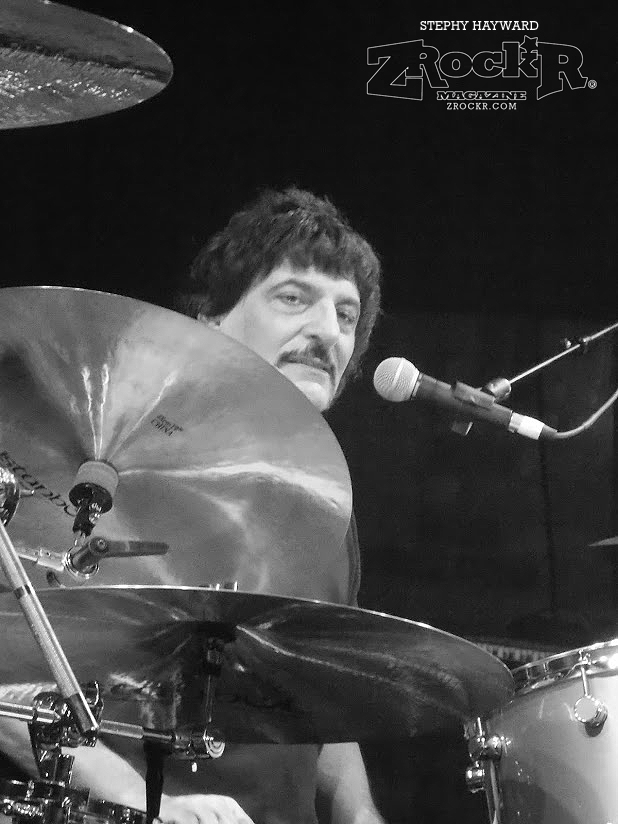 Moments where Vinny was the star of the show included renditions of some of Ronnie James Dio's most classic tunes, including Mob Rules, Holy Diver, We Rock, and Stand Up and Shout (the latter of which featured a guest appearance from Raiding the Rock Vault vocalist Andrew Freeman, who plays with Vinny in the Last in Line Dio tribute). These were solid renditions of these tunes. Vocalist Jim Crean is never going to be mistaken for Ronnie James Dio when singing these songs, but he does his own thing and has a level of charisma that definitely helps him to stand on his own. Guitarist Jeff Young absolutely tore it up on stage, particularly when it came to doing the guitar solos on these classic cuts.
Carmine's starring moments included some renditions of cuts he was known for playing, including Ozzy Osbourne's Bark at the Moon and Crazy Train, and a heavy metal rendition of Da Ya Think I'm Sexy, the classic hit he co-wrote with Rod Stewart. These were definitely a good time for audience members, and you could definitely tell they were getting into it, particularly, when Carmine encouraged crowd interaction.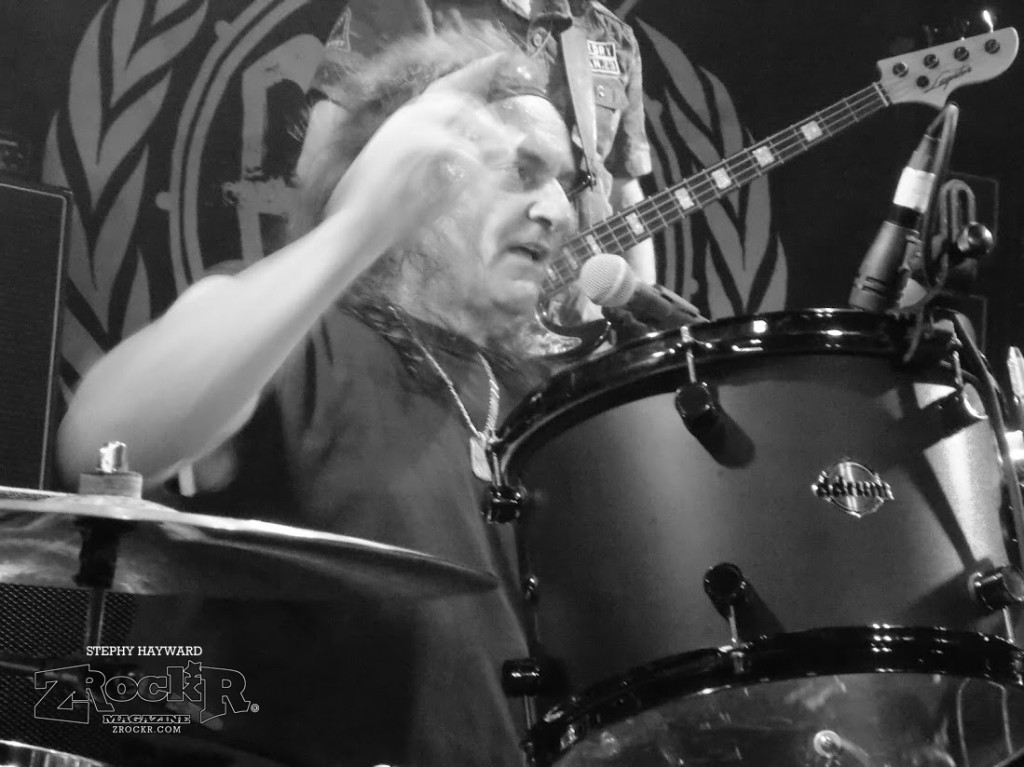 Again, the collaborations with the brothers were some of the most entertaining moments of the night. One particularly comical moment was when the brothers did a drum solo based on the theme music to the classic animated sitcom, the Flintstones. As they played the beats, they encouraged the audience to sing along… only to find that the audience members either did not want to participate or simply did not know the lyrics! Carmine's cry of things like "Poland knew the words better than you!" only added to the audience's laughter and enjoyment of the moment.
This was a solid night of rock and roll, and it is unlikely that any fan of these musicians in attendance was disappointed. The Brothers Appice are two of my favorite drummers of all time, and this stands as one of my favorite nights of rock and roll in Vegas so far this year! It is great to see these musicians still going strong, and I am all the more curious to see what comes next for them. Should you have a chance to attend an Appice Drum Wars, do not pass it up.