On July 30, Vamp'd was definitely the place to be for any rock and roll fans in Las Vegas. For the evening, the venue played home to the RockGodz Hall of Fame Induction Ceremony. This was the first such ceremony done by the group, and it is not likely to be the last.
Prior to this evening, this rock and roll fan was not terribly familiar with the RockGodz Hall of Fame organization. Essentially, this is a group dedicated to giving credit to individuals in the world of rock and roll that have made substantial contributions, performers and other contributors alike (including writers, producers, journalists, etc.) Those running the organization even stated they want to focus on individual contributors, as often times people instantly know what band performed certain songs, but do not know the names the individual musicians that made the songs and deserve the credit. Furthermore, this organization serves as something as an alternative to the "other" Rock and Roll Hall of Fame that has criminally overlooked deserving musicians while inducting non-rock artists and the undeserving.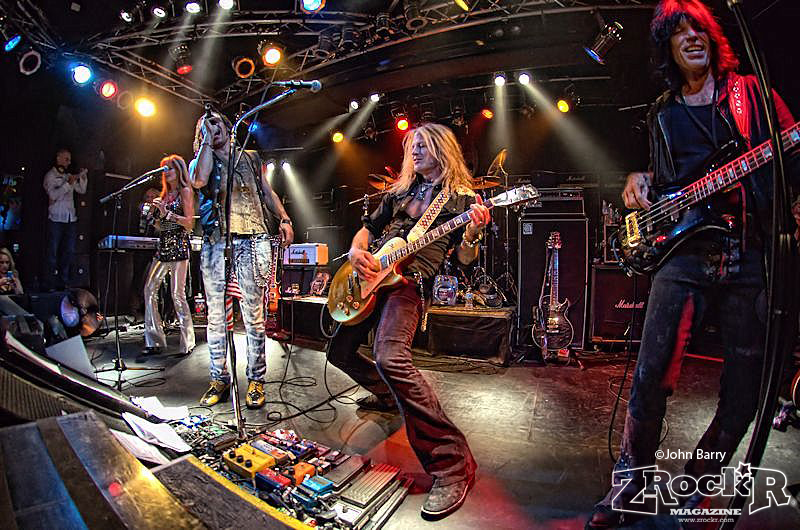 For the evening, an all-star lineup of music industry personnel, local and otherwise, had assembled. Amongst those present were Doug Aldrich, Duncan Faure, Stoney Curtis, Barry Barnes, Danny "The Count" Koker, Joe Vitale, Steve Thompson, Chris Slade, Rudy Sarzo, Paul Shortino, Jason Ebs, and Janea Chadwick Ebs. Unfortunately, announced guests Howard Leese, Jake E. Lee, and Bob Kulick did not make an appearance.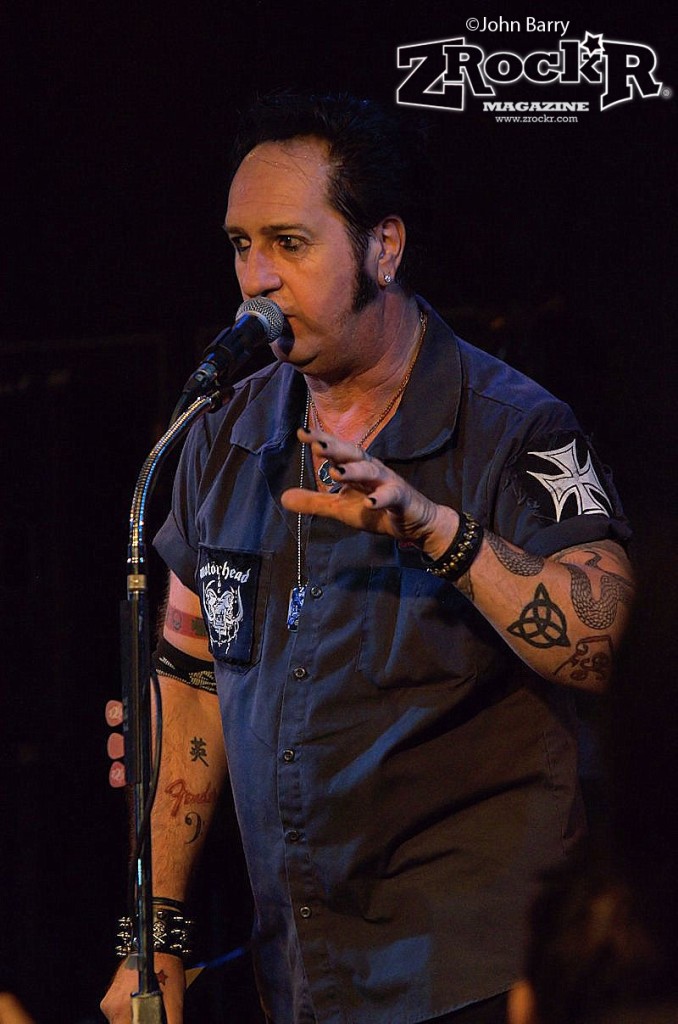 This was a solid night of rock and roll; fans got to see some of the most impressive musicians in one place, and it is safe to say everyone in attendance was more than satisfied with what they saw. The night started off with a set from Ecotonic, featuring Jason Ebs, Janea Chadwick Ebs, and Chris Slade. Quite honestly, this was one of the best parts of the night; these guys have a sound all their own and they are a group I hope I get to hear more from in the near future. With a myriad of influence and the musical diversity of the players, they served up their share of solid tunes. Their music really needs to be heard to be appreciated.
Of course, the majority of the night was comprised of these all-stars introducing one another and receiving their Hall of Fame platinum records awards. Several of the artists would jam with one another upon receiving said awards, and video footage detailed some of the past highlights of these music industry giants and their respective careers. My hat goes off to the RockGodz Hall of Fame for also giving credit to some non musicians as well. The jams were the best part of the night – we got to hear things like Rudy Sarzo and Doug Aldrich rocking out on some classic Ozzy Osbourne, Joe Vitale play drums on a superb cover of Rocky Mountain Way, Paul Shortino serve up a killer rendition of Free's classic hit All Right Now, and it all closed out with a cover of Blinded By the Light; Chris Slade had played with Manfred Man's Earth Band in his pre Firm and AC/DC career.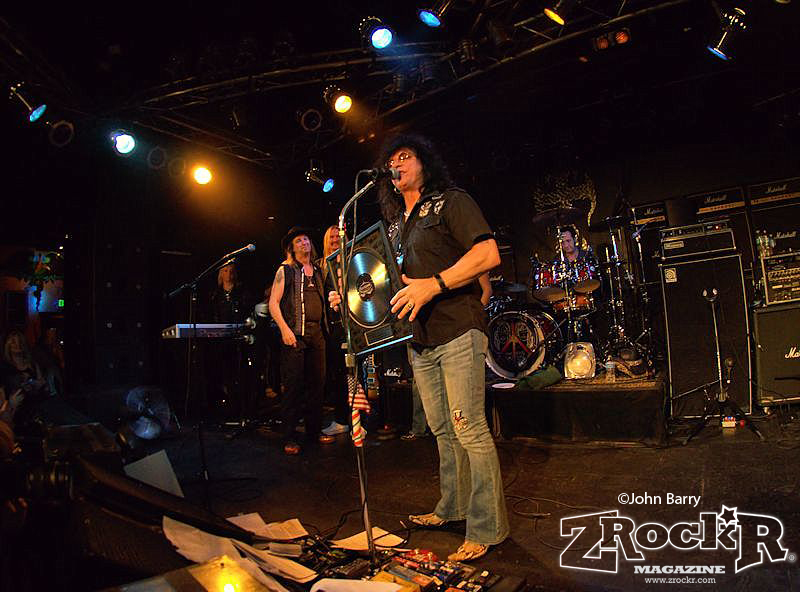 One minor issue with the presentations themselves was the "video clips" that played prior to each recipient coming up to the stage to get their award. The clips themselves were awesome; we got to see some very nice vintage footage of said artists. The problem was, every single time one of these clips was played, the same "intro footage" about the RockGodz Hall of Fame played. This got very redundant after a while. Could the Hall of Fame people have taken the time to burn a DVD that did not play the intro every damn time one of these clips had to be played?
The other issue I had was that no real specific criteria was ever detailed as to what someone has to do to be inducted and to earn one of these awards. We got to hear plenty about what these artists have contributed to the music world, but again, we never got any specific explanation of what it actually takes to get an award. Do not get me wrong; everyone here who received one deserved it. If there is one person present that should have received an award that did not receive one, it was Danny "The Count" Koker; Vamp'd has become the ultimate venue for rock and roll in Vegas largely because of all this man does. If you are going to give out awards, give one to the man to has preserved rock in Vegas! Of course, if this becomes an annual event, maybe will get one next year.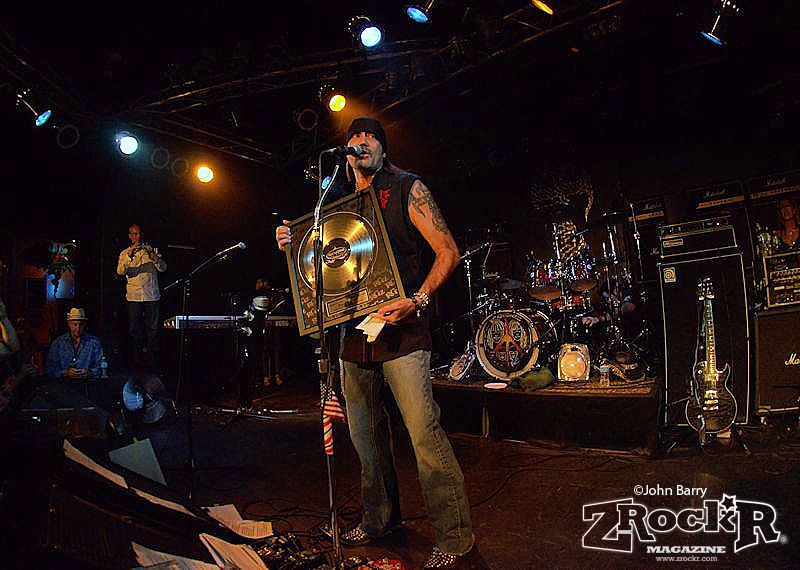 Ultimately, this was a fun night and it was great to see so much talent together in one place. No one in attendance was bored or disappointed. It is good to see a new organization out there that is taking up the mantle where the "normal" Rock and Roll Hall of Fame falls criminally short. Needless to say, this rock and roll fan will be first in line for the second ceremony next year!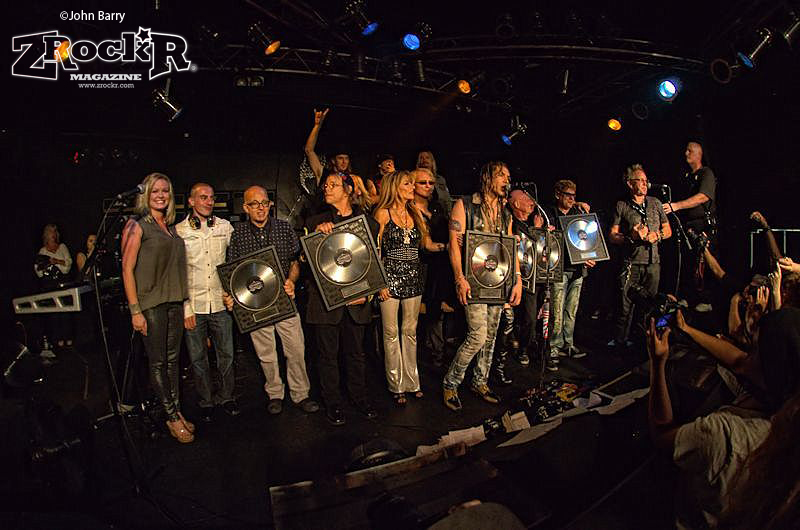 PHOTO CREDIT: Photos Courtesy of John Barry- copyright 2014 John Barry and ZRockR Magazine/Run For Cover Publications, LLC- All Rights Reserved