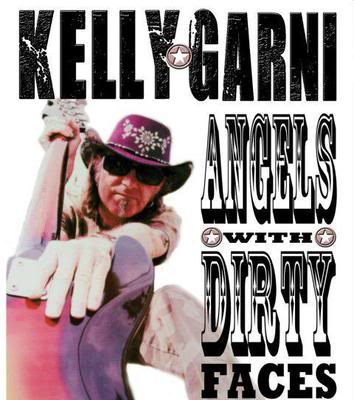 The name Kelly Garni is not one that is going to be instantly known to rock and roll fans. But his story is intense, turbulent, heartbreaking, and at times even outright comical. As a childhood friend of guitar great Randy Rhoads, and the co-founder and original bassist of the legendary Quiet Riot, Garni's place in rock and roll history is certainly solidified, and after many years, he has laid pen to paper and put out his autobiography, Angels with Dirty Faces. This is his story, from childhood right up to the present day.
The reissued version of Angels with Dirty Faces has a few differences from the initial 2012 release. The book itself is larger and has a glossy cover, plus a number of additional photos throughout the book itself. Garni himself has since disowned the first pressing. For the purposes of this review, I had begun reading my First Edition copy, but Garni, upon hearing that I would be reviewing the book for this site, insisted I have one of the newer copies, which I have since gotten. As such, the content of this review is primarily focused on the reissued version.
Kelly Garni's story is definitely not one for the faint of heart, or the easily offended. This is his story from childhood, growing up and facing the world, right up to modern times, in which he still remains relevant with a number of fans around the world. Along the way you will experience Garni getting into vast amounts of trouble in his youth, meeting future guitar hero Randy Rhoads, attending concerts in his younger days, playing in countless bands in California, forming and subsequently being fired from the early incarnation of Quiet Riot, and his subsequent decades, from having to deal with the aftermaths of tragedies, to bouncing back and forth between traditional jobs and music.
Additionally, the book features a number of black and white photos from Garni's life, as well as several testimonials from people about his childhood friend and subsequent guitar legend Randy Rhoads, from professional musicians and fans alike.
It seems like in this day and age, everyone in the music industry, from the musicians to the journalists and photographers alike, has a book out. Having been a fan of Quiet Riot for many years, naturally this music fan jumped at the chance to read about the life story of one of the co-founders, who just also happened to be a childhood friend of Randy Rhoads. How does the finished product measure up?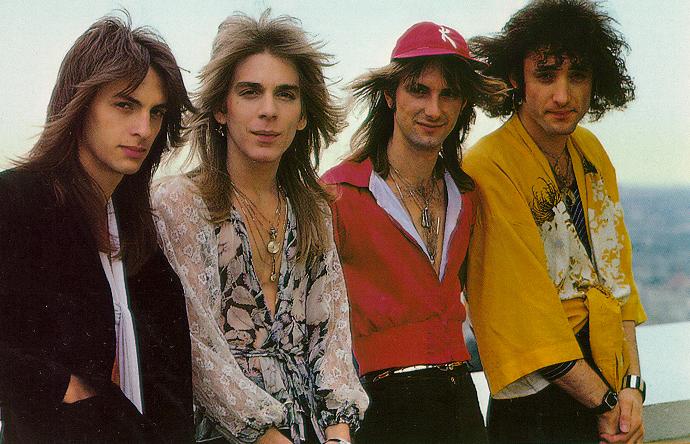 If I had to describe Angels with Dirty Faces in one word, that word would be REAL. This is the true story, exactly as it happened, throughout Garni's life. No attempt is made to glamorize his life or life choices; there are definite highs and lows here and you will experience this all for yourself as you are reading. Throughout the book, you definitely get to know Garni better. What was really amazing was just how much I found myself sucked into this story. As Garni lives out here in the Vegas Valley, I have met him and talked to him on multiple occasions, but had no clue as to some of his life experiences or wild antics. Hell, I'm amazed the guy is still ALIVE after reading some of the stories in the book, let alone still playing around town and beyond. The story is a whirlwind of interesting characters and situations alike. Once you start reading Angels with Dirty Faces, you will not want to put it down. There is no sugar coating or glamorizing of anything here; this is the real deal, gritty and down to earth, the way Garni lived it.
Another great thing about this book is the rare, vintage photos from all stages of Garni's life. These black and white pictures give you an interesting look back in time, at this journey from past to present, and you will see some very cool, rare photos that most of the world has never seen before, in any shape or form. The appendix with quotes from people about their love of Randy Rhoads, fans and professional musicians alike, is a great way to wrap things up.
There are only a few a few minor issues with the finished product, and they mostly stem from the way things are formatted. At roughly 30+ pages each, the chapters are far too long. Considering how much goes on in one of them, the book could have benefited from some further editing in this regard. Additionally, it is great to have other people tell their sides of the story, something that happens in a few places in the book, but because of the formatting, sometimes it is tough to keep track of who is speaking, Garni or one of the guests. The last minor issue I had was with some minor spelling and grammatical errors, primarily when it comes to the proper names of musicians. But these are minor faults that should in no way deter your enjoyment of the final product.
Angels with Dirty Faces is the best "rock star" autobiography that this rock and roll fan has read in quite some time. Garni's gritty, realistic retelling of his life story was well worth the wait, and will strongly appeal to all kinds of rock and roll fans. Absolute highest recommendations here.