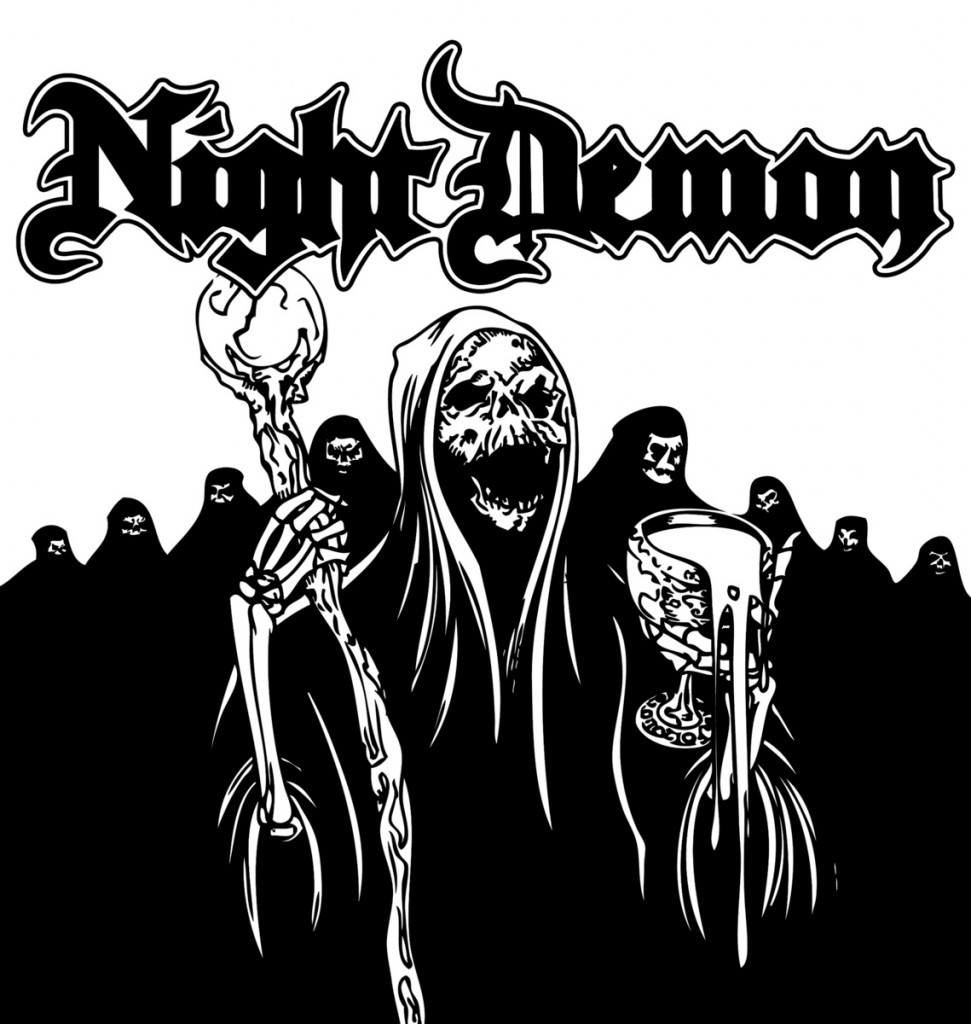 Starting in 2011 in Ventura, California, Night Demon is a band that is quickly building up a solid following. This trio is dedicated to recapturing the ferocity and the energy of the glory days of the New Wave of British Heavy Metal (NWOBHM). Having recorded one EP, the band is rocking audiences all over the world and growing in popularity every day.
I first became aware of Night Demon about a year ago when they played Count's Vamp'd out here in Las Vegas, Nevada, opening up for Dio Disciples. Like any fan I had come for the headliner, but it was Night Demon that really captured my attention that night. Any fan or friend of mine knows that I am a die-hard fan of the NWOBHM, and to hear a band live dedicated to recapturing that classic sound was all the more exciting to this rock and roller.
Having gotten access to the band's debut EP, I have since had the chance to give it several listens. It is worth noting that the band's EP has been issued multiple times; initial releases were four tracks long, all of which are band originals. The newest issue of the EP on CD features four bonus tracks; two covers recorded in the studio and two live tracks. How does the music on the band's debut EP hold up? Is this a solid release that captures the band's live energy?
This rock and roll fan is pleased to report that the Night Demon EP is a damn good release. The most astonishing thing about the EP is how much it actually sounds like classic NWOBHM bands and albums. This is not an easy sound to recapture, yet these guys do it effortlessly here! Hard, heavy, and with an energy few bands out there seem to have anymore, Night Demon has managed to take a classic sound, and put their own spin on it as well. Whether you are listening to the fast-paced, hard and heavy riffs of a song like Night Demon (the song) or Ritual, or a slower but no less heavy tune like the Chalice, this is a phenomenal release that no hard rock or heavy metal fan should be without.
If you have not yet purchased the EP, make sure you get the latest CD reissue. In addition to the four tracks that comprised the original release, you get four bonus tracks! These include cover versions of Jaguar's Axe Crazy and Diamond Head's Lightning to the Nations, as well as a live cover of Golden Earring's Radar Love and a live version of the band's original cut from the EP, Ritual.
Overall, the first release from Night Demon is kick-ass NWOBHM style heavy metal, and something the world has been overdue for, for quite some time now. If you are a fan of classic hard rock and metal, this is a release you absolutely cannot pass up. You can get the latest release of the band's EP on CD, or as a direct download from the band's website/store (the songs from the EP can be streamed on there as well, allowing you to preview them). Needless to say, this release gets my absolute highest recommendation. Here is hoping we do not have to wait much longer for a proper full-length album release!
http://www.nightdemon.net/music-and-merch