On the 80s Sunset Strip metal scene, LA Guns was one of the most legendary and iconic bands. Combining the talents of British vocalist Phil Lewis (formerly of the band Girl, with future Def Leppard guitarist Phil Collen) and the guitar skills of Tracii Guns, this is a band that rocked audiences at the tail end of the golden age of glam metal. The group spawned three truly classic records – 1988's self-titled debut, 1989's Cocked and Loaded, and 1991's Hollywood Vampires. Classic cuts like No Mercy, Electric Gypsy, Sex Action, Never Enough, the Ballad of Jayne, Over the Edge, and Kiss My Love Goodbye all stand the test of time.
Naturally, like many of their peers, the band's popularity faded following the coming of grunge and alternative rock. Numerous comebacks were attempted by varying lineups with many different members, but none of these ever seemed to work out. Tracii Guns eventually went his separate ways, forming a new version of the band, which has since disbanded. The current version of LA Guns features classic members Phil Lewis on guitar and vocals, Steve Riley on drums, and more recent members Michael Grant on guitar, and Scotty Griffin on bass. The most recent studio release from the band is the Hollywood Forever album released in 2012; it was one of the final releases helmed by legendary producer/engineer Andy Johns prior to his 2013 death.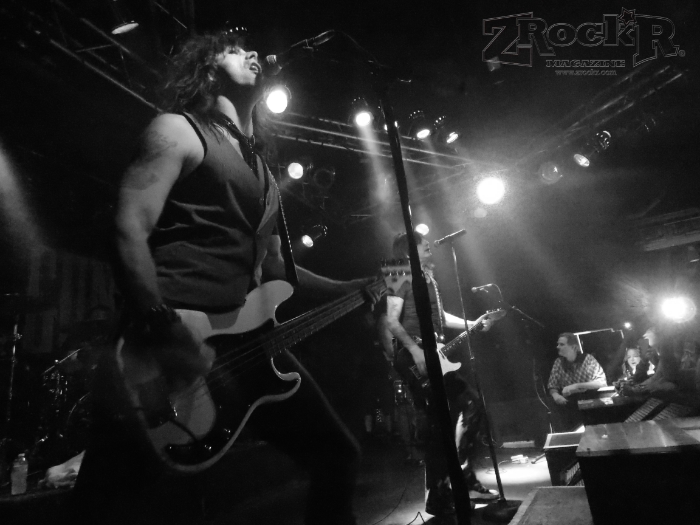 As Phil Lewis and Scotty Griffin now call Vegas home, they have become regular fixtures around these parts; the latter in particular often plays with the Sin City Sinners (former members Stacey Blades and Brent Muscat live out here as well, which has prompted me to suggest to other fans that they might as well change the name of the band to "LV Guns!") It is good to see these guys active on the local scene when they are not out and about on tour.
One thing I will say about LA Guns shows out here in Vegas is that they always draw in a huge crowd, and last night at Vamp'd was no exception. This was a packed house, with large groups of people crowding the area near the stage. It is good to see that, all these years later, the band's name still draws in an audience. Rock and roll fans, young and old alike, clearly enjoy coming out to see the band delivering the classics.
The night opened up with a set from local based band, Electric Messiah. The group, comprised of vocalist David Reed Watson, guitarist Jason Constantine, bassist JP Michaels, and drummer Michael Maysonet, features some of the best players on the Vegas scene. This rock and roll fan has seen all of these musicians around town in various other groups, but this was my first time seeing them all come together in one band. And it is definitely a solid combination! Their sound is more modern than a number of the other bands that these musicians have played with, but they manage to come together and bring the music in a good way. They have plenty of energy on stage, and can definitely rock a crowd. It is refreshing to see a band that is not yet another in a myriad of endless 80s rock cover bands. In many ways, this band is reminiscent of a number of the alternative rock bands of the latter half of the 90s in their sound, but also brings their own thing to the table as well. It was a solid way to kick off a great night of rock and roll.
After what seemed like an eternity between bands, LA Guns eventually took the stage. By this point, the venue was packed, and you could tell the fans were eager for these former kinds of the Hollywood scene to rock their worlds. Following a strange piece of intro music before the curtain was cast aside, the quartet broke right into rocking the audience. It is rather appropriate that the first song that they played was No Mercy, because the band showed no mercy, rocking the audience nonstop for the duration of their set!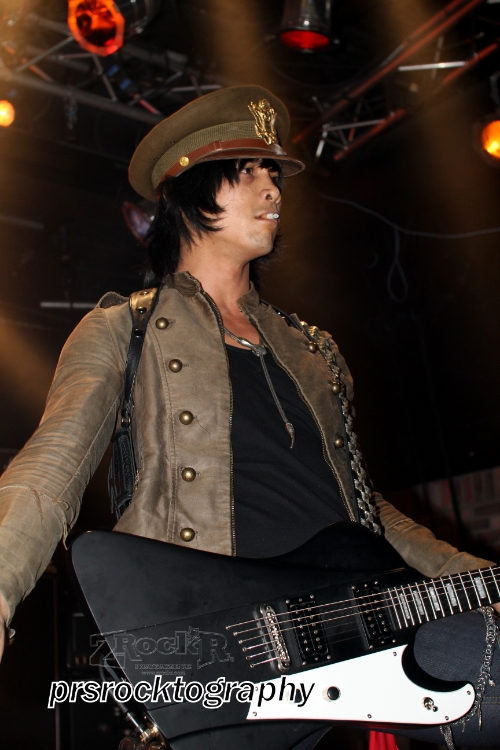 One thing worth saying about LA Guns is that these guys know how to put together a good setlist. Right from the get go, the band was relentless, serving up classic after classic. But they also balance the setlist with a few newer or more obscure songs thrown in. The audience heard classics like No Mercy, Sex Action, Never Enough, Electric Gypsy, the Ballad of Jayne, Rip and Tear, and Over the Edge. Later, newer recordings from the band were thrown into the mix and played as well, but at the same time kept to a comfortable minimum. A major surprise was a cover of the Black Sabbath classic, Fairies Wear Boots.
You have to also give these guys credit for their stage presence. Even three decades after getting started with the band, vocalist Phil Lewis still has an amazing voice and a level of charisma on stage few others have all these years later. From shelling out the vocals on the band's best songs to making jokes about a bra that was thrown on stage, he both rocked and amused the crowd from start to finish. The rest of the band is equally impressive; this lineup is definitely one of the best LA Guns incarnations to date, as everyone there last night discovered.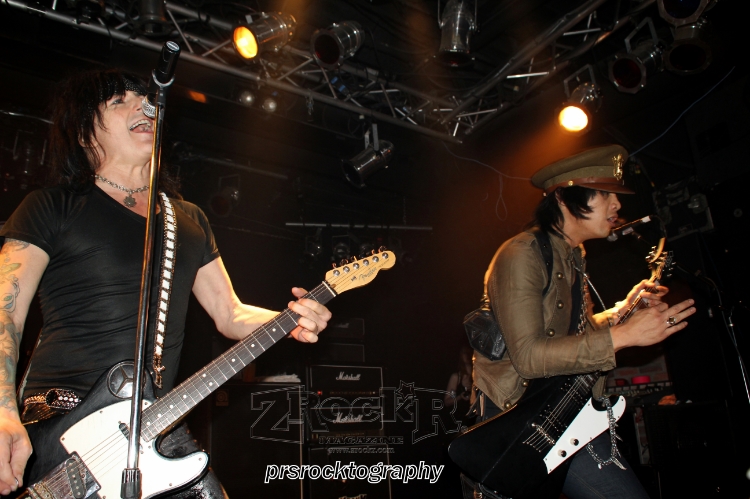 If there is a true unsung hero of the current version of LA Guns, it would have to be the band's newest member, guitarist Michael Grant. Personally, this rock and roller is sick and tired of all of the "It's not LA Guns without Tracii Guns!" nonsense. I miss Tracii, but he has chosen his own path and I certainly wish him well on it. Grant has taken up the mantle and then some, and proves to be a seriously underrated guitarist. This is a man that knows how to rock and roll! Anyone who has not seen this guy play live is missing out; his solos were definitely the highlight of the performance.
Anyone who knows my reviewing style knows that I can be overly critical at times, but there is really nothing substantial to nitpick here. This is a band that puts on a great show every time, and last night was no exception. I would liked to have heard the band play Sleazy Come, Easy Go, one of my personal favorites, but that is certainly no big deal on the grand scheme of things; I admire a band from this era that is still going strong all these years later.
Needless to say, fans are going to be impressed with the band's current lineup, and these solid renditions of their classic hits. People seriously need to get over the whole "Tracii is not in the band anymore" thing, and see the current version of the band for what it is; a damn good lineup that is one of the group's finest to date. If you get a chance to catch LA Guns on their current tour, you are sure to be impressed if you are a fan.
All photos ©Paul "Rock" Santos and Stephy Hayward/ZRock'R Magazine
Editor's Note: This is a review of a show in August of this year which was prior to the departure of Scott Griffin-  LA Guns played Count's Vamp'd on Friday, August 1, 2014.