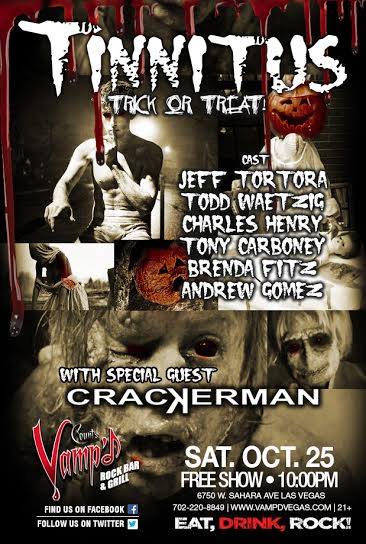 As it is practically everyone's favorite holiday, Halloween is celebrated all over Vegas, and Vamp'd is no exception! The evening began with local rockers CracKerman hitting the stage, complete with costumes. I'd never had the pleasure of seeing them on stage before, but I had heard many, many times that it was worth it. I definitely wasn't disappointed by the enthusiasm and talent these guys had individually. Together, their chemistry was intense. The only way I can describe their music is take rock n roll in one hand, grunge in the other, and put them together. Now pour beer on it and smoke a cigarette. Smear it all together and you have CracKerman: pure fun. How can you not have fun with a band who has songs like "They Call Me White Trash" and a song about people who have died that although it should upset you, you can't help but laugh.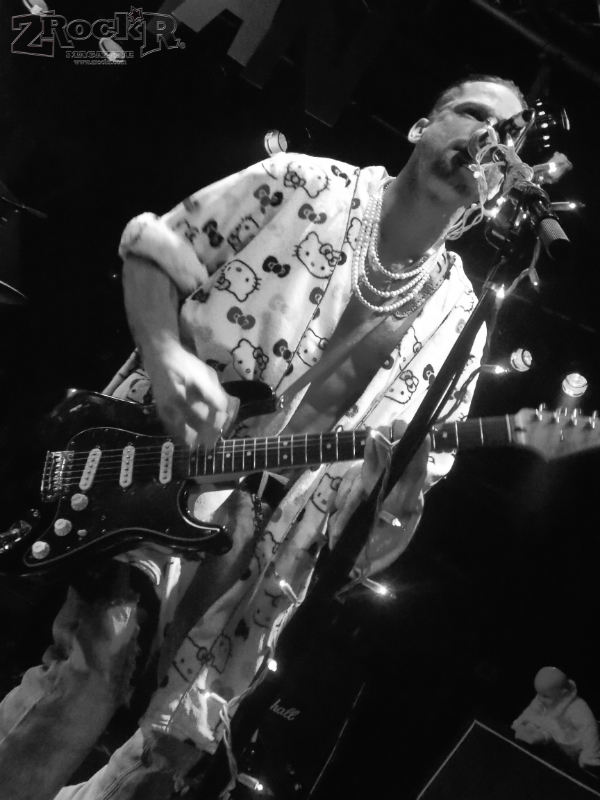 Vocalist/guitarist Tyler Lawson, clad in a Hello Kitty bathrobe, didn't hold back one bit in his performance. He ran around stage like a chicken with his head cut off to keep the crowd pumped, sweat pouring off of him and flying everywhere. He didn't hold back in his singing and playing either. At times he would get a look of insanity in his eye as he screamed the lyrics into the microphone like a rabid animal. Then the look would dissipate, and all would be normal and kind of calm before the next outburst of energy.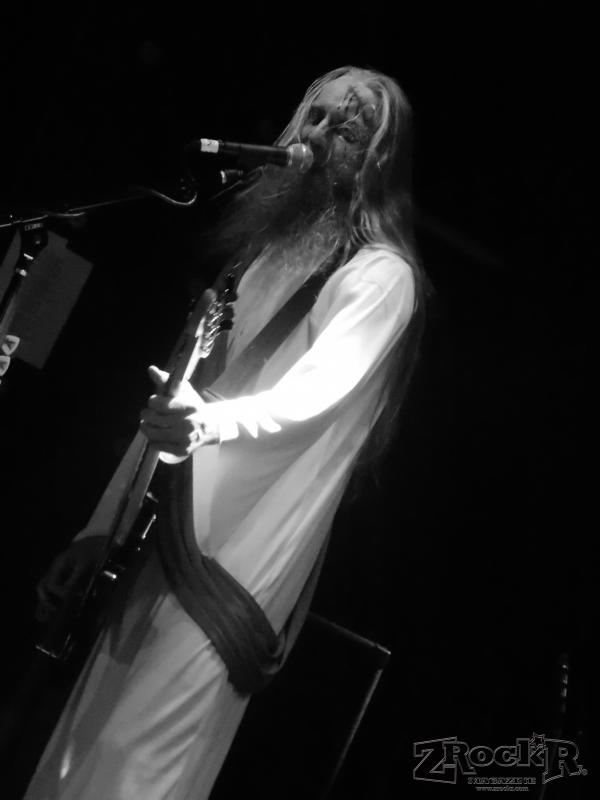 Bassist Jason Froberg did not fail to disappoint either. Dressed like a zombie Jesus, he played his bass as if it was the last thing he would ever do, but he did so much more than that. Adding to the insanity of the night, Froberg ended up smashing his bass only one song into their set (see the video below) . It was as if it had disobeyed him and needed punished, and it sure got punished for whatever it did. Lawson didn't waste time and jumped in to help Froberg demolish the instrument further before they tore into their next song.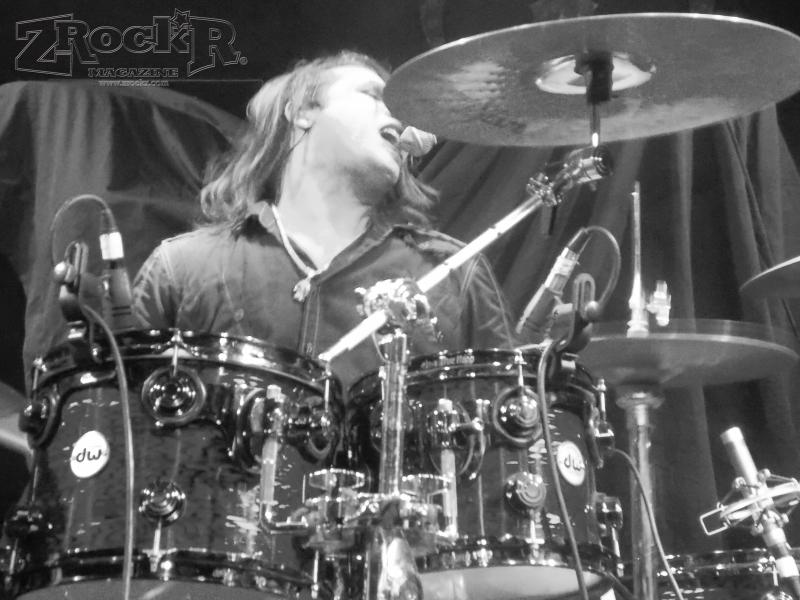 Picking up another bass (which did not get smashed), Froberg continued showing the crowd who was boss, his hair all over in the midst of the moment.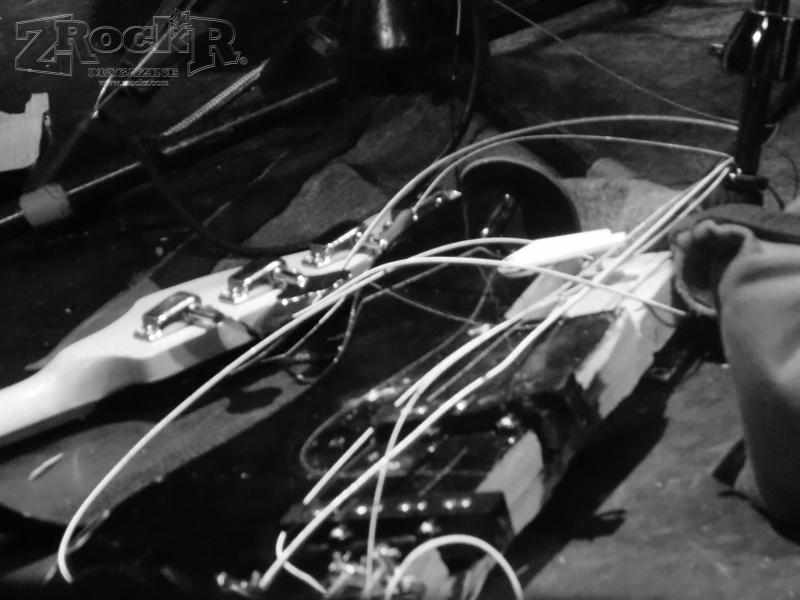 Then there was drummer Donny "The Duke" Dececco, painted up like a cooler version of the Crow. I've seen Donny many times with other projects, and he is without a doubt one of the best drummers in Vegas. He interacted with the crowd and his bandmates, adding that extra pizzazz to round out the group well. I kept thinking to myself with basses getting destroyed, and baby dolls being kicked into the crowd and points, if his drum kit would take an equal beating, but it didn't.  The night's shenanigans and stage antics were far from being over though.
After a long wait, Tinnitus took the stage a little after midnight. Starting out with some Manson, vocalist Jeff Tortora quickly made it difficult to blink. Seriously, this guy moves around on stage so much and is so intense and entertaining that you do not want to blink for fear of missing something.  Something you need to know about Tinnitus first and foremost is that they do more than play music. This is more than a simple concert. This is the best show you will see in Las Vegas. Fuck paying insane amounts of money for the Cirque du Soleil shit that you will probably fall asleep on, THIS is what you want to see.  This is Alice Cooper meets freak sideshow meets metal at its finest. It is the best show you will see in this town, easily.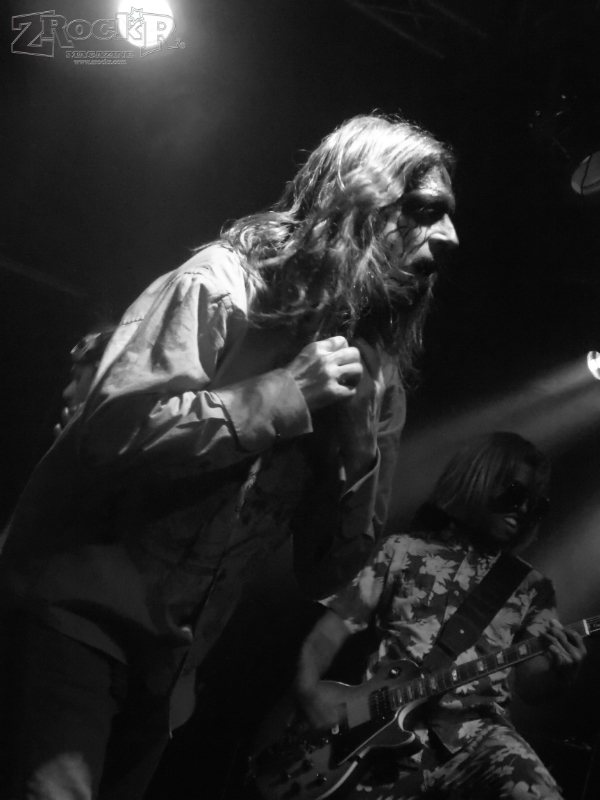 Along with Tortora, the "cast" does not hold back either. Guitarists Andrew Gomez and Charles Henry kept the crowd on their sides of the stage fully enthralled, playing off of each other perfectly while remaining in their own little worlds. Bassist and backing vocals Tony Carboney did the same, putting in as much energy as Tortora and somehow managing to hit every note. In the background but equally as amazing and on point were keyboardist Brenda Fitz and drummer Todd Waetzig, who although weren't able to move much from their positions, kept the rest of the cast members on point.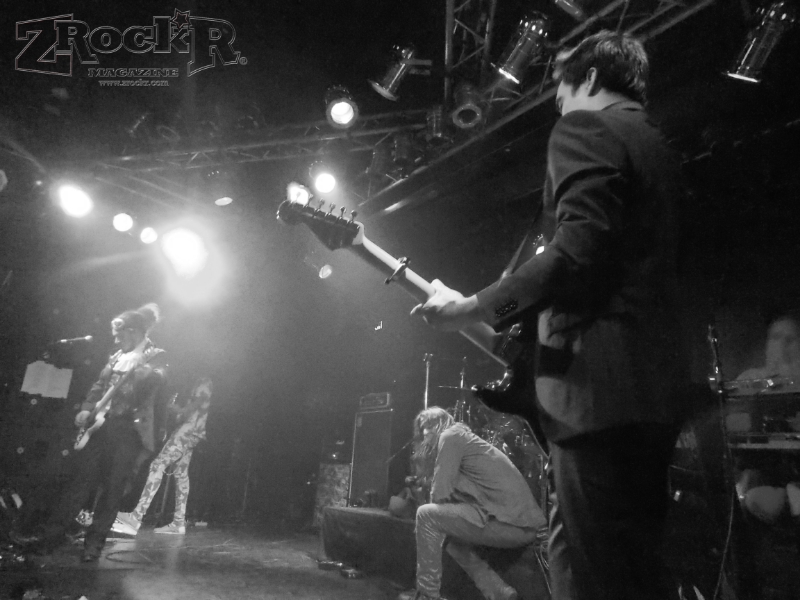 Expanding from the musical cast were other cast members, most of whom I sadly don't know by name. During breaks between songs the stage was turned into a theatre, at one point there was a dinner party taking place as well as a skeletal bride. I'm telling you, this is a performance that if you blink, you will miss something major. The visuals go hand in hand with the music in a way that isn't done often in Vegas.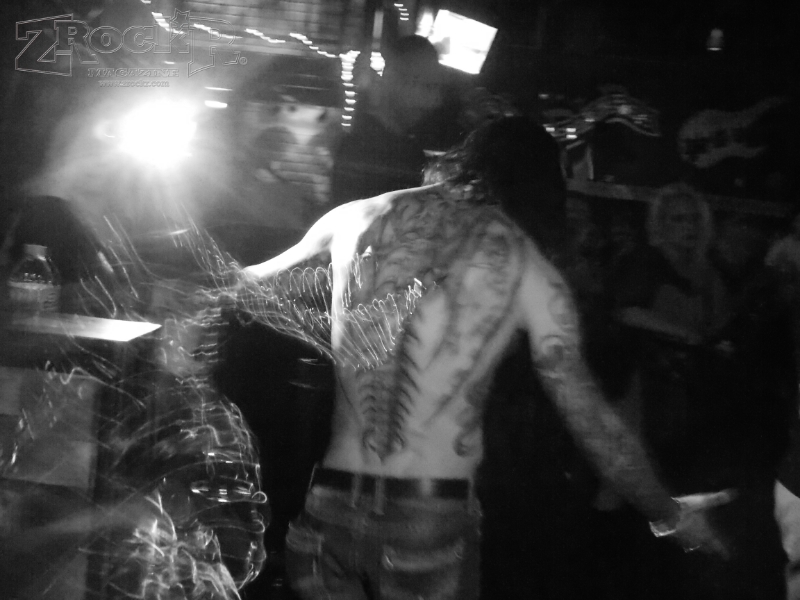 The Vamp'd stage was not the only place for performance though. During the covers of Pink Floyd's "Hey You" and Nine Inch Nails' "Hurt", the audience was graced not only with a woman dancing on stilts, but Vamp'd regular David Sixx walking through the audience like a slave, hooks and chains IN HIS BACK. The audience stood in awe taking in every moment of the evening as we were given song after song after song, ending with some Rage Against the Machine. It was hands down the best local show I have seen at Vamp'd, ever, and it is going to be hard to top. Between the talent itself and the shock rock of the evening, my weekend was 100% made.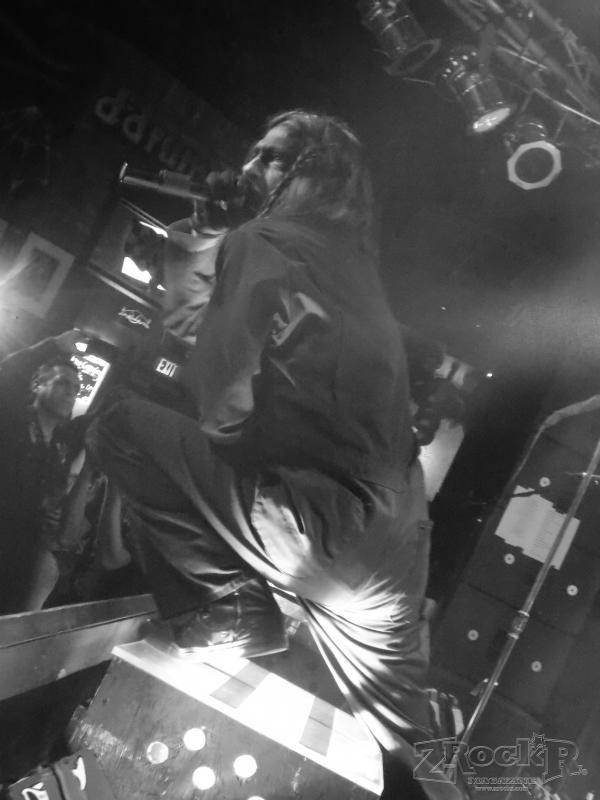 The Halloween fun does not end here though at Vamp'd. This week they are bringing you even more. Wednesday you can catch DOPE with locals First Class Trash and Systemic. Thursday is Super Troup featuring members of Lynch Mob, Quiet Riot, Great White, and Bang Tango followed by the after party with Outta the Black to send you into Halloween. Show up in costume and get a free drink. On Halloween night the fun continues with House of Zombie, a tribute to White and Rob Zombie, as well as Blue Collar Bastards, a tribute to Primus which contains CracKerman's Jason Froberg. Seriously, so much is going on, and this was only the beginning.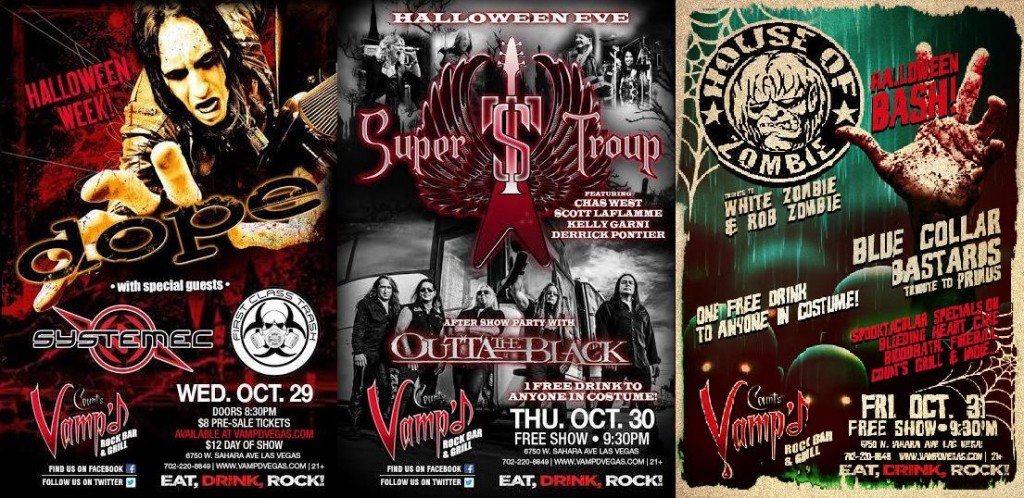 All photos ©Stephy Hayward/ZRockR Magazine
Video ©Trish Kerr
All flyers ©Count's Vamp'd