Rock 'n' roll legends KISS partners with Nellis Air Force Base to select three local, active military members to serve as "Roadies for a Week" during  the band's KISS Rocks Vegas residency at The Joint inside Hard Rock Hotel & Casino, Nov. 5-23.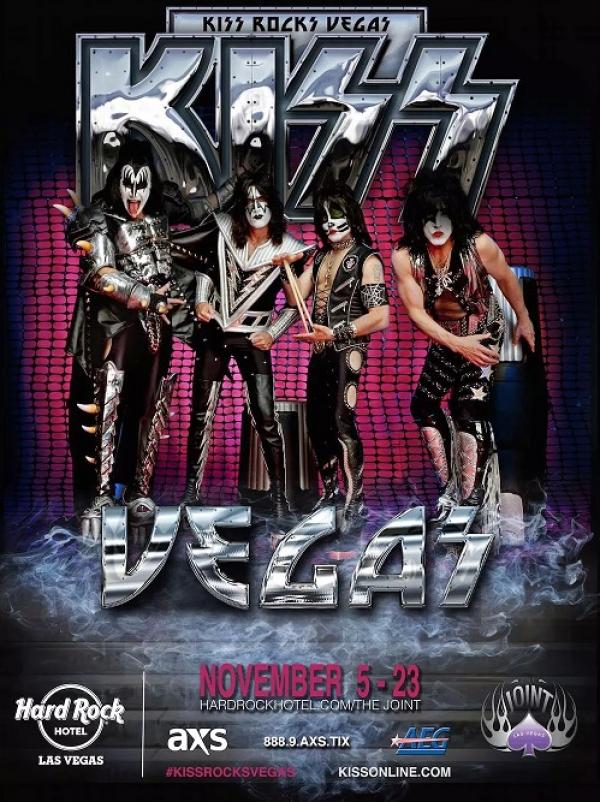 Known for their extensive support of service men and women, KISS has been working with active military members and veterans for years. The KISS Rocks Vegas residency will mark the band's third time enlisting the help of America's heroes.
"It is an honor for us to enlist these heroes of our Armed Forces into the KISS Army," said KISS Frontman and Guitarist Paul Stanley. "They have already proven what they are capable of and their presence can only elevate us."
After submitting applications, Master Sergeant Jason Borkhuis of Nellis Air Force Base, Sergeant First Class Cory DeMille of the U.S. Army Reserve and Technical Sergeant Richard Reichert of Nellis Air Force Base were chosen by the band to become a "Roadie for a Week." The three brave men have a combined 60 plus years of service, are highly-decorated and well respected in the armed forces community.
Borkhuis, Demille and Reichert will all work closely with the KISS crew and the band's VIP program for a total of three shows each for their designated week. Each roadie will create his or her own video and photo diary to keep as a memento from their week working with one of the greatest rock bands in the world. In addition to assisting with the show, roadies will also receive a complimentary hotel stay at Hard Rock Hotel & Casino during their volunteer week.
"I was so amped up after hearing the news," said Borkhuis. "I didn't get much sleep prior to going to work the night shift. Instead of sleeping when I got home, I cranked my post-divorce theme song 'Crazy, Crazy Nights.'"
"These guys are living legends," said Demille. "It is awesome to know underneath the makeup and the outfits, they are patriotic Americans."
"It's a childhood dream come true and I'm still a kid at heart," said Reichert. "I'm still in shock but I'm so excited to get this chance."
KISS Rocks Vegas takes over The Joint Nov. 5, 7-8, 12, 14-15, 19, 22-23. Tickets start at $49.50 (plus applicable service fees) and are on sale now. To purchase tickets or for more information, visit the Hard Rock Hotel box office, www.axs.com or charge-by-phone at 1-888-9-AXS-TIX. VIP ticket and room and show packages are available at www.hardrockhotel.com.