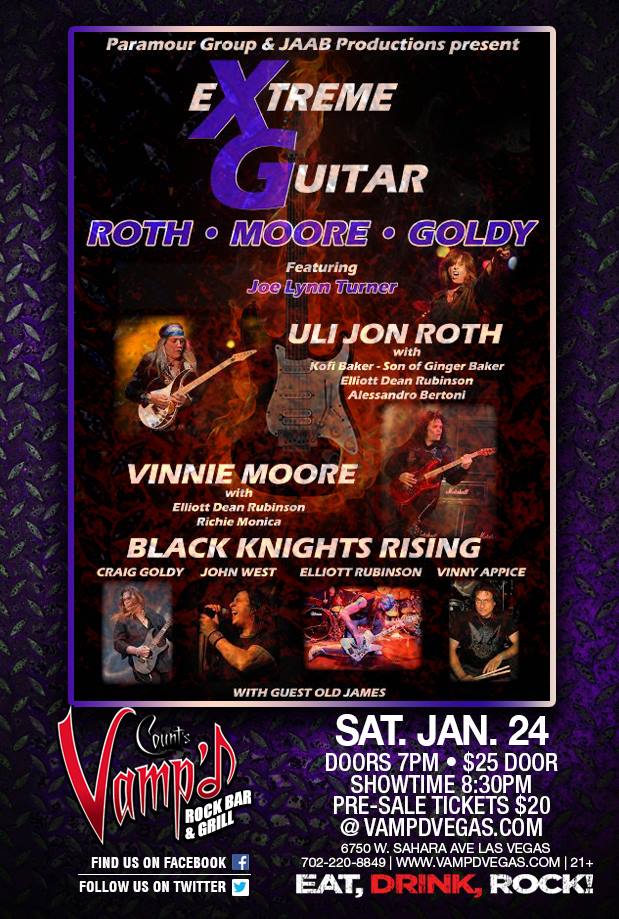 Vamp'd never ceases to amaze me. This has become the hot home for all things rock and roll in the Vegas Valley. One of the most recent announcements that immediately got the attention of this rock and roll fan was for something called the Extreme Guitar tour. Names like Vinnie Moore, Joe Lynn Turner, Uli Jon Roth, and Vinny Appice appearing on ads for this immediately got my attention. I knew where I needed to be on this night, as did rock and roll fans all across Las Vegas.
This is a difficult night to analyze because SO MUCH was going on! Having been out to Vamp'd regularly for the past several years, I can honestly say this was the first time I went out there and was subjected to FOUR sets of music! With tons of rock icons, past and present on the stage, it was a relentless night that never let up at any point. While not the perfect experience there was not a single dissatisfied rocker in the venue.
The festivities of this rock and roll evening were kicked off with Old James, an act out of Canada that I was not familiar with. This band's sound was more modern than the majority of the established acts playing the venue tonight, but they definitely won me over with a solid selection of covers and original tunes. The highlight of this set was a cover of Cold Sweat, the Thin Lizzy standard, done up great by young, energetic rockers who clearly appreciate the classics but at the same time bring their own thing to the table. This is a group I will be keeping my eye on in the future for sure!
The second set of the evening was from legendary American guitar hero Vinnie Moore. Moore first would rise to prominence in the 1980s on Mike Varney's Shrapnel Records, releasing a number of incredible instrumental records. In the past decade, he became Michael Schenker's replacement in UFO, reinvigorating the fire that band once had, leading them into a whole new era of rock excellence. Furthermore, he has also played in the side project Red Zone Rider, alongside drummer Scot Coogan (Lynch Mob, Ace Frehley Band) and vocalist/bassist Kelly Keeling (Baton Rouge, MSG).
Moore set was definitely one of the highlights of the evening. Over the years he has been a very technical and proficient player, and has a bluesy rock style all his own. The real surprise about this set was the fact that it was almost entirely instrumental! Aside from an appearance from John West, who sang vocals on By the Rainbow's End (from the Red Zone Rider album). Moore and company clearly wowed the audience with this display of guitar superiority.
The third set was a true supergroup, if there ever was one, combining former Rainbow vocalist Joe Lynn Turner, former Giuffria/Dio guitarist Craig Goldy, and former Dio/Black Sabbath drummer Vinny Appice. Elliott Rubinson, owner of Dean Guitars, played bass for this portion of the show (he made multiple appearances in the night throughout the sets). All of these musicians have been keeping busy, with Goldy in Dio Disciples, Turner in the new Rated X supergroup, and Appice in Drum Wars shows and the Last in Line band.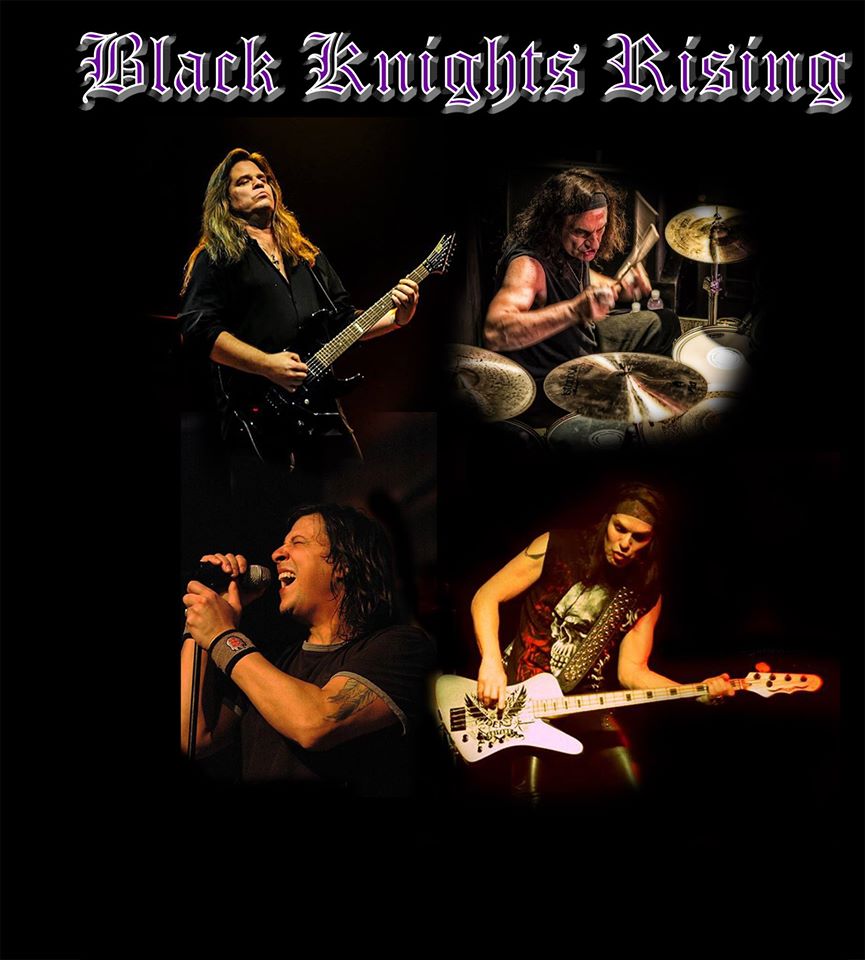 Every rock and roll show needs a throwback to the classic hits of the past, and this supergroup did that and them some. The set was a mixture of classic Rainbow and Deep Purple tunes. Turner came out immediately, opening with Death Alley Driver, one of my all time favorite Rainbow songs. This performance even included one Dio-era Rainbow song, Long Live Rock and Roll, as a tribute to that great fallen frontman. There was even a medley of Deep Purple tunes; Turner served a brief stint as the frontman of Purple in the late 80s/early 90s. This fan personally would have to have heard some tracks from Slaves and Masters, the DP album Turner sang on, but overall, all of these renditions were solid. Turner is still a kick-ass singer!
Uli Jon Roth was one of the main reasons I am sure this crowd of local rock and metal fans decided to attend the show this night. With unrivaled guitar skills, it was Roth that made the Scorpions' early, pre-major label years truly unique. His post-Scorps ventures, while lesser known, have been equally impressive. Roth had played Vamp'd about two years prior; his set then and there was this fan's favorite rock and roll show of 2013.
Of course, Mr. Roth, with a band of all-star musicians (including the son of Cream drummer Ginger Baker!), thoroughly rocked this audience. Roth has a unique style of guitar playing that anyone who has listened to or who has seen him live will instantly be taken in by. This was a prime example of that; Roth's unique approach to things is one of the reason he remains one of the best guitarists in the world to this day. This set combined Roth-era Scorpions classics, with some of his later gems. We even got to hear his take on Hendrix in the encore! This was a great set but the time restrictions imposed due to their being so many acts definitely hindered it somewhat. I would loved to have heard Pictured Life and the Night the Master Comes (the latter was from Electric Sun, Roth's post-Scorpions band), but overall this was a more than satisfactory night from one of rock's true guitar legends.
Overall, the audience got four sets of solid rock and roll on this fine evening, one that further establishes Vamp'd as Vegas' premier venue for all things rock and roll. With more shows on deck for the coming months, it is clear that will not be changing anytime soon. In the meantime, if you have an opportunity to attend an Extreme Guitar show, the opportunity is well worth taking!