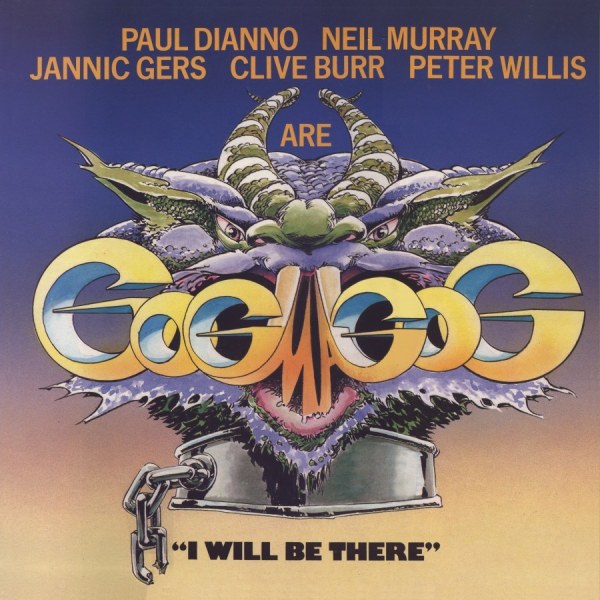 It is always interesting to go back in time and investigate the history of one's favorite rock artists. It seems like, no matter how well you know an artist, there are a few obscure projects that you likely did not know about. This is how I came across Gogmagog; even if you have never heard of this short-lived project before, the odds are very good that you have heard of most, if not all, of the musicians involved here.
Gogmagog was put together by Jonathan King, a notable British record producer, for a rock opera project which was eventually aborted. As such, the sessions that would have spawned said rock opera only resulted in the release of a mere three tracks, released on this EP. King wrote two of the three tracks, with the title track being a song that was originally recorded by Russ Ballard some years prior.
Gogmagog's lineup was comprised of the following musicians:
-Paul Di'Anno on vocals: Best known for being Bruce Dickinson's predecessor in Iron Maiden, and singing on their first two records.
-Clive Burr on drums. Nicko McBrain's predecessor on drums in Iron Maiden, who played on their first three records. Sadly, Burr passed away in 2013.
-Neil Murray on bass. Murray has played in a number of bands, but will always best be remembered for his long-lasting role in Whitesnake; having played on (the American version of) their 1984 album Slide it In, and the legendary 1987 self-titled record.
-Janick Gers on guitar. Gers was previously a member of NWOBHM bands White Spirit and Gillan (featuring Deep Purple's Ian Gillan) and later joined Iron Maiden.
-Pete Willis on guitar: Willis was the original co-lead guitarist in Def Leppard, being fired from the band during the Pyromania sessions and replaced by Phil Collen. Willis would only do a few other short-lived projects before leaving the recording industry entirely.
With all five of these men together in one band, it can be tough to tell exactly what to expect from them playing alongside one another. You've got Iron Maiden members, Whitesnake members, and Def Leppard members; three groups that have almost nothing in common except that they are from the United Kingdom. What sound does this album mostly resemble?
It is hard to give a straight answer to that question. The music on this album is not as heavy or punkish as early Iron Maiden, but is certainly less commercial and produced than Def Leppard or Whitesnake at their peaks. I would describe these three tracks as songs that are rock hard, but are still melodic and commercial in their execution. There is not a whole lot of variety amongst the tracks, though I would not call any of them outright disappointments either. One of the most positive things about the release is that it was recorded back when Paul Di'Anno could still actually sing well; for him it was all downhill after Maiden. Someone looking for lost classics of hard rock and heavy metal may be disappointed by the fairly tame output here, but these are still entertaining songs that it would not hurt to listen to at least once, even if for nothing more than a curiosity.
Gogmagog's lone EP has not stood the test of time as well as the music of the respective bands that these musicians came from; there is a reason it tends to be an album that time forgot. The original vinyl EP is long out of print and continues to have sellers asking for high prices on store and auction sites (I am not sure it was ever even released on CD). Do not blow your hard earned cash on an actual copy of the EP; it is not worth what the sellers are asking, and fans of the respective bands may be disappointed to find something drastically different from their expectations.
Fortunately, the tracks that make up this release are available for listening on sites like YouTube, so you can listen to them without having to lay down the money for an expensive EP. That is not to say these are BAD songs by any stretch of the imagination, though. Click the link below to hear all three tracks, and believe me, there are far worse things you could do or listen to for the next 12 minutes of your life. Gogmagog's I Will Be There EP is moderately recommended as a curiosity for fans of these respective bands and musicians, but click below and listen online. Do not blow an outlandish sum of money on the vinyl EP.